In 2012, CBN (Central Bank of Nigeria) introduce what they called cash policy to reduce the quantity of transaction been done with cash. One of the response of Nigerian banks to the policy was the introduction of mobile ussd code which enables you to perform just about any financial transaction on your mobile phone. As a customer, you can use uba ussd code to transfer funds, buy airtime, check account, pay bills etc.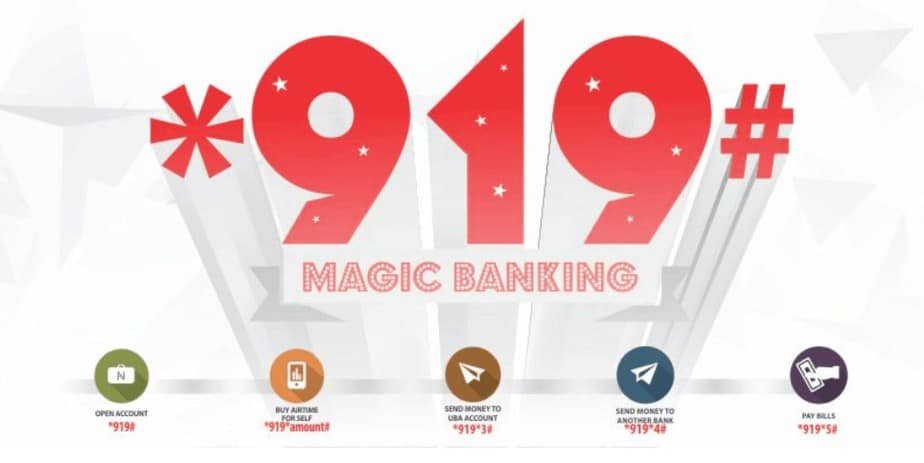 Less than a decade ago, all these were impossible except you visit a banking hall during the working hours. If not, you will have to wait for the next working day. Financial transaction in the weekend and public holiday was almost impossible.
What about how mobile banking code helped eliminate the stress of looking for recharge card when we want to make call or how it made intra and inter bank transaction easier, faster and safer for Nigerians.
Technology has helped shaped our world especially the banking sector in a way we never imagined. Apart from mobile banking codes, we also have internet banking and mobile apps which are more secure and support more financial transactions.
How ro Register UBA USSD Code
Dial *919# (uba magic banking code) with your alertz number.
Input any number for the banking option that shows up.
You will see a welcome page where you will be asked to enter 1 to sign up.
Then you have to choose between registering with Nuban account number or Uba Prepaid.
Enter your 10 digit account or prepaid numbers.
Create your magic banking PIN. You will need the last 4 number on your atm card or bvn for this.
Confirm PIN to complete the registration.
Before you get started with using United Bank of Africa plc (UBA) mobile banking code, you have to first register on the platform.
To activate this form of banking for your account, you need the phone number registered to your uba profile (alertz number), any mobile device, the last 4 digit of your atm card or your bvn and magic banking.
Note that you can change or reset your PIN at any point in time. Just dial *919# >> reply with 7 (twice) for next page >> 4 for PIN set up >> Reset or Change PIN.
UBA Transfer Code 2021
To transfer from uba to uba, dial *919*3*account number# and *919*4*account number# for uba to another bank.
There are two ways you can do this, you can either use an indirect code by dialing *919# and reply with the number for transfer or a direct code as explained below.
Which ever code you use chose to use, you will be able to transfer to uba accounts, other nigerian banks account and prepaid card account.
Transfer to Another Uba Account (Intra)
Dial *919*3*account number#.
Enter the amount your want to transfer.
Complete the transaction with your PIN.
Above is the code to transfer money from uba to any other uba accounts.
Uba to Other Banks Money Transfer (Inter)
Dial *919*4*account number*amount#.
Choose the bank you want to transfer to.
Confirm the recipient's details.
Complete the transfer with your transaction PIN.
To send funds to other Nigerian banks like Gtbank, Zenith and Access bank, use the code above.
Fund your Uba Prepaid Card
You can also load your prepaid card account using uba ussd code.
Dial *919*32#.
Follow the on-screen instruction.
Authenticate the transaction with your PIN.
Uba Airtime Recharge Code
You can easily recharge your alertz number or any other number with airtime using magic banking code. Like the uba transfer code, the airtime recharge code also has direct and indirect codes.
Indirectly, you just have to dial *919# >> reply with number for airtime recharge >> authenticate with PIN (if it is a third party recharge). Below is the direct code.
Self Airtime Recharge
To purchase airtime for the number registered to your uba account;
Third (3rd) Party Recharge
To recharge other numbers;
Dial *919*phonenumber*amount#.
Complete airtime recharge with your PIN.
You didn't need phone number for self recharge because your number is already in the database.
Check Uba Account Balance
Dial *919*00# to know how much is left in your account(s).
Other Magic Banking Codes
Do you want to do more than transfer funds, buy airtime and check your account balance? Then you should check out the following codes.
Cardless Withdrawal – *919*30*amount#.
Book Flight – *919*12#.
Pay Bills – *919*5#.
UBA Mobile Code Charges & Limit
Transfer Charges = Free for intra. 10, 20 and 50 Naira for inter (uba to another bank in Nigeria) depending on how much you are sending.
Network Charges = 1 – 3 Naira (Airtime).
Daily Transfer Limit = Up 20,000 Naira for PIN and 1,000,000 (million) Naira for Token.
Recharge Limit (Daily) = Up to 5,000 Naira.
Wrapping Up
The advent of mobile banking code has forever change the way we bank. With UBA transfer code, you can make payment to someone in Abuja from Lagos without leaving your room. Kindly share this article using the social sharing buttons below.
That's all you need to know about uba ussd code. Kindly share this article using the social sharing buttons below.