The best banks in Nigeria are not necessarily the biggest, richest or most popular financial institutions within the country. It takes more than that to be ranked among "the best".
As we will see in this write-up, certain factors determine if a bank should be ranked among the top best or worst places to save money within the country. So before listing out the Nigerian financial institutions that made it to this selection, let's talk about those factors below.
What Determines The Best Banks In Nigeria?
You do not just pick a bank and name them the best we have in Nigeria. Before a bank can be tagged such, a lot of factors must have been put into consideration. These factors are the things we considered before arriving at this list.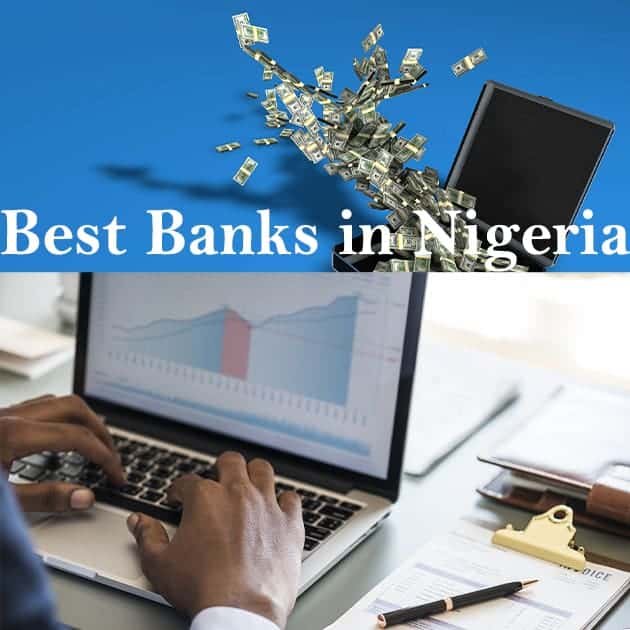 Some of those factors are:
1.) Customer Relationship
This is certainly the primary quality we considered before coming up with this article. A bank with poor customer relationship cannot be said to be among the best in the country.
2.) Transaction Charges
Transaction charges here has to do with inter and intra-bank fund transfers, ATM charges, USSD code charges, web payment charges and so on. Some Nigerian financial institution charge very ridiculous amounts for day to day transactions. Thereby making their customers avoid or limit the usage of certain services.
3.) Interest Rates
Interest rate per month or per annum is also a part of the qualities that can put a bank in the positive light before its customers.
Though sometimes the type of bank account a customer operates plays a major role in determining his interests, the rate differs from ban to bank.
4.) Products
How many customer focused products can the bank boast of? It is not enough to have just the regular savings , current and fixed deposit accounts. The bank must have real products aimed at making life easier for its customers.
These are just some of the qualities to consider when choosing Nigeria's best financial institution. So, with all that made it to our list.
Best Banks in Nigeria 2021
GTBank
First Bank
Zenith Bank
UBA
Fidelity Bank
Based on the afore discussed factors, these are the banks that can be called the best in Nigeria today in 2019.
1.) Guaranty Trust Bank (GTB)
Also known as GTBank, Guaranty Trust Bank is at the top of our list of the best bans in Nigeria presently.
At the annual Euromoney Awards for Excellence held in London in July 2019, Guaranty Trust Bank was awarded the "Best Bank in Africa 2019". The bank was also awarded the "Best Bank in Nigeria 2019" for the 9th time. It is no surprise though, ever since its inception in January 1990, the bank has continued to deliver excellent banking services to its customers in and outside of Nigeria.
GTB is the first bank in Nigeria to come up with things like SMS banking, Online banking, Naira dominated Mastercard, Platinum and World Signia cards and so on.
In terms of customer relationship, fair interest rates, transaction charges and products, Guaranty Trust Bank is no doubt the leading bank in Nigeria. Little wonder they continue to win so many awards within and outside the country.
2.) First Bank of Nigeria (FBN)
Like the name sounds, First Bank of Nigeria is truly Nigeria's 1st bank. Apart from being the oldest financial institution in the country, the bank is highly trusted by numerous Nigerians.
They have over the years maintained the reputation of being one of Nigeria's most innovative banks. A large number of Nigerians regard them as the best bank in the country today.
They have received so many awards to merit being on this list. For instance in 2011, they were awarded "The Best Bank Brand In Nigeria" by The Banker Magazine.
In 2012, 2013, 2014 and 2015, FBN received the same award from the same organisation.
Making it 5 straight times they won the award.
First Bank of Nigeria has numerous customer-targeted products which both new and existing customers of the bank will find exciting. The bank's transaction charges are also fair compared to those of other banks we have in our country today.
3.) Zenith Bank Plc
You can't mention the banks with excellent financial products and services in Nigeria without mentioning Zenith Bank Plc. Even across Africa, the bank has gained a lot of reputation for quality banking.
The multinational financial services provider was founded in May 1990 by Jim Ovia, CON. They were among the first few banks in Nigeria to embrace online banking.
Since the inception of the financial institution has been committed to delivering quality banking experiencing to its customers.
Today Zenith has their mobile app, internet banking, USSD banking, Zenith Money etc to help fulfill their vision.
4.) United Bank For Africa (UBA)
United Bank for Africa is one of the leading financial services providers across Africa. The multinational bank has come a long way to get to the level it is today.
From 1949 when it was founded and known as the British and French Bank Limited to the 2005 merger with Standard Trust Bank, the bank has continued to deliver quality financial services to Nigerians, Africans and people outside the African continent. Little wonder they won the "Bank of The Year" award by the Banker Magazine in 2017. Making the first time a bank headquartered in Nigeria will be winning the award.
In the same year, the UBA won the "Best Bank of The Year" in Congo, Chad, Gabon and also Senegal. In all these countries and more, UBA remains a force to reckon with.
5.) Fidelity Bank Plc
In 2017, Fidelity Bank was ranked the 4th best bank in Nigeria in the KPMG Banking Industry Customer Satisfaction Survey (BICSS).
Ever since it was founded in 1988, Fidelity Bank has grown to gain a reputation for integrity and quality banking service. It may not be among the top 5 richest banks in Nigeria today but it is certainly among the best based on the aforementioned criteria.
With over 240 branches and 774 ATMs, the bank is committed to reaching every Nigerian wherever they are with excellent financial services.
Among the bank products are: USSD banking, internet banking, credit cards, loans savings, mortgages and investments.
In Summary
There are several banks in Nigeria that would be on this list if we were writing about top 10 best banks in Nigeria. For instance Access Bank Plc, FCMB, Stanbic ibtc, Ecobank etc. These banks rank high in terms of delivering excellent financial services to their customers.
However based on the criteria we listed earlier, these ones here are the top 5 best banks we have in Nigeria presently.
What do you think about this list? Do you think GTBank, First Bank and others here deserve the position they were listed? Did your favourite bank make it to the list? Let me know in the comment section below.
This article was updated 4 months ago