With Ecobank airtime recharge code, a customer of the bank can comfortably buy airtime of any amount for himself and his family and friends.
Ecobank prides itself as one of Africa's Leading banks. With a strong presence in several African countries, the bank remains one of the top financial institutions on the continent.
To deliver excellent banking services to its customers, the bank has introduced the use of a ussd code to top up mobile phone lines.
As long as you have some amounts of money in your Ecobank account, you can use it to top up any mobile phone line with airtime credit.
All you have to do is dial the code. Within a few seconds, the airtime will be added to your line.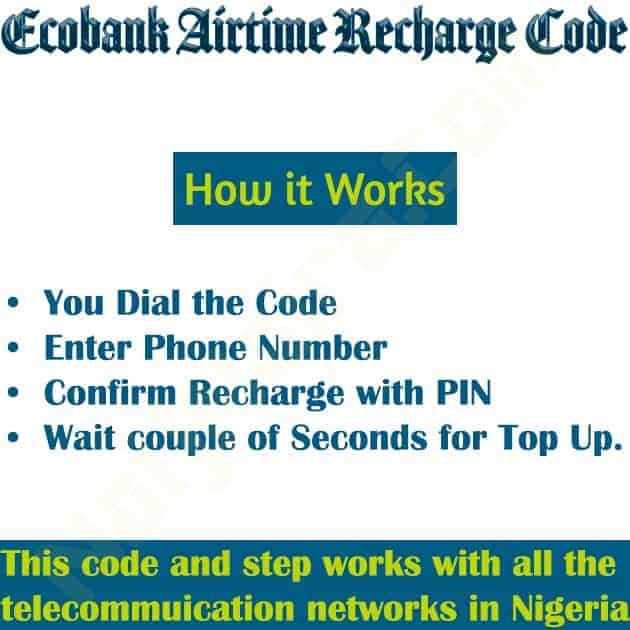 Interested in knowing how this works? Stay with me!
The ussd code for loading airtime on your mobile line directly from your bank works with any type of phone.
You can use it on your Android, iOS or any other type of phone. Including those phones that are not internet enabled.
It works, whether you have airtime on your line or not. You don't even need to have browsing data to use it.
You can use it multiple times in a day to buy airtime of any amount directly from your bank account. Regardless of the telecommunication network you are using.
The code works on working days and also during weekends. You can even use it on public holidays. Day or night.
Getting Started With Ecobank Top Up Code
Before you can be able to use the ussd code for airtime top up as a customer of the bank, you need to first of all register for the ussd banking service.
During the registration, you will be required to set a 4 digit PIN for authenticating all transactions you make with the code.
You can choose numbers you know that can be easy for you to remember and set it as your PIN. Though you should choose a PIN you can easily remember, it should be difficult for others to guess.
Every time you want to buy airtime from your bank using the ussd method, you will be required to authenticate the transaction with the PIN. To set the PIN now, dial *326# and follow the onscreen instructions.
Ecobank Airtime Recharge Code
The code to buy credit from ecobank is *326*Airtime Amount#. That is the ussd code you need to dial on your phone to top up your airtime.
The code works with any telecommunication network in Nigeria (MTN,GLO,AIRTEL,9MOBILE etc). You can dial it now and have your line credited with any amount. Without any delay.
Daily Recharge Limits
You can recharge up to N5000 a day using the ussd code. Whether for yourself or others.
Below is a complete guide on how to do that.
How To Buy Credit Using Ecobank Airtime Recharge
Are you searching for how to buy airtime from your Ecobank account as a customer of the bank? Here is a detailed guide on how to do it.
1.) For Self Recharge
To buy airtime for yourself directly from your Ecobank account using the ussd code, follow these instructions:
Dial *326*Airtime Amount# using the mobile line associated with your Ecobank account. (for instance *326*100# to recharge N100 airtime on your line)
Enter your PIN to authenticate the transaction
Within a few seconds, you will receive a text message from your network provider (e.g. MTN, GLO, AIRTEL etc) notifying you of the airtime purchase
This will be followed by your bank notification SMS confirming the transaction too. You can then proceed to do whatever you want with the airtime.
That's how to buy airtime for yourself from your Ecobank account using a ussd code. Below is how to do it for others.
2.) For Third Party Recharge
To buy airtime for any other line apart from the one registered to your Ecobank account, follow these steps.
Dial *326*Recipient phone Number*Airtime Amount# on your mobile phone. (Example, Dial *326*08112345678*500# to recharge the line 08112345678 with N500)
Enter your PIN (The four digit PIN you use exclusively for Ecobank ussd banking)
Select the telecom network of the recipient to complete the transaction
Once that is done, your bank account will be debited with the amount of money you entered when you dialed the code. You receive an SMS notification from the bank to that effect
A text message will also be sent to the recipient phone number by the telecom network, notifying the owner of the airtime purchase.
That is how to transfer airtime to others from your Ecobank account.
In Summary
Ecobank airtime recharge code has made it much easier for customers of the bank to top up their mobile phone lines without any hassle. I hope you find this information useful.
This article was most recently revised and updated on May 7, 2021