I'm sure you know goalkeepers too do score goals. Brazilian Rogério Ceni holds the record for most goals scored by a goalie, with 131 goals.
Paraguayan José Luis Chilavert holds the record for the second most goals with 67, he also has recorded the most goals scored in international matches (8). And he is only the second goalkeeper to score a hat-trick.
Stoke City goalkeeper Asmir Begović is the one who has scored the fastest goal for a professional goalkeeper in football history which he did in 13 seconds on the 2nd of November 2013.
The record for the longest goal in football history was broken by SV Darmstadt 98 goalkeeper Wilhelm Huxhorn (103 metres / 112.6 yards) on 27 April 1985, in a match against Fortuna Köln.
However, Tom King of Newport County is considered the goalkeeper with the longest goal to have been officially recorded in the Guinness World Records on the 19th of January 2021 against Cheltenham Town. The goal was confirmed to be 96.01 metres (105 yds) long.
Today NaijNaira takes a look at the top goal-scoring goalkeepers in the history of football.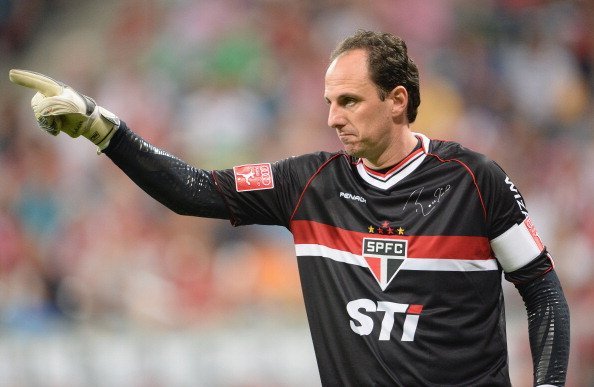 List of Goalkeepers With Most Goals
The list is for goalkeepers who have scored in a professional national or international competition.
| | | |
| --- | --- | --- |
| Name | Team(s) | Goals |
| Rogério Ceni | São Paulo | 131 |
| José Luis Chilavert | Paraguay, Sportivo Luqueno, Guaraní, Zaragoza, Vélez Sársfield, Strasbourg, Peñarol | 67 |
| Jorge Campos | Pumas UNAM, Atlante, L. A. Galaxy | 46 |
| Johnny Vegas Fernández | Sport Boys, Union Huaral, Universidad San Martín de Porres, FBC Melgar, Sport Ancash, Cienciano, Alianza Atlético, Club Deportivo Pacífico FC, Defensor San Alejandro, Los Caimanes | 45 |
| René Higuita | Colombia, Atlético Nacional, Veracruz, Independiente Medellín, Real Cartagena, Bajo Cauca FC, Deportivo Rionegro | 43 |
| Dimitar Ivankov | Levski Sofia, Kayserispor, Bursaspor | 42 |
| Márcio | Atlético Goianiense, Goiás, Goiânia | 40 |
| Fernando Patterson | Xelajú, Cobán Imperial, Puntarenas, Ramonense | 35 |
| Hans-Jörg Butt | VfB Oldenburg, Hamburger SV, Bayer Leverkusen, Bayern Munich, Bayern Munich II | 33 |
| Misael Alfaro | Luis Ángel Firpo, San Salvador, Águila, Alianza, Metapán | 31 |
| Dragan Pantelić | Yugoslavia, Radnički Niš, Bordeaux | 29 |
| Fábio Rampi | São José | 29 |
| Ante Vulić | Hajduk Split | 29 |
| Exar Rosales | Los Caimanes, Atlético Minero, Deportivo Municipal, Comerciantes Unidos, Juan Aurich | 26 |
| Žarko Lučić | Rudar Pljevlja, Budućnost Podgorica, Kom Podgorica, Mladost Podgorica | 25 |
| Marco Cornez | Palestino | 24 |
| Vincent Enyeama | Ibom Stars, Enyimba, Hapoel Tel Aviv | 24 |
| Rafael Dudamel | Venezuela, Santa Fe, Zulia, Quilmes, Deportivo Cali, Unión Maracaíbo, Estudiantes de Mérida | 22 |
| Phan Văn Santos | Đồng Tâm Long An, Navibank Saigon | 22 |
| Nizami Sadigov | Turan Tovuz | 21 |
| Cristian Lucchetti | Banfield, Atlético Tucumán | 20 |
| Sebastián Saja | San Lorenzo, Grêmio, Racing | 20 |
| Wilson | Figueirense, Coritiba | 19 |
| Tiago Campagnaro | Portuguesa, Vasco da Gama | 18 |
| Miguel Ángel Ortiz | Montevideo Wanderers, Atlético Mineiro, Comercial | 17 |
| Sebastián Bertoli | Patronato | 16 |
| Marijan Jantoljak | Rijeka, Borac Banja Luka, Metalac Sisak | 16 |
| Luis Ardente | San Martín de San Juan | 15 |
| Gilbert Bodart | Standard Liège | 14 |
| Ignacio González | Racing, Las Palmas | 14 |
| Mircea Bornescu | Extensiv Craiova, Universitatea Craiova | 13 |
| Mykhaylo Burch | Volyn Lutsk, Veres Rivne, Sokil Zolochiv | 13 |
| Kennedy Mweene | Zambia, Free State Stars | 13 |
| Andrés Peláez | Unión Magdalena, Valledupar | 13 |
| Gaspar Servio | Banfield, Independiente Rivadavia, Guaraní, Rosario Central | 13 |
| Alejandro Sinisterra | Cúcuta Deportivo, Bucaramanga, Deportivo Cali | 13 |
| Philippe Vande Walle | Germinal Ekeren | 13 |
| Danilo Aceval | Cerro Porteño, Ñublense | 12 |
| Mario Bytyçi | Skrapari, Kamza, Butrinti Sarandë, Mamurras, Bylis Ballsh | 12 |
| Isli Hidi | Olympiakos Nicosia, Bylis Ballsh, Erzeni | 12 |
| Tony Read | Luton Town | 12 |
| Hugo Suárez | Jorge Wilstermann, Real Potosí, Blooming | 12 |
| Andriy Dykan | Avanhard Rovenky, SKA-Energiya Khabarovsk | 11 |
| Dimitris Gakis | Panetolikos | 11 |
| Nelson Ramos | Deportivo Pasto, Millonarios, América de Cali, Boca Juniors de Cali | 11 |
| Peter Schmeichel | Denmark, Hvidovre, Brøndby, Manchester United, Aston Villa | 11 |
| Imrich Stacho | Czechoslovakia, Spartak Trnava | 11 |
| Anton Švajlen | VSS Košice | 11 |
| Julián Viáfara | América de Cali, Vitória, Deportes Quindío | 11 |
| Sebastián Viera | Junior | 11 |
| Gastón Losa | Deportes La Serena, All Boys | 10 |
| Christian Piot | Belgium, Standard Liège | 10 |
| Mario Villasanti | Ayacucho | 10 |
| Ekrem Aydın | Sivasspor, D.Ç. Divriğispor, Tokatspor, Aksarayspor | 9 |
| Iván Brun | Cruz del Sur, Petrolero, Mushuc Runa, Universitario de Sucre | 9 |
| Miguel Ego | Alianza Atlético, Atlético Torino | 9 |
| Diego Rodríguez | Independiente | 9 |
| César Silva | Avaí | 9 |
| Alexis Viera | América de Cali | 9 |
| Jefferson | Horizonte, Maracanã | 8 |
| Ioan Pap-Deac | Baia Mare | 8 |
| Ernald Scattergood | Derby County, Bradford Park Avenue | 8 |
| Kostyantyn Starodubovskyi | Dnister Ovidiopol | 8 |
| Tigre | Atlético de Alagoinhas | 8 |
| Enrique Bologna | Banfield, Alianza Lima, Unión de Santa Fe | 7 |
| Ihor Hymanych | Desna Chernihiv, Slavutych | 7 |
| Angelo Konstantinou | Canberra Olympic | 7 |
| Răducanu Necula | Rapid București | 7 |
| Anatoly Pata | Dynamo Stavropol, Kavkaztransgaz Ryzdvyany | 7 |
| Nihad Pejković | Olimpija Ljubljana | 7 |
| Miloš Radanović | Rudar Pljevlja | 7 |
| Hamood Sultan | Muharraq | 7 |
| Fridolin Wenger | Basel | 7 |
| Róbinson Zapata | Real Cartagena, América de Cali, Santa Fe | 7 |
| Nico van Zoghel | Go Ahead Eagles, DOS | 7 |
| Bengt Andersson | Brage, Örgryte | 6 |
| Bruno | Flamengo, Rio Branco, Atlético Carioca | 6 |
| Esteban Conde | Danubio | 6 |
| Luis Delgado | Millonarios, Águilas Doradas | 6 |
| Matías Dituro | Bolívar, Antofagasta, Jorge Wilstermann | 6 |
| Carlos Fenoy | Celta Vigo, Valladolid | 6 |
| Johnny Herrera | Universidad de Chile, Everton | 6 |
| Alexánder Jara | Puntarenas, Brujas | 6 |
| Jean | Atlético Goianiense | 6 |
| George Kitchen | West Ham United | 6 |
| Dražen Ladić | Dinamo Zagreb, Iskra Bugojno | 6 |
| Jákup Mikkelsen | KÍ Klaksvík, Herfølge Boldklub | 6 |
| Ilija Pantelić | Vojvodina | 6 |
| Les Pogliacomi | Wollongong Wolves | 6 |
| Nikos Sarganis | Olympiacos, Panathinaikos | 6 |
| Harry Schellekens | NEC, Groningen | 6 |
| Luis Barbat | Independiente Medellín, Tolima, América de Cali | 5 |
| Arnold Birch | Chesterfield | 5 |
| Alin Bota | Baia Mare, Maramureș | 5 |
| Carlos Chávez | Patriotas, Atlético Bucaramanga | 5 |
| Luis Gabelo Conejo | Ramonense | 5 |
| Fred Craig | Plymouth Argyle | 5 |
| Julio César Falcioni | América de Cali | 5 |
| Tubo Fernández | Lleida | 5 |
| Ferreira | Desportiva Guarabira, Força e Luz, Potiguar de Mossoró, Olímpico | 5 |
| Ergilio Hato | Curaçao | 5 |
| Levente Jova | Nyíregyháza | 5 |
| Elvis Kotorri | Elbasani | 5 |
| Víctor Loyola | Santiago Morning | 5 |
| Andrejs Piedels | Amstrig | 5 |
| Józef Pokorski | Lechia Gdańsk | 5 |
| Diego Pozo | Godoy Cruz | 5 |
| Fayz Al-Sabiay | Al-Khaleej | 5 |
| Lucidio Sentimenti | Modena, Juventus, Lazio | 5 |
| Lajos Szűcs | Ferencváros, Újpest | 5 |
| Vilmos Zombori | Ripensia Timişoara | 5 |
This article was updated 4 months ago