Do you know the stations available in the GOtv Jinja channels list? You might want to check out this post if you don't have much time to spend in front of the TV or have little amount budgeted for a pay-tv subscription.
Are you tired of missing out on your favourite sports and TV shows? Look no further! With GOtv Jinja, you can enjoy a wide range of sports and great TV content 24/7 on crystal-clear channels. For just NGN 2250 per month, you can have access to 45 amazing channels.
What You Get
When you subscribe to GOtv Jinja, you get a fantastic selection of channels to keep you entertained. Here's what you can expect:
20 Local Channels: Stay updated with the latest news, shows, and events happening in your local area.
2 Sports Channels: Never miss a game again! Watch your favourite sports, including football, basketball, cricket, and more.
1 Movie Channel: Enjoy a wide variety of movies, from action-packed blockbusters to heartwarming dramas.
23 Other Genre Channels: Explore different genres of TV content, including lifestyle, documentaries, music, and more.
Why Choose GOtv Jinja?
There are several reasons why GOtv Jinja is the perfect choice for your TV entertainment needs:
Crystal Clear Channels: Experience TV like never before with high-quality, crystal clear channels.
24/7 Availability: With GOtv Jinja, you can enjoy your favourite shows and sports anytime, anywhere.
Affordable Pricing: For just NGN 2250 per month, you get access to a wide range of channels, ensuring great value for your money.
Local and International Content: From local news to international sports events, GOtv Jinja offers a diverse selection of content to cater to all your interests.
User-Friendly Interface: With an easy-to-use interface, navigating through channels and finding your favourite shows is a breeze.
How to Subscribe
Subscribing to GOtv Jinja is quick and easy. Simply follow these steps:
Visit the GOtv website or download the GOtv mobile app.
Select the subscription plan that suits you best.
Provide your personal details and payment information.
Confirm your subscription and start enjoying GOtv Jinja!
Don't miss out on the best sports and TV entertainment. Subscribe to GOtv Jinja today and elevate your TV viewing experience!
So, how about we talk about its list of channels in Nigeria?
GOtv Jinja Channels List 2023
It is the second cheapest plan on GOtv you can subscribe to right now.
Since most of Nigeria's population is in the lower middle class, it makes sense why GoTv is the most used satellite TV in the country.
I mean the majority of Nigerians can't seem to afford DStv subscriptions and StarTimes doesn't seem to be gaining much traction these days.
So when the company came up with packages like Jinja that people can get for a small amount of money, they rushed it.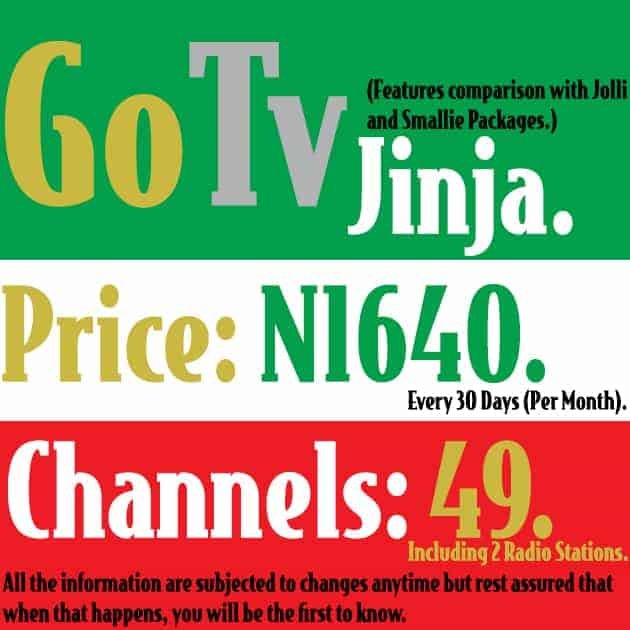 List of GOtv Jinja Channels 2023
Below is the list of channels on GOtv Jinja:
General Entertainment Channels on GOtv Jinja
Africa Magic Hausa (channel 4)
Africa Magic Yoruba (channel 5)
Africa Magic Igbo (channel 11)
Real Time (Channel 12)
E! Entertainment (channel 26)
TVC Entertainment (channel 27)
Trybe (channel 97)
Kids Channels on GOtv Jinja
Jim Jam (channel 61)
Nickelodeon (channel 62)
Music Channels on GOtv Jinja
Sports Channels on GOtv Jinja
SS BLITZ (channel 30)
SS Select 2 (channel 34)
Documentary Channels on GOtv Jinja
Movie Channels on GOtv Jinja
Africa Magic Epic (channel 9)
News Channels on GOtv Jinja
Al Jazeera (channel 40)
Arise News (channel 44)
TVC News Nigeria (channel 45)
NTA News 24 (channel 46)
Channels Television (channel 48)
NTA Parliament (channel 115)
Religious Channels on GOtv Jinja
FAITH (channel 80)
ISLAM CHANNEL (channel 81)
Emmanuel TV (channel 82)
Dove TV (channel 83)
Local Channels on GOtv Jinja
Sunna TV (channel 84)
LAGOS TV (channel 90)
NTA International (Channel 91)
SILVERBIRD (channel 92)
AIT (channel 93)
ONMAX (channel 96)
Wazobia TV (channel 98)
Galaxy TV (channel 99)
OGTV (channel 100)
Arewa 24 (channel 101)
WAP TV (channel 102)
RSTV (channel 103)
EBS (channel 104)
BCOS (channel 105)
iTV Benin (channel 107)
BISCON TV (108)
Liberty TV (channel 110)
Tiwa n Tiwa (channel 111)
R2TV (channel 112)
RAVE (channel 113)
NTA2 (channel 114)
Audio Channels on GOtv Jinja
Naija FM (channel 301)
Wazobia FM (channel 303).
Is Channel 29 on GOtv Jinja Bouquet?
Sorry, you can't watch BBNaija on this package, Upgrade to Jolli or Max so you can access channel 29 which is airing the reality TV.
GOtv Jinja Price in Nigeria
Jinja's subscription costs 2,250 Naira per month and it gives you access to 49 channels which include 2 audio stations.
Launch of the GOtv Jinja Package
It was on December, 10th 2019, that Multichoice Africa announced that they would be adding two new plans to their GOtv packages one of which is Jinja increasing the total number of available bouquets to 6.
Not long after that, the decision immediately led to confusion among their customers because the new bouquets overlap both in how much they cost and the quality of channels available on them with some of the old packages.
It became so hard for people to select which one to subscribe to between them without comparing all the channels available and then looking at the price and it was so frustrating for most people.
They later decided to alleviate the removal of both plus and value packages in the middle of 2020 around June.
Meanwhile, here is the new GOtv Supa Channels list.
Final Thought on GOtv Jinja Channels List
So, what do you think of the GOtv Jinja package? Do you think, that it is a much better GOtv package than Smallie?
Well, you have all the facts and figures and data and details. The decision is yours now.
You can subscribe to this package using quickteller.com/gotv then enter your details to complete the transactions.
Finally, if you find this article helpful, kindly share it with your friends family and relatives across all social media platforms.
This article was updated 3 months ago