Are you searching for the list of all the GOtv Jolli Channels that are available in Nigeria? You will learn all about Gotv jolli bouquet channels list in this post.
In the past, I have written about Gotv Jolli channels list 2021 and Gotv Jolli channels list 2022, but today I would like to treat Gotv Jolli channels list 2023.
Did you know that the list of Gotv Jolli channels 2022 is almost the same as this year with a few added channels?
If you don't have much to spend on a pay TV subscription yet you want to be able to watch some interesting content, then GOtv Jolli is what you might be looking for.
In this write-up, I will list its channels, and compare them with the packages close to it and its price in Nigeria.
To watch Big Brother Naija 2023 on your GOtv, tune in to channel 29. This channel can only be accessed by subscribers on Max and GOtv Jolli packages. Check my write-up about it to learn more.
Let's now see all Gotv Jolli channels list in Nigeria. Is Starlife on Gotv Jolli? What channel is Starlife on Gotv Jolli? Does Gotv Jolli show telemundo? Is Zeeworld on Gotv Jolli? Let's find out together.
Meanwhile, see all Gotv Smallie channels list. Better still, find all Gotv packages here.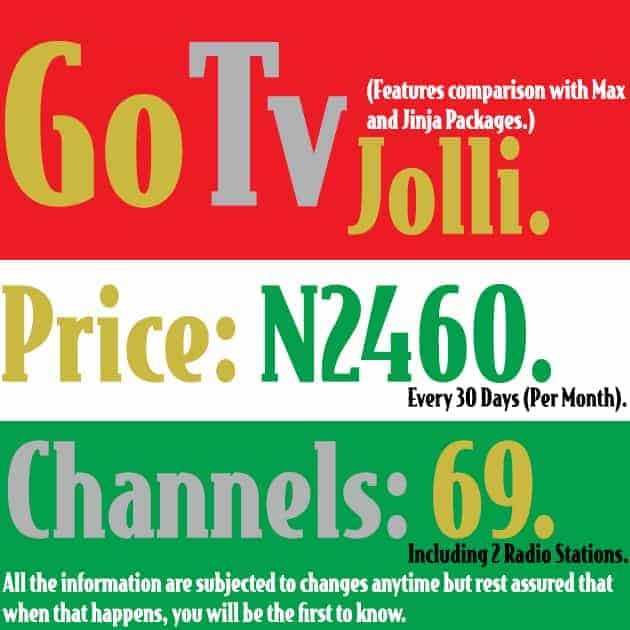 GOtv Jolli Channels List 2023
How many channels are in Gotv Jolli package? If you're looking for a wide variety of television channels to keep you entertained, the GOtv Jolli package offers an incredible 69 channels, spanning across different genres, ensuring that there is something for everyone.
One of the most popular channels on Jolli is Africa Magic Family, found on channel 2. This channel offers a range of family-friendly shows and movies, perfect for a cosy night in with loved ones. For those who prefer Hausa programming, Africa Magic Hausa on channel 4 provides a selection of Hausa movies and TV series.
If you're interested in Yoruba culture and entertainment, tune in to Africa Magic Yoruba on channel 5. This channel showcases Yoruba movies and shows, allowing viewers to immerse themselves in the rich culture. Similarly, Africa Magic Igbo on channel 11 celebrates Igbo culture with its collection of Igbo movies and TV programs.
If you're in the mood for something more lighthearted, Real Time on Channel 12 offers a variety of reality TV shows, cooking programs, and lifestyle content. For those who enjoy telenovelas, Telemundo on channel 14 is the go-to channel, providing gripping and dramatic Spanish soap operas.
If you're a fan of Nollywood, you'll be delighted to know that Jolli offers Televista on channel 15. This channel is dedicated to showcasing Nigerian movies and TV shows, allowing you to stay up-to-date with the latest in Nollywood. ROK 2 on channel 17 is another channel that focuses on Nollywood content, offering a wide selection of movies and TV series.
With its diverse range of channels, GOtv Jolli ensures that there is never a dull moment. Whether you're in the mood for family-friendly entertainment, cultural programming, reality TV, or Nollywood movies, Jolli has got you covered.
Why don't you just check all the stations yourself and see if you like what this package has to offer?
List of GOtv Jolli Channels 2023
How many channels on Gotv Jolli? Below is the list of channels on GOtv Jolli:
General Entertainment (13)
TELEVISTA – channel 15
ROK 2 – Channel 17
ROK 3 – Channel 18
AFRICA MAGIC FAMILY – Channel 2
CBS REALITY – Channel 22
DISCOVERY FAMILY – Channel 50
AFRICA MAGIC IGBO – Channel 11
AFRICA MAGIC YORUBA – Channel 5
AFRICA MAGIC HAUSA – Channel 4
REAL-TIME – Channel 12
E! ENTERTAINMENT – channel 26
TVC ENTERTAINMENT – channel 27
TRYBE TV – channel 97
Novella (4)
ZEE WORLD – channel 25
EVA+ – Channel 13
TELEMUNDO – channel 14
NOVELLA MAGIC – Channel 20
Movies (3)
B4U MOVIES – Channel 24
TNT AFRICA – Channel 16
AFRICA MAGIC – Channel 9
Documentary, Lifestyle & Education (2)
NAT GEO WILD – Channel 51
SPICE TV – 10
Sport (3)
SUPERSPORTS BLITZ – channel 30
SUPERSPORTS FOOTBALL – Channel 31
SUPERSPORTS SELECT 2 – Channel 34
News & Commerce (8)
NTA PARLIAMENT – channel 115
ALJAZEERA – channel 40
TVC NEWS – channel 45
NTA NEWS 24 – Channel 46
CHANNELS TV – channel 95
ARISE NEWS – Channel 44
CNN – channel 42
BBC WORLD NEWS – channel 41
Kids & Teens (5)
DA VINCI TV – channel 66
DISNEY JUNIOR – channel 60
PBS KIDS – channel 65
NICKELODEON – 62
JIMJAM – 61
Music (3)
MTV BASE – channel 72
HIP TV – channel 74
SOUND CITY – Channel 75
Local Channels (21)
TIWAN TIWA – channel 111
AIT – channel 93
BCOS TV – channel 105
BISCON TV – channel 108
EBS TV – channel 104
GALAXY TV – channel 99
ITV BENIN – channel 104
LAGOS TV – channel 90
LIBERTY TV – channel 110
NTA 2 – Channel 114
NTAi – channel 91
OGTV – channel 100
ONMAX – channel 96
R2TV – channel 112
RAVE TV – channel 113
RSTV – channel 103
SILVERBIRD TV – channel 92
SUNNA TV – channel 84
WAP TV – channel 102
WAZOBIA MAX – channel 98
AREWA24 TV – channel 101
Religious (4)
FAITH – channel 80
ISLAM CHANNEL – Channel 81
EMMANUEL TV – channel 82
DOVE TV – channel 83
Audio (2)
NAIJA FM – channel 301
WAZOBIA FM – channel 303
GOtv Jolli Price in Nigeria
How much is Gotv Jolli subscription in Nigeria? Are you tired of paying exorbitant prices for your monthly cable subscription?
The GOtv Jolli package, priced at just 3300 Naira per month with 65+ Channels, is an affordable package designed to bring you the best in entertainment without breaking the bank.
GOtv Jolli Channels Vs. Jinja
Channels such as TNT Africa and B4U Movies are some of the channels on GOtv Jolli that you will love to watch. See more GOtv Joili channels below and make your choice.
Others are Discovery Family, NatGeo Wild, FOX, CBS Reality, Africa Magic Family, Televista, ROK 3, ROK 2, Super Sport Football, Da Vinci Kids, Telemundo, Eva+, Zee World, Disney Junior, MTV Base, Hip Tv, CNN and BBC News.
Considering the fact that Channels on Gotv Jinja are just 1,050 Naira cheaper than Jolli and won't have access to all the above stations. I think the best decision here is to go for Jolli over Jinja. It is not even close to that price difference.
GOtv Jolli Channels Vs Max Vs Supa
Plus has now been deprecated while Jolli and Max have been revamped. So this part of the write-up is just to show you what the previous settings were.
Between the GOtv Max and Plus packages is the GOtv Jolli subscription.
So it makes sense that people want to know whether to upgrade from Plus to Jolli or downgrade from Max to Jolli.
You will still be making that decision yourself but I will give you all the facts you need.
If you are presently on Max, there are 4 channels (Super Sport Select 4 and 5, RSTV and Wasafi TV) you are currently enjoying that Jolli subscribers don't.
And there is one station (Wazobia TV) Jolli subscribers are enjoying that you aren't.
So you can decide if it's worth downgrading or not. Remember that Max is 4,850 Naira, so do you see the difference in cost compared to Jolli?
For those presently on Plus who don't know if upgrading to Jolli is worth it. This is for you.
GOtv Supa package is currently N6,400, meaning it is 3,100 Naira more expensive than Jolli.
There are 80+ stations (3 Music Channels, 6 Sports Channels, 6 Movie Channels, and 69 other genre Channels) that you will start enjoying immediately after you upgrade to Supa.
So you have all the details needed and you should be able to decide for yourself which package is good for you and whether to downgrade or upgrade from Max or Supa respectively to Jolli.
I have previously published a post that explains how to go from one Gotv package to another. Try to check it out.
How To Activate Channel 29 On Gotv
How many channels are there in Gotv Jolli? Are you looking to catch all the awesome shows on channel 29? Here's how to activate GOtv Jolli channels 29 on your decoder!
To start, make sure your subscription is active and no other channels are being displayed. Then select 'Advance Options' under the 'Menu/GOtv' button, followed by 'Installation' and click 'OK.' Choose 'Automatic Scan' and allow it to finish scanning. When done, select 'Exit' and navigate to channel 29 – it's that easy!
Alternatively, you can also turn on your GOtv decoder by pressing the power button and waiting for the decoder to restart before beginning scanning. After scanning, proceed to channel 29 and have fun watching!
Final Thoughts on GOtv Jolli Channels List
Now you know how many channels is on Gotv Jolli. Even though the GOtv Jolli plan is 1,550 Naira cheaper than Max and just 1,050 Naira more expensive than Jinja, it is much easier to choose between Jolli and Jinja than to choose between Jolli and GOtv Max.
I mean it has 20 channels more than Jinja while Max has just 10 stations more than it. And not just that, those 20 stations are great ones that you do not want to miss all Gotv Jolli channels list Nigeria because of the 1,050 Naira.
But the decision is still yours to make. You obviously know what's best for you. Just take the data and number above into consideration while making your decision.
To subscribe, go to quickteller.com/gotv, enter your details and complete the transaction using OTP sent to the number registered to your bank account.
This article was updated 2 months ago