Are you a GT Bank customer? Did you misplace or forget your gtbank account number? Are you searching for the code you can use to check it? You will find that here.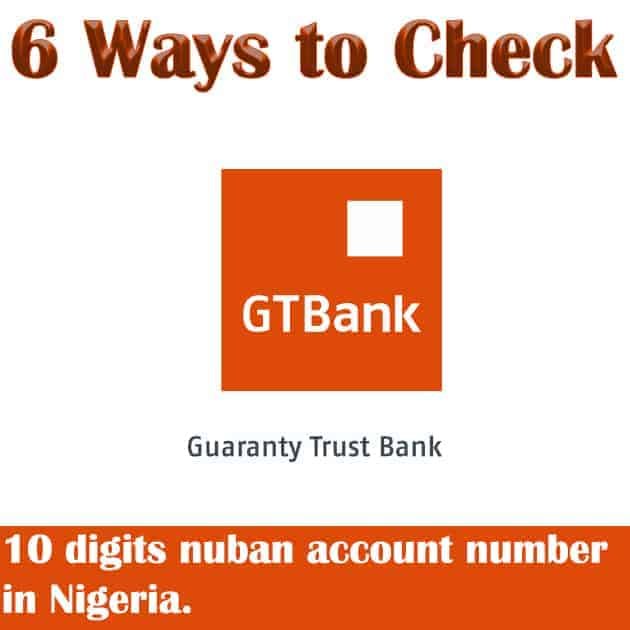 GT bank issues bank account numbers to all their customers just like every other bank in Nigeria. As a GT bank account customer, you would need to provide your bank account number if money is to be paid into your bank account so it is a very important bank detail. Customers are always advised to take note of their account number and keep it safe after they have been issued a bank account but despite this, a lot of people still misplace or forget their account numbers.
This is a usual case in Nigeria and when such happens to you, you find your self searching for ways to check your account number. Well, there are ways, different ways but we shall be concentrating on one first – using the GT Bank USSD code.
A USSD code is a code used by GSM networks to communicate with a particular service provider; it is also known as a quick code or feature code. I'll be showing you the GT bank code for checking account number, how to use it and other information about it you should know.
1.) Code to Check GTbank Account Number
The code you can use to check your GT bank account number is the *737# USSD code.
This code is used to carry out various transactions on the GT bank USSD platform and checking of account number happens to be one of them.
To use this code, you need to create a USSD PIN, this PIN must be 4 digits in number and you should be able to remember it as you would need it for authentication.
Follow the steps below to successfully create this USSD PIN;
Dial *737# from the phone number linked to your GT bank account
Reply with 10 to create a PIN
Reply with 1 to Create PIN with debit card or 2 for Create PIN with no debit card (choose which ever one that you would like to use)
Enter the last six digits of your debit card or your correct account number according to your choice in the previous step
Create a 4 digits PIN
Re-enter the 4 digits PIN for confirmation
After creating this PIN, follow the steps below to successfully check your account number;
Dial *737*6*1# from the phone number linked to your bank account
Select account number among the list of inquiries listed
Enter your USSD PIN to authenticate.
The correct 10 digits of your account number will be displayed on your phone screen and you can copy it out from there. Right now, we are going to look at the terms and conditions associated with using this code.
Service Charge
GT bank will charge you N10 (Ten Naira Only) each time you use this USSD code to check your bank account number and it will be deducted from your bank account. You will also be charged by your mobile network from your airtime, the amount depends on your duration on the USSD platform but it should be between N1 – N4 per 20 seconds.
Service Limit
No limit is placed on checking your account number with the *737# USSD code. You can use it whenever you want to and on each check, charges apply.
Supported Networks
MTN, Glo, 9Mobile, Airtel and other GSM networks are supported to operate this USSD code. It will not work for non-GSM networks.
2.) Cheque Book
I'm sure you should know this already but I am still going to tell you about it. If you have a cheque book, simply pick it up and look at the second series of numbers at the bottom of a slip; that is your bank account number.
3.) GTB SMS Banking
GT bank SMS banking platform is another platform for carrying out bank transactions from your mobile phone; you can use it to check your bank account number very easily. To do this;
Text "My Account" to 08076665555
As you send the text message, you will get an SMS reply from GT bank within minutes. The SMS will contain the correct bank account number of your account.
4.) GT World Mobile Application
This method can be used if you are already registered on the GT bank world mobile app. Both Android and iOS users can access this app as it can be downloaded from the Google Play Store and from the Apple App Store.
To check your bank account number, open the app and you would find it at the top right corner below your account type.
5.) GTB Internet Banking
Just like the former, you can only use this method if you have already registered on the GT bank internet banking platform. You can access the platform by visiting – ibank.gtbank.com; login with your username and password and you would find your bank account number when you click on account information.
6.) GTB Customer Care
This is another easy way to check your bank account balance. You can contact the GT bank customer care and request for your bank account number. This can be achieved by visiting your bank branch and meeting any of the customer care personnel or by using the Live Chat feature on their official website. You can also call +234-700-4826-66328 or send a mail to enquiries@gtbank.com.
Final Note
Gtbank has made it easy for its customers to check and confirm their account numbers when they are in need of it. Your bank account number should be very important to you as it is your bank identity, try to save your it somewhere where it can be accessed easily.