I'm sure you are here expecting to see a code to check heritage bank account number.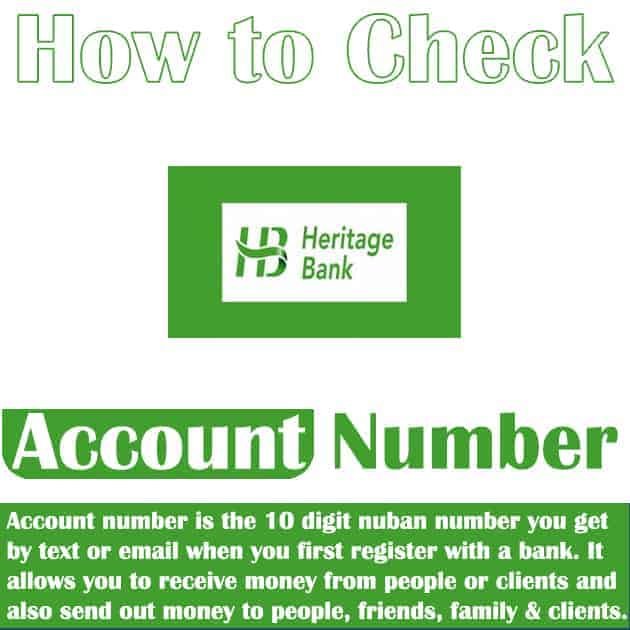 Unfortunately, Heritage Bank does not feature such code so there is none for you to use. The good news is that there are some alternatives you can try and I have them discussed below.
1.) Checking Your Cheque Book
You can use this method to check your Heritage bank account number if you run a current or cheque account with the bank and you have been issued a cheque book.
If you take a look at your cheque book, you would notice a couple of numbers written at the bottom of each slip. The second series of number you see at the bottom of your cheque slip should be your bank account number and it should be 10 digits in number.
2.) Checking Your Bank Statement
We all receive bank statements regularly, it is mostly sent monthly to the email address linked to your bank account unless you opted out of emails. One can also request a bank statement when needed and your bank will have it sent to you via mail or you will go pick up a hard copy at your branch.
Your bank account number is always written on your bank statement so if you're looking for it, search your mail for any copy of your bank statement you have. The account number will be written on either the left or right side at the top of the document.
3.) Using Heritage Mobile Banking App
If you use the Heritage mobile application, this should be a very easy way for you to check your bank account number. All you need to do is to sign into the app and access the accounts page, you would find your bank account number along with your account balance. If you do not use this application, you can get it from your device app store; it is supported on Android, iOS and Blackberry mobile devices.
4.) Using Heritage Bank Online Banking
This method is just like the former but instead of using an app, you would be using the Heritage Bank online banking portal. Visit the portal and login to your account with your login ID and password, your bank account will be displayed on your account summary.
5.) Contacting Heritage Bank
Heritage bank has support contacts which you can use to contact their customer care. You can find these contacts on their website and they include both emails and phone numbers. Reach out to them and make a request for your bank account number; you will be asked to provide some info about the account and your account number will be provided after that.
You can make it a lot easier by visiting your bank branch and meeting any of the customer care staffs.
Final Note
Heritage bank does not have a code to check your account number but that does not mean there are no other ways. You can use any of the easy methods above to check your account number and when you get it, try to keep it safe.