The best way to do this is usually with a code but keystone bank mobile code doesn't have that functionality here but that does not mean you won't be able to retrieve your account number if you have forgotten it; there are many other ways you can make use of it and they are discussed below.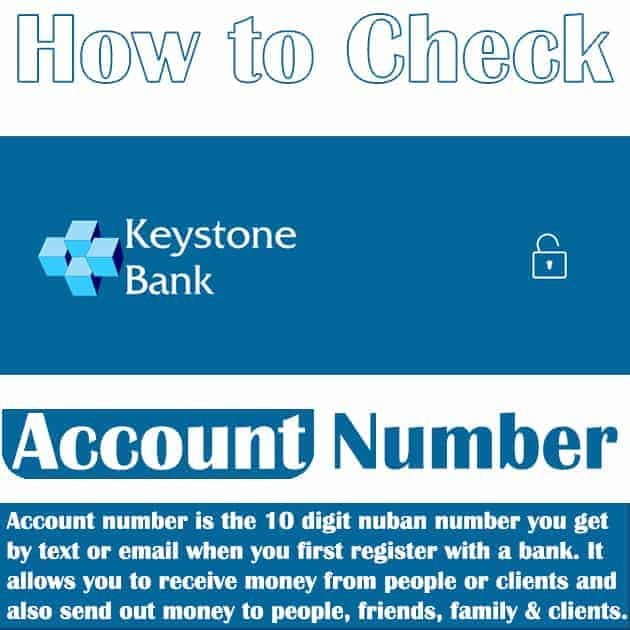 1.) Cheque Book
If your Keystone bank account is a current account (or any other cheque account), you should have a cheque book issued to you. Your bank account number is printed on each slip in your cheque book and you can easily check it by looking at one. Your bank account number should be the second series of numbers you would find at the bottom of your cheque slip; do check to confirm that it is 10 digits in number.
2.) Bank Statement
If you have received a statement from your bank in the past, you can check your bank account number by getting a copy. This method is included because a lot of Keystone bank customers receive bank statements and summary of accounts monthly directly to their emails. If you do not have a hard copy, check your email for one and you would find your account number at the top side of the page, it is usually written along with your other bank information.
3.) Keystone Bank Mobile Application
Their mobile banking application has been live for a long time now and lots of customers have been making use of it. If you have this app installed in your phone, you can view your bank account number by just launching it. The bank account number will be displayed along with your bank balance on your dashboard.
If you do not have this app installed, you can download it from the Google Play Store or from the Apple App Store. After download, install it and register on the app by entering basic information about your bank account.
4.) Keystone Bank Internet Banking
This method is just like the former but instead of using an app, you would be using the keystone Bank online banking portal. Visit the portal and login to your account with your login ID and password, your bank account will be displayed on your account summary.
5.) Keystone Bank Customer Care
Keystone bank has support contacts which you can use to contact their customer care. You can find these contacts on their website and they include both emails and phone numbers. Reach out to them and make a request for your bank account number; you will be asked to provide some info about the account and your account number will be provided after that.
You can make it a lot easier by visiting your bank branch and meeting any of the customer care staffs.
Final Note
Keystone bank does not have a code to check account balance but that does not mean there are no other ways. You can use any of the easy methods above in place od code to check keystone bank account number and when you get it, try to keep it safe.