You need your FCMB account number to perform various banking transactions. Without it, most transactions can't be completed.
Unfortunately, a lot of FCMB customers misplace or forget their bank account numbers and start searching for them when it is requested.
On the fortunate side, there are ways via which they can get it back; read on if you would want to find out.
A bank account number (officially Nigerian Uniform Bank Account Number – NUBAN) is a number series that identifies a particular bank account.
When you create an FCMB account, you will be issued a unique 10 digits number which is what proves that you now have an account with FCMB.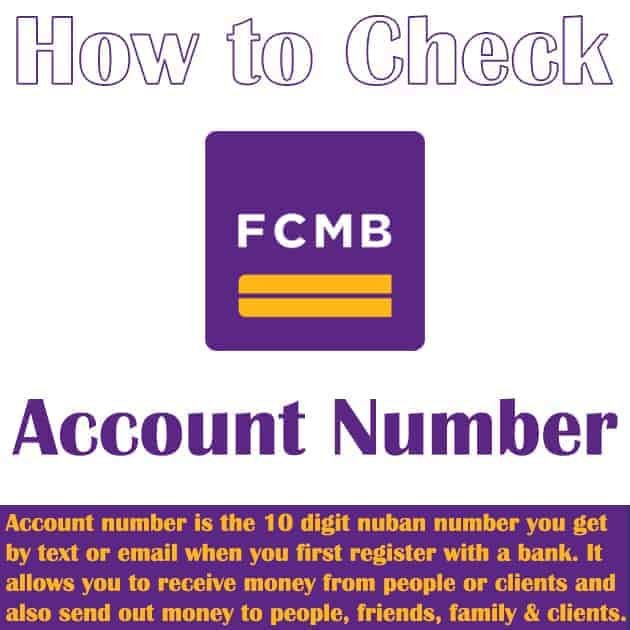 Whenever any money is to be transferred or deposited into your bank account, you would need your account number so this number is very important.
Code to Check FCMB Account Number
Dial *329*00#, and enter your PIN to authenticate. Your bank account balance will be displayed on your screen and also sent to you via SMS which will include your bank account number.
First City Monument Bank (FCMB) does not feature checking account numbers on their USSD platform, so there is no direct code to check your bank account number.
However, this method involves checking your bank account balance, your bank account number will be contained in the notification you will receive when you check your bank account balance.
If you would not like to use this method, you can scroll below to check for other methods that you can use to check your account number.
For those who would like to use this method, you first need to register on the bank's USSD platform.
To register, dial the USSD code, *329# from the phone number linked to your FCMB account. You will be prompted to register, follow the instructions and enter all requested details to complete your registration.
You will be required to create a 4-digit USSD banking PIN, and enter a PIN you can remember as you would need it to authorize several transactions.
After creating your PIN, you would get an onscreen notification welcoming you to the FCMB USSD banking platform.
Since you are indirectly checking your account number via checking your account balance, terms and conditions associated with checking FCMB account balance with the *329# code will apply. Let's look at them.
Service Charge
FCMB bank will not charge you for this service, the charge will come from your mobile network (Telco charges). You will be charged N10 – N20 depending on your duration on the USSD platform.
Limitations
There is no limited number of times that one can use this service. The service can be used as many times as possible provided you have airtime on your phone for Telco charges.
Networks you Can Use
This service can be used on all GSM networks in Nigeria. It will work on major networks like MTN, Airtel, Glo, and 9Mobile.
Retrieve from Your FCMB Cheque Book
This should be the easiest offline means of checking your bank account number as an FCMB account holder.
If you have a chequebook in your bank account, you can check your account number by looking at your chequebook.
The bank account number of the account is always written on the downside of a cheque slip, it will be the 2nd series of numbers.
Reach Out to FCMB Customer Care
FCMB customer care service is available 24/7 for you to contact for whatever issues you are experiencing.
You can contact them to help you with your account number when you are in need of it.
If you want to contact them, you can either send a mail to [email protected] or call any of these phone numbers; 07003290000, 01-2798800.
When you contact them, they will request some information about your account; simply supply this information and your bank account number will be provided.
Check Using FCMB Mobile Plus App
FCMB Mobile Plus is FCMB's official mobile application that customers can use to carry out transactions from their bank accounts.
The app is available for Android and iOS devices and it can be downloaded from the Google Play Store or the Apple App Store.
If you have this app already installed and registered, simply open it and you would find your account number displayed on your dashboard, right above your account balance. This app uses an internet connection so you would need to have data.
Check Your FCMB Internet Banking Dashboard
This is another online means of checking your FCMB bank account number and it can be used by those registered on the FCMB internet banking platform.
Simply visit the FCMB bank internet banking portal (ibank.fcmb.com) and click on login, enter your login details and continue.
You would find your account number along with other account details on your dashboard.
FCMB Social Media Handles
Though not known by many, you can use social media to make banking enquiries and get quick responses.
This is just like the customer care method and it requires the use of social media platforms such as Facebook, Twitter and WhatsApp.
For Facebook, visit the FCMB official Facebook page (FCMBMyBank) and message the page admins.
For Twitter, visit FCMB's official Twitter handle (@myfcmb) and send them a message. You can send a message on WhatsApp to 09099999814 or 09099999815.
Visit Any Branch of FCMB
If you happen to be close to any bank branch, you can easily walk in to confirm your account number anytime during banking hours.
Just meet any of the customer care personnel and they will help you out after you provide them with the needed details.
Final Note
Whenever you need your FCMB account number, you should not have a hard time finding it, you can use any of the methods discussed above to do so.
Always try to keep it safe by storing it where you can easily access it, you can write it down somewhere or store it as a contact on your phone.
This article was updated 4 months ago