Looking to check your Sterling Bank account number? This guide provides easy-to-follow instructions on how to view and confirm the account number associated with your bank account.
Your sterling bank account number will be needed if money is to be deposited or transferred into your account; without it, such will be impossible.
If you have a bank account, you must have a bank account number; it is a must because it is your account identity along with the account name.
Bank account numbers should be easy to memorize, A NUBAN is just 10 digits which are not very long.
Sometimes, bank customers do forget their account number(s), especially those who have multiple accounts. When such happens, there is a need to search for and retrieve it.
Fortunately, all banks have the bank account numbers of their customers in their database so one can easily get them from the bank.
See Also: Nigerian Banks and their USSD Codes Listed Fully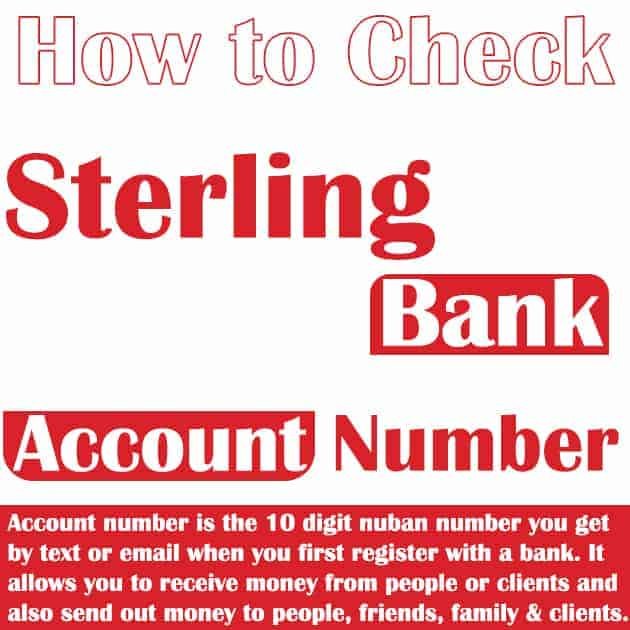 The question now is, how can you get it without having to contact the bank. Well stayed tuned because in this article, we shall be considering Sterling customers who are trying to retrieve/check what their nuban number is.
Sterling bank has made available a USSD code that can be used to check your NUBAN numbers easily. As you read on, you would discover what this code is as well as other ways you can make use of.
Code to Check Sterling Bank Account Number
Dial *822*5# with the phone number registered to your sterling bank account and enter your authentication PIN to check your NUBAN number.
Your account number or list of your account numbers (if you have more than one account number) will be displayed on your phone screen for you to view.
Alternatively, you can also go this route.
Dial *822# from your mobile phone
Reply with 8 for My Account Number(s)
Enter your USSD PIN to approve
If you are using this code for the first time, an authentication PIN is required to be able to use the code and you have to use the phone number registered to your account.
You will need this PIN to complete all transactions except self-recharge when you are on this platform.
Follow the steps below to create the sterling 822 PIN
Dial *822# from your mobile phone
Reply with 9 for Next
Reply with 3 for PIN reset
Enter details of your debit card as prompted
Enter a USSD PIN
Re-enter the USSD PIN to confirm
Your PIN must be 4 digits number and you should be able to recall it easily as you would make use of it frequently,
How Much is the Service Charge?
Free, free, free; checking your account numbers with the *822# code is free of charge, it would cost you N0 from your bank account. Depending on the network you are using, you might be charged
How Many Times Can One Use the Code?
You can use the code many times, as many times as needed; it has no usage limit attached.
Which Mobile Network will the Code Work With?
You can use any of the major mobile networks – MTN, Airtel, 9Mobile and Glo – to dial this code; it would work with all GSM networks in Nigeria.
Retrieve from Your Sterling Cheque Book
One easy method of checking your bank account number is by having a look at a slip on your chequebook.
If for any reason you have not noticed, there are a series of numbers listed at the bottom of each cheque slip and your bank account number should be the second (counting from the left-hand side).
To be sure, do count it to see if it is up to 10 digits. This method is very simple but, only those who run current accounts can make use of this method, savings account holders do not get chequebooks.
Get the Number from Your Account Statement
All Sterling bank account holders can relate to this; bank statements are documents everyone receives either via mail (soft copy) or in hand (hard copy).
Your bank account number is usually printed on your bank statement slip; at the top corner along with other bank information.
Aside from bank statements, look for any other document related to your bank account and you are likely to find your account number there.
Check Account Number on Sterling Mobile App
It involves you downloading and installing the Sterling OnePay App (the official mobile application of Sterling bank) on your mobile phone.
This application can be downloaded by Android and iOS users as it is available on the Google Play Store and the Apple App Store.
After registering on the app, your account number and other information about your account will be displayed on your dashboard when you launch.
You can click on My Account to see other account numbers if you have multiple.
Retrieve from Your Internet Banking Dashboard
Popularly known as Sterling ibank, the Sterling bank Internet banking platform is an online platform where you can manage your Sterling bank account.
Before you can have access to your ibank portal, you need to register for the service and acquire a username and password.
However, you can still log in using the login details of your OnePay account.
When you log in, click on account information and your account number(s) will be displayed.
Contact Sterling Bank Customer Care
Send a mail to [email protected] or call 070078375464 and request for your account number.
You will be asked to provide some details about your account to prove that you are the owner; once you provide these details, you will get your bank account number.
You can do the same thing by visiting the customer care center at a Sterling bank branch. Also, contacting Sterling bank via Twitter or Facebook is another method you can use.
How To Check BVN On Sterling Bank
Checking your Bank Verification Number (BVN) with Sterling Bank can be done in multiple ways.
You can check or retrieve your BVN using code 5650# – dial the code from any phone number that is linked to your BVN and you will receive details of your BVN for a ₦20 service fee.
Alternatively, log on to the Sterling Bank internet banking platform and click on the menu bar – you will see your BVN displayed there.
Note: Your BVN should be kept confidential as it is used mainly for identity verification.
How To Reset Sterling Bank USSD Pin
Resetting your Sterling Bank USSD PIN is easy and can be done with a few simple steps.
First, dial *822# on the phone number you use to open your bank account or the one that receives alerts.
Next, press 1 to reset your PIN – this can only happen after you successfully register.
Thereafter, follow the on-screen instructions and you should be able to reset and change your PIN with ease.
Final Note on how to check Sterling bank account number
Knowing how important your sterling bank account number is; you should try not to forget it.
If you can not memorize it, you can write it down somewhere safe or save it as a contact on your mobile phone.
That way, you can easily retrieve it if and when you need it.
This article was updated 4 months ago