Although this bank has a code that can be used to carry out various bank activities but unfortunately, it can't be used to check bank account numbers. But here are the top methods you can use to know your stanbic ibtc account number in 2020.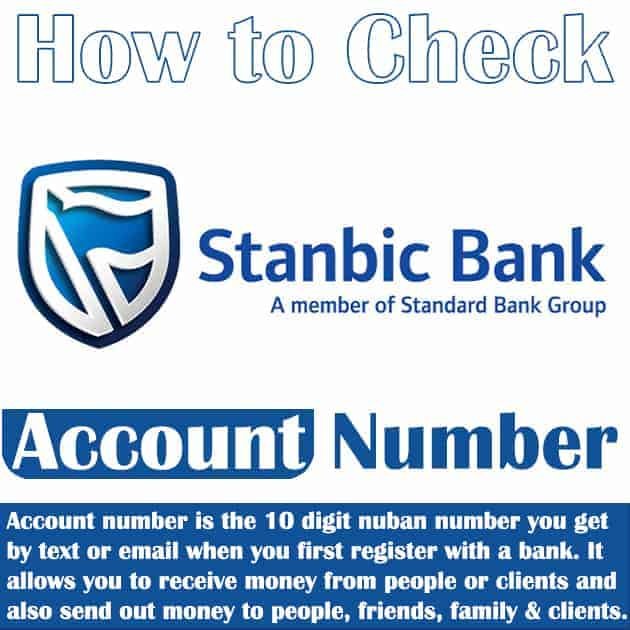 Nevertheless, if you need to check your Stanbic IBTC bank account number, there are other ways you can use. These are not so difficult and you can check them below.
1.) Contacting Stanbic IBTC Customer Care
The function of a customer care service is to respond to questions and inquiries from customers. Every bank in Nigeria has a customer care service and so does StanbicIBTC.
You can check your Stanbic IBTC bank account number by enquiring about it from the customer care. This can be done through telephone, email or social media platforms. It is not difficult and you would receive your bank account number if you are able to provide the requested bank information.
To reach the Stanbic IBTC customer care through phone, you should call 0700 2255 782 6242 while for email, you should mail customercarenigeria@stanbicibtc.com. You can look up the official social media handles of StanbicIBTC on platforms like Facebook and Twitter.
When you contact them and enquire for your bank account number, you will be required to provide some information about your bank account. This can include your name, phone number, date of birth and few more. If you are able to provide the correct details, your bank account number will be related to you.
At Stanbic IBTC bank branches, there are customer care staffs you can meet in person to request for your bank account number. You can either meet the staffs at the teller or those seated at the table. When you go in person, the process becomes a lot easier. All you need to do is to provide the bank account name and they will provide your bank account number for you.
2.) Checking with the Internet
You can check your Stanbic IBTC bank account number via the internet using a device with internet connection. This can be done using the Stanbic IBTC bank internet banking portal or via the Stanbic IBTC mobile application. The process is very easy and can be used by customers who are registered on these platforms.
If you use internet banking, you simply need to login to the portal using your user ID and password. From your dashboard, navigate to your profile by clicking on your displayed bank name at the top. From there, you can view your bank information which includes your bank account number and others.
To check with the Stanbic IBTC mobile application, you also need to be logged in on your mobile device. From the app dashboard, click on My Bank and you would find your bank account number; it would be displayed along with other bank information.
For Stanbic IBTC bank customers that are not registered on the internet banking platform and on the mobile app, you can do so with ease. The registration for Internet banking can be done online via the portal or at a Stanbic IBTC bank branch. The process is simple, you just need to fill the registration form with the required details and submit it to the bank staffs. They will process your registration and if successful, you will be issued a login user ID and password. These details are vital and should be kept safe as you cannot access the portal without them.
For the mobile application, it can be downloaded and installed free of charge. Android users can get it from the Google Playstore and iOS users can get it from the Apple App Store. After installation, you should launch the app and complete the registration process. Once again, this is simple; you are only required to enter basic details of your bank account. You would also need to verify your bank account number via the code that will be sent to via SMS. You will create a secure password for login.
3.) Checking with Bank Documents
Your bank account number is likely to be written on any bank document you get from your bank. You can easily check for it by picking up one of these documents. There are some specific bank documents where you can find your bank account number and they include, bank statement, cheque and bank receipts amongst others.
You should know what a bank statement is as you must have received a couple from your bank. This document contains recent debit and credit transactions made from your bank account and their dates. At the top corner of a bank statement, you would always find the bank account number and bank name of the owner of the account. With this, you can check your bank account number by simply picking up a bank statement slip. If you do not have any in hard copy, you can search your bank-registered email address for a soft copy. Banks do send monthly statements to customers via email so you are likely to find one.
Stanbic IBTC account holders who have cheques issued to them can check their bank account numbers with it. On every bank cheque slip, there is always a bank account number printed. This is always the second series of numbers at the bottom side of a cheque (there are 3 series of numbers in all). To confirm if it is your bank account number, you should check that it is 10 digits in number; every Nigerian bank account is 10 digits in number.
Bank receipts and tellers do contain bank account numbers and account names for reference purposes. You would get a teller when you deposit or create money from bank account. If you have any one, you can use it to check your Stanbic IBTC account number.
Aside from the documents mentioned above, you can check any other bank document around you and if you're lucky, you would find your bank account number there.
Final Note
As a bank customer, you should not forget your bank account, it is a very vital bank detail. If this happens, you can use any of the methods above to check for it.