In this article, you will learn the different methods you can use to check your Zenith bank account balance any time you wish to, without any stress. Most of which won't require you to go to the banking hall at all.
Having access to your account balance is something you would want. But, some people do not know how to, unless they receive a debit or credit alert.
For each credit or debit alert, you get to see your account balance.
How to Check Zenith Bank Account Balance
However, you don't need to wait for a credit or debit alert before you know what you have left in your account.
You can always check your balance any time you want or need to.
See Also: Salary Of Nigerian Governors, Deputy, Ministers, Senators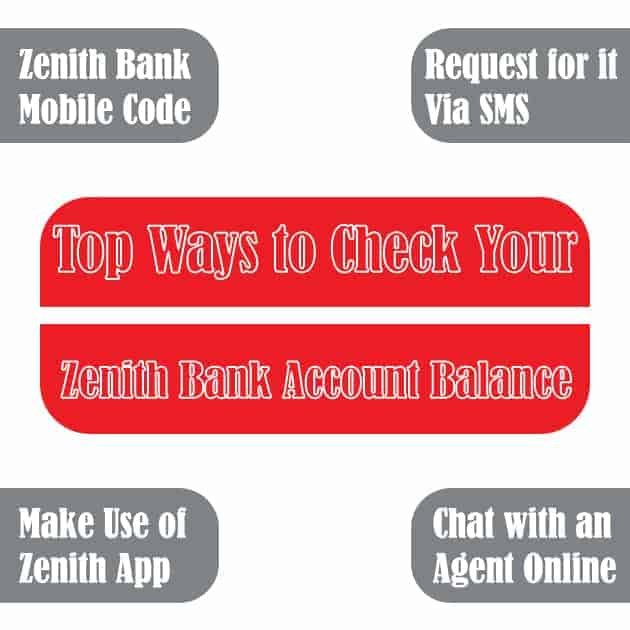 There are different methods you can use or apply to check your balance. These methods include USSD code, text message, online chat, mobile app, social media and internet banking.
We will discuss the different methods which you can use to do this below.
Code to Check Zenith Bank Account Balance
What is Zenith bank balance code? To check your account balance with Zenith bank using code, dial *966*00# and it will show how much you have left in your account.
Using the Zenith bank balance USSD code is a very easy way to check your account balance whenever you want.
However, it is important to note that the bank's code only works for you when you use the phone number you used to register the account.
You also have to be registered and eligible to use the code that is if you are not registered yet.
If you are new to using the code then you have to get yourself registered first by following the steps below.
Dial *966# with your alert number
Enter the last 4-digits of your ATM card
The next page will display your account name on the screen. You will be asked to create a PIN
Enter any 4-digit number that you can easily remember as your PIN
The next page requires you to confirm your PIN. Here, you have to repeat or re-enter the PIN you created
You are successfully registered and eligible to use the USSD code at any time.
What that means is that checking your balance is one of the numerous functions of this code.
You can also use it as a transfer code for zenith bank to send money from your account to any account operated by a Nigerian bank.
Check Your Zenith Balance Via SMS
You can also check your balance using the message method. You can send a message to zenith customer care through their contacts requesting for your account balance.
You can send your request through the following customer care numbers: +234-1-2787000, +234-1-2927000, +234-1-4647000, and 0700ZENITHBANK.
You may be asked to provide a few pieces of information about your account like account name, account number, phone number, etc. Make sure you provide accurate information.
Chat with Zenith Customer Care Online
You can also get your account balance using the online live chat with a customer care agent.
However, because this is an online chat you have to make use of a smartphone with an internet connection, which is a data connection. Here is what to do;
Put on your data. Note that this is not restricted to any network, you only have to use the phone number you registered with the account.
Visit zenithbank.com
You will find the chat button at the right corner of the page.
Click on the button, and a customer service agent will be available for you.
Make a request for your account balance.
The customer care agent will ask for your account name, account number, when the account was opened, etc.
The information you provided will be verified after which your account balance will be sent to you through a message.
Make Use of Zenith Mobile App
This is one of the simplest and safest ways to check your account balance. With your Zenith bank mobile application, you have access to your account balance always. This method however is only for smartphone users.
To check your account balance, login into the application (Zenith Bank App).
You will see your account balance on top of the screen. If you don't have the app on your phone this is what you should do;
Go to your Google Play Store or Apple Store
Search for Zenith Mobile App and download the application
Open the application
Complete the signup and login processes
You will find your account balance on the top screen. You will need a data connection for this
Check Balance on Zenith Internet Banking
To check your account balance using this method, you will need to follow the instructions below;
Navigate to zenithbank.com and click on internet banking
When the page is open, under Personal Internet Banking or Corporate Internet Banking depending on the type of account you are using, click on the LOGIN button
Your account balance is boldly available on your dashboard
Make sure you've registered for internet banking with zenith bank. If not, you will need to visit the nearest branch and do so and all the details you need will be given to you.
See Also: 774 Local Government Areas In Nigeria Fully Listed
Final Thought
Have you been looking for how you can easily know Zenith bank account balance? I hope the above tips were helpful.
If you have more methods you think should appear here that aren't, you can tell me using the comment and I will look into it.
This article was updated 4 months ago