Do you know How To Check Zenith Bank Account Number On Phone? Zenith Bank PLC is very popular in Nigeria as the bank has customers in all states of the country. This write-up will be providing information on how these customers can easily check their zenith bank account number.
There are various methods you can use to check this number both offline and online. Both of which will be discussed.
How To Check Zenith Bank Account Number On Phone (Code)
Here is How To Check Zenith Bank Account Number On Phone: Dial *966*00# using the phone number registered to your bank account, enter your 4-digit authentication PIN and your account number will be shown to you.
Check Account Number Cheque Book
A chequebook is issued by Zenith bank to customers who are running cheque accounts.
See Also: List of banks that have merged in Nigeria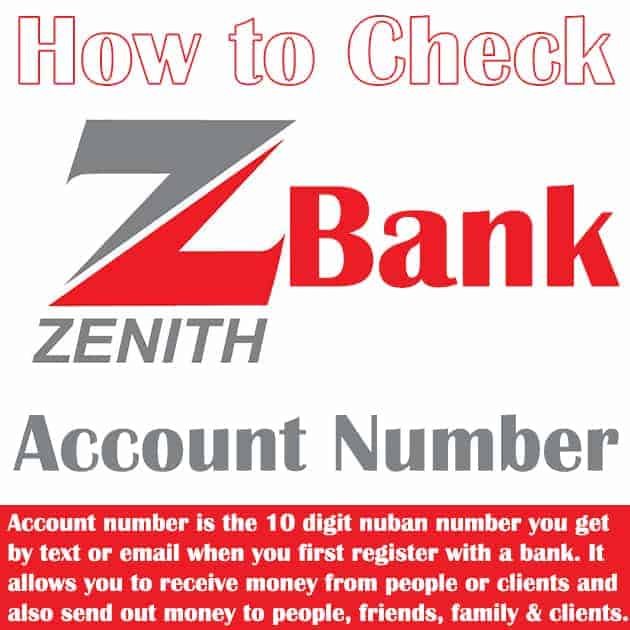 On your cheque slip, you would find details of your bank account and from there, you can view your account number.
Looking at the bottom of a slip of your Zenith bank chequebook, you are likely to find 3 series of numbers.
Beginning from the left, the first series of numbers you see is the routing number of your bank and it is 9 digits number.
The 2nd series of numbers you see is your bank account number (provided you are the owner of the cheque). The last series of numbers you see is your cheque number.
Since you are looking for your account number, you do not have any business with the first and third series of numbers. The second series of numbers is what you are looking for.
Retrieve the Number from Bank Statement
One of the most common documents commercial banks issue to their customers is a bank statement.
This is a document that contains information about your recent debit and credit transactions along with you're account balance. This document as well contains your bank details which include your account number.
If you can lay your hands on any bank statement that has been issued to you, you can use it to check your bank account number.
The account number can be found at the top corner of the bank statement slip and it is usually listed with your account name.
Even if you do not have a hard copy bank statement, you can still check using a soft copy.
Zenith bank does send monthly statements to their customers via email and you can check yours for one. For your interest, you can request for a bank statement from your bank anytime you need one.
How To Check Zenith Bank Account Number On Phone (Mobile App)
If you want to check your bank account number using your mobile phone, you would want to use the Zenith Bank Mobile Application.
However, you would only be able to use this app if you make use of a smartphone.
Zenith bank recommends that its customers make use of the mobile application to conveniently access the mobile banking service.
If you have this application installed on your device already, you can open it to check your bank account number.
When you launch it and enter your password, you would find your account number displayed on the application dashboard.
If you do not have the app installed, you can download it for free and install it to use.
The Zenith Bank mobile application can be downloaded from the Google Play Store or from the Apple App Store.
After installation, you would need to register on the platform using your registered phone number or debit card.
Once completed, you will be redirected to the app dashboard where you can find your bank account number.
Check Your Zenith Internet Banking Page
The Zenith Bank Internet banking platform is another method of checking your bank account number with your mobile phone.
It requires internet access and the platform can be accessed using a web browser.
This method is ideal if you have registered on the internet banking platform already. If such is true, login to your account using your user ID and password on the portal – ibank.zenithbank.com.
From your dashboard, select account activity and you would see a rundown of your recent account activities. Your bank account number will be displayed at the top corner of that page.
If you are not registered on the platform, you cannot use this method to check your bank account number unless you do.
Registration for the Zenith bank internet banking service can be done only at a Zenith bank branch.
Contact Zenith Customer Care Service
Banks have customer care services for a reason. The reason is so that customers can call and make inquiries, ask questions and seek help/support if they are experiencing any banking issues.
With the help of the Zenith bank customer service, you can be able to check your bank account number.
You can either contact customer care via their phone number, email or website – www.zenithbank.com.
Call or send an SMS to any of these numbers; +234-1-2927000, +234-1-2787000, +234-1-4647000 requesting for your account number.
Contacting the customer care is also possible on social media; Facebook and Twitter to be precise.
You just need to search for the official handles of Zenith bank on these platforms and then chat them up.
When you contact them, there would be a need to provide some details about your account.
This is for verification, to confirm if you are the owner of the account or not. If you are, you should be able to provide the details.
Once you have been confirmed as the owner of the account, your account number will be checked and given to you via SMS to the phone number registered in your bank account.
Visit the Nearest Zenith Bank Branch
Visiting a Branch can be a major resolution if you can't seem to find you're account number using any of the above methods.
It is a very simple process since the bank has a database of all registered account numbers.
When you walk into the bank, simply meet any of the customer care staff and let them know that you want to check your bank account number. You can as well meet the staff at the teller to help you out.
All that you would need to provide is the correct account name. Since you are the owner of the account and you are there in person, there would be no need for much verification.
The staff will check your bank account number in their database and relate the correct 10 digits to you.
Zenith Bank Routing Number
Zenith Bank routing number is a 9-digit numerical code that identifies the bank when you're sending money, and it's used to process wire transfers or direct deposits.
The first three numbers identify the bank you're sending money to. The fourth number indicates the bank location, and the last five numbers represent the branch that's supposed to receive your transfer.
See all Zenith Bank routing number.
See Also: How To Receive Money From Western Union To A Bank Account
How To Link BVN To Zenith Bank Account
To link your Bank Verification Number (BVN) to a Zenith Bank account, follow these five easy steps.
First, log into your internet banking account and click on Account Summary. Next, click on BVN update and enter your BVN and submit.
Alternatively, download the BVN update form from their website or send an email to zenith [email protected] with the filled-out form attached.
If you would prefer calling in to get it updated, call their 24/7 contact centre at +234-1-2927000 or +234-1-2787000.
Also, you can dial 966YourBVN# from the GSM number connected with the account to receive transaction alerts if you only have an individual Naira account.
Finally, go to www.zenithbank.com/bvnupdate where you can enter both your Zenith & BVN numbers with a security code provided for verification and activation of the account afterward.
See how to check your BVN on Zenith Bank App.
Before I close this topic, let me inform you of the code to open a Zenith bank account.
Code To Open Zenith Bank Account
To open a Zenith Bank account, you can dial the USSD code 9660# on your phone or visit any bank branch nationwide. Once you use the USSD code, follow the prompts to complete the process and start using your new account.
Final Note on How To Check Zenith Bank Account Number On Phone
So, that's How To Check Zenith Bank Account Number On Phone. When it comes to banking, everyone should be mindful of their account numbers. It is a very important bank detail as it would not be possible to pay or transfer money into an account if the correct account number of such an account is not specified.
If you forgot your zenith bank account number, any of the methods discussed above can be used in recovering it.
When you get your account number back, do try to store it somewhere it can be easily retrieved. It is always recommended that you try to memorize it if you can. Meanwhile, here is how to check your BVN on the Zenith Bank app.
This article was updated 3 months ago