Access bank transfer code is one of the most used features of the bank's mobile USSD. With it, you can send money from your own account to any other bank account in Nigeria.
One of the most interesting things about this code is that it works 24/7. You don't have to wait till 8am when banks are normally opened in Nigeria or rush to the bank before 4pm on a normal day to transfer funds.
Weekend or no weekend, you can carry out as many transactions as you want. Even if your phone is the old version of the Nokia 3310, the code will work for you.
So are you stuck in traffic but need to send money quickly to a family member?
Do you need to pay a merchant for goods you ordered using the money in your Access bank account?
See Also: Salary Of Nigerian Governors, Deputy, Ministers, Senators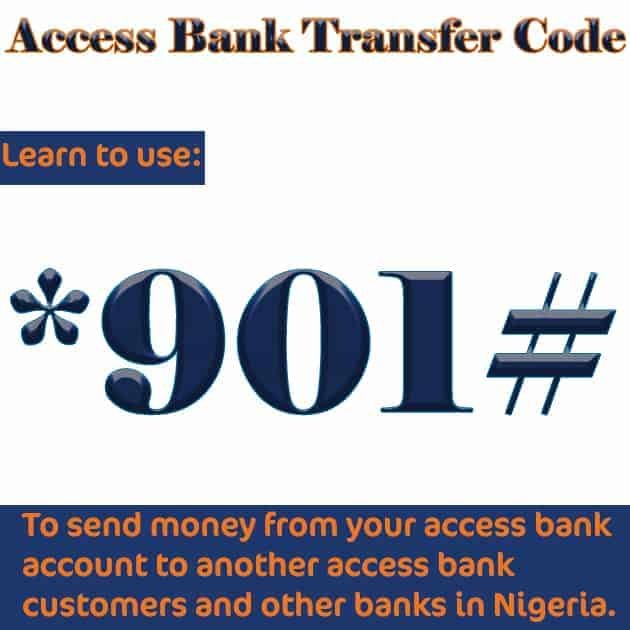 Take out your phone (internet-enabled or not) with the line registered to your bank account and let me show how you can send money to that merchant's account.
To enable you fully understand how to do this effortlessly from your mobile phone, I'm going to break this section into three parts.
The first one will explain how to carry out Access bank to Access bank funds transfer.
The second will focus on Access bank to other Nigerian banks out there, while the third will deal with Access bank merchant funds transfer. Continue reading!
But first, you need to register your account and phone number for this platform as explained below.
Dial *901# >> reply 8 (Next) >> then reply 5 (Create/Change/Reset Code) >> reply 1 (Create Security Code) >> Input last 4-digit of your Naira ATM card >> Create a 4-digit Transfer PIN. You need the code/PIN to authenticate all transactions initiated on this platform. Before now, it only requires the last 4 digits of your BVN but the security code is much more secure.
Requirements
Bank Account: You must have a Naira-denominated account with Access bank.
Alert Number: Phone number registered to your access bank account.
Mobile Phone.
BVN or PIN: Last 4-digit of your bank verification number or 4 digit PIN.
To make this platform more secure, you can create a transaction PIN using the 901 menu options.
If you have multiple Naira denominated accounts with access bank such as Naira savings and current account, you have to select a default account using the guide below.
Dial *901# >> 8 >> 3 to Select default account.
You can always dial *901# and browse through the available menu options with the next command.
Access Bank to Access Bank Transfer Code
Take out your phone and use the line registered to your account to dial *901*1*Amount*ReceiptAccountNumber # (e.g *901*1*2500*0011112222#).
You will be asked to enter your 4-digit security PIN to authenticate the transaction. Once you enter that and press SEND or OK, the name of the person you are sending the money to will show.
Confirm the transaction and press SEND. Your transaction will be processed immediately and your account will be debited of the amount you sent.
You will receive the status of the transaction whether it is successful or not (and why if this is the case).
How to Transfer from Access to Other Banks
Using your phone, dial *901*2*Amount*TheRecipientAccountNumber#. (For instance *901*2*2100*2000001111#).
Enter your four-digit security PIN for USSD Banking and proceed with the transaction. From the list of banks shown on your screen, select the recipient bank and continue
Confirm the account name of the recipient and SEND or press OK. You will receive a pop-up message on your screen and also a debit transaction notification SMS on your line to confirm the transaction was successful.
How to Send Money to a Merchant
To send money to a merchant using the Access bank USSD code, dial *901*3*Amount*TheMerchantCode# and follow the on-screen instructions to complete it.
That's how to send money from your Access bank account to other bank accounts in Nigeria. This process will work for you provided you are a customer of the bank.
If you have never used the USSD banking service, you will be required to register for it using your Bank Verification Number alongside your banking details.
Transfer Daily Limit & Charges
Airtime Recharge Limit: Minimum of 5 Naira and Maximum of 5000 Naira in a day.
Funds Transfer Limit: Maximum of 100,000 Naira daily.
Transfer Charges: Access to Access transfer is free while transfers to other banks attract 10, 20, and 50 Naira charges for less than 5K, above 5K and above 50K transfers.
Network Charges: 2 – 5 Naira depending on how long you spent on the platform and the network you are using (MTN, GLO, Airtel, 9mobile).
The maximum time you can spend is two minutes per session. However, a session will time out after 20 seconds of inactivity.
Some Frequently Asked Questions
Below are some of the frequently asked questions (FAQs) about the mobile banking service of Access bank and their answers.
1.) How much will I be charged for each successful funds transfer?
According to the information available on the bank's official website, for each successful funds transfer you make to access bank customers from your account, the bank will charge you nothing for it. That means it is free.
However for each transfer to other banks in Nigeria using *901#, you will have to pay a transaction fee of N50 plus N2.50 VAT charges. That makes it N52.50 in total.
This is one area I think the bank is leading other banks in Nigeria presently. Some banks go as far as charging you N30 per transfer. That's not fair at all. They should all learn from Access bank here.
2.) What is the maximum amount I can transfer using the USSD code?
For now, N20,000 is the maximum amount of money you can transfer at once using *901# How long will it take for the recipient to get the money I sent?
As soon as possible. The moment you initiate a transaction and authenticate it, it will be processed as soon as possible.
3.) How many times can I transfer funds in a day?
Countless times, provided you don't exceed the daily maximum transfer amount.
See Also: Nigerian National Anthem and Pledge, Old & New
Wrapping Up
To send money to anybody using the Access bank transfer code, follow the guidelines we have laid out in this write-up. The information we have provided on this webpage will help you carry out such transactions without delay. See the transfer code for all other Nigerian banks.
This article was most recently revised and updated on June 19, 2022