Need to check your UBA account number quickly and easily? Fortunately, there are multiple ways to do this! Whether you use SMS, online banking, or the code provided by your bank branch, getting the information for your UBA account number is just a few clicks away.
You are going to need your UBA account number if you intend to receive money into it irrespective of the source.
Most people find it difficult to remember this number. Hence, this article. Bt first, what does UBA account number start with?
See EcoBank Ghana Sort Code & Branches Listed Fully as well as How to check First Bank statement of account in Nigeria.
What Does UBA Account Number Start With?
Do you know what a UBA account number looks like? It is a 10-digit number known as Nigeria Uniform Bank Account Number (NUBAN). UBA's unique design ensures that all of its account numbers start with the digit 2.
How To Check UBA Account Number
This 10-digit number was assigned to you by your bank to differentiate you from other customers of the bank.
United Bank for Africa is a commercial Bank in Nigeria that has gained cognizance in Nigeria and across and has so many branches all over the country.
And with that, it has also, so many customers that patronizes them. In a bid to maintain their relationship with their customers, avenues are open to the customers in other to ease off the stress of coming to the bank every now and then to lay a complaint or anything.
They made available certain means of checking your account number in the comfort of your home.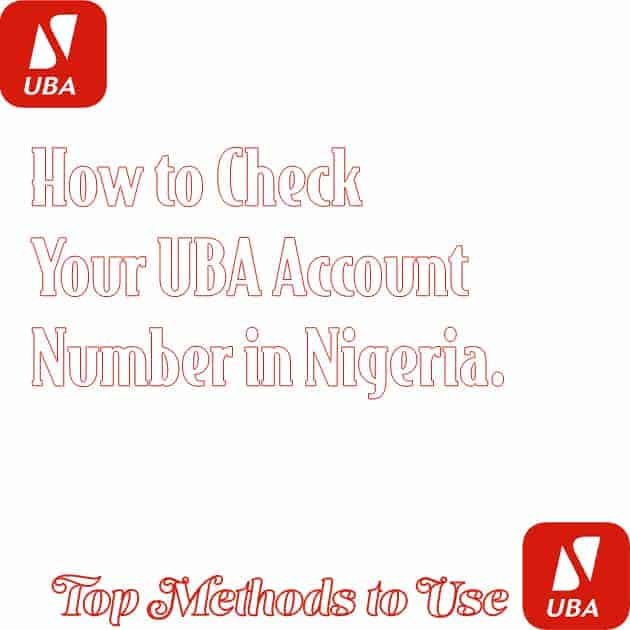 When you open an account with them, you get a unique 10-digit PIN NUBAN called account number.
I have heard people say I forgot my UBA account number. If for any reason you lost where you wrote it down or forgot it entirely, maybe someone promised you some cash and you need your account number, don't worry, this post is here as a guide on how to get it started without stress.
Code to Check UBA Account Number
Dial *919#
Reply with 6 for Balance
Enter your 4-digit PIN
You will receive your account number alongside the balance.
How To Check UBA Account Number with Mobile & Internet Banking
If you have access to the internet, this might be the best option for you. Just log in to your mobile app or internet banking dashboard and on both platforms, you will see your account number at the top left corner.
Bank Account Statement
This method is very useful especially when your bank's server is down and you are unable to access both the mobile app or online banking platform.
As a customer of UBA, you will receive a monthly statement of account in your email every month and it contains the debit and credit transactions.
At the top of this pdf file is your profile which includes your account number and full name.
Enter the Nearest Branch
I only recommend this method if your place is very close to one of their branches or you are already in one.
Just ask for the Customer Care service, and you will be directed to their section and a representative will be there to meet your needs.
Simply tell the representative that you want to check your account number.
Be ready to answer questions that will prove to him or her that you own an account with them and in a jiffy, your account number will be sourced out and you will head straight home with it
Isn't that simple, but try and be conversant with Android phones.
Remember this step is for all but an individual that is sophisticated or enlightened will prefer to do it at home by himself to avoid standing in queue for a long time and one might not be attended to at the due time due to the number of customers that would come for the same purpose.
In the course of time, there is another way of doing it that might interest you to know.
You are conversant with it but might not understand exactly what it entails.
Reach out to Customer Center
You can contact them from the comfort of your home through their social media platform, email, phone number and website.
They will ask you some personal questions to confirm you own the account and if answered correctly, you would have proved beyond reasonable doubt that the account is yours.
In a matter of seconds or a couple of minutes, they will provide you with your account number.
You can call them at 07002255822, email them through [email protected] or chat with them directly from their website ubagroup.com
Code To Check Uba Statement Of Account
Looking for a code to check UBA statement of account? To check your UBA bank account statement on mobile, you need to log in to the Mobile Banking app and select Banking. Once you've selected Banking, you will be able to view your account balance on the Dashboard.
On the other hand, for UBA Internet Banking users, after logging in, they can view their balance on the Dashboard.
Also, if you dial 91900# with a registered phone number, you will be able to get your balance as well.
However, please remember that prior to checking your information through these methods, enrollment is required.
Wrapping Up
Mr or Mrs "I forgot my UBA account number", this write-up is to help you as get back your forgotten UBA account number so you can continue your financial transactions with the bank without any stress.
Hope you found it useful. Now give any of these methods a trial and get back to me if it worked for you. To check your UBA account balance, read how to do so in this article.
This article was updated 2 months ago