Keystone bank airtime recharge code enables customers of the bank to buy credit directly from the bank using any type of phone.
Through the code, you can buy airtime of any amount for yourself and your loved ones without stepping out of your room to get it. Regardless of the telecommunication network involved.
As long as you have up to the amount you want to recharge in your bank account, you can have it added to your phone line as soon as possible.
Are you searching for keystone recharge code? Do you need to learn how to get airtime for yourself and those you care about through the code?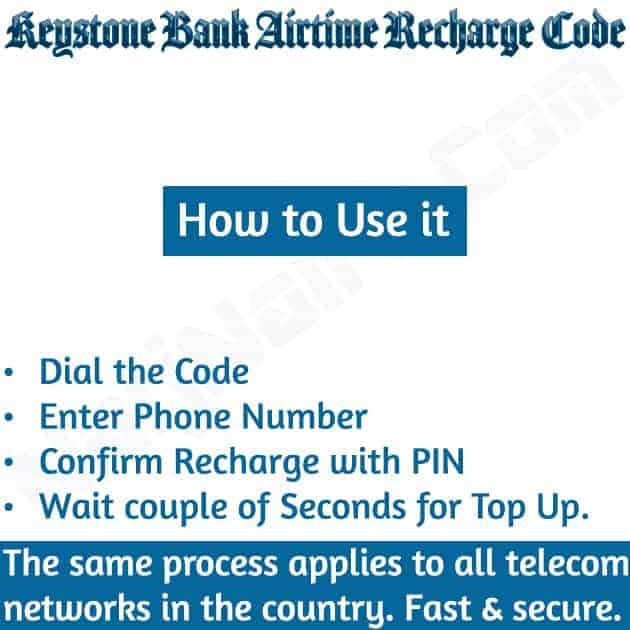 Stay with me as I carefully explain everything you need to know about the ussd code here.
Long before the invention of ussd banking, you can only get airtime for yourself and others from retail shops around you.
Then came the use of ATM and credit/debit cards, followed by web banking, mobile app banking and finally this.
Keystone Bank Airtime Recharge Code
The code to buy credit from keystone bank is *7111*Airtime Amount#.
Customers of the bank can dial it on their phone using the mobile line registered to their bank account.
It has been configured in such a way that when you opt in for the ussd banking service, it works with your bank account to enable you carry out certain transactions with ease.
You can use it on any type of mobile phone, internet enabled or not. The code works with all the telecoms network in Nigeria (MTN, GLO, AIRTEL etc)
You don't need to have data subscription or call credit to be able to use it. And if you have before dialing the code, it won't be touched.
Below is a complete guide on how to use mobile banking ussd code to top your airtime.
Do you need to buy call credit for yourself or others as a keystone bank customer? This section explains exactly how to do that.
1.) Keystone Bank Self Recharge Code
To buy airtime on your registered line with Keystone bank, dial *7111*Airtime Amount#.
For example, to recharge N500 airtime on your line, all you have to do is dial *7111*500#.
You will be required to authenticate the transaction by entering your 4 digits PIN
Once you've done that, you will receive a pop-up message on your phone screen notifying you about the status of the transaction.
You will also get a message from your bank almost immediately notifying you that your account have been debited with the airtime amount you entered.
Following that will be a text message from your network provider confirming the airtime purchase.
You can go on to use the airtime however you please.
2.) For Third Party Recharge
To recharge others lines that are not registered to your keystone bank account, dial *7111*Airtime Amount*Phone Number#.
To fully authenticate the transaction, you will be asked to enter your 4 digits PIN for ussd banking
Select the recipient telecom network and proceed
You will receive a pop- up message on your device screen notifying you of the status of the transaction. This swill be followed by a text message from the bank about the money that just got debited from your account
The recipient will also receive a text message from his network provider informing him about the airtime purchase. Feel free to call and confirm it from him.
That is how to buy airtime for your family and friends using keystone bank recharge code.
How Many Times Am I Allowed To Use The Code In A Day?
You can use the code to purchase airtime as many times as you want in a day. There is no specific number of times for that.
As long as you have reached the daily recharge limit of N10,000, you can go on recharging your phone as you want.
What if I didn't Receive any Airtime after Using the Code?
Were you debited? If you were not debited, you may have to try it again. Maybe there is something you didn't get right the first time.
However, if you were debited after dialing the code but didn't receive any airtime on your line, give it 24hours. If the money is not returned to your account after 24 hours and you still didn't receive the airtime, contact the bank customer care ASAP.
In Conclusion
We have in this article revealed how to top up your mobile phone line and those of your family and friends using keystone Bank airtime recharge code.
Do you urgently need to buy airtime of any amount using keystone Bank recharge code?
I hope you find this guide useful.
This article was most recently revised and updated on May 7, 2021