His full name is Daniel Owefin Amokachi. He's a Nigerian football legend who came to the limelight in the 90s; while playing for several European club sides notably Everton and Besiktas, he was a key figure in the two teams.
But how did the success story of "The Bull" all start?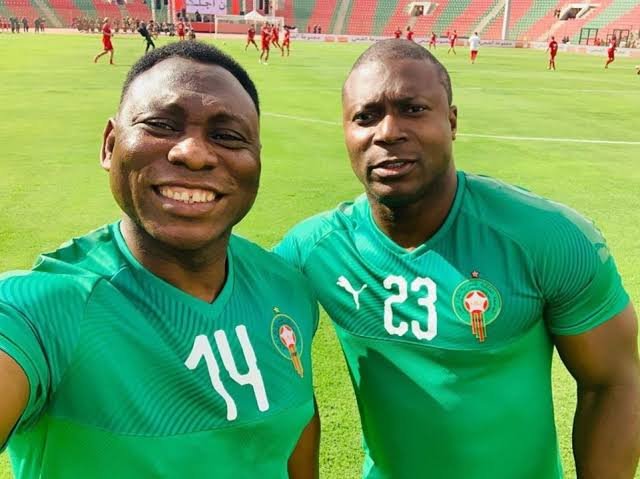 Daniel Amokachi Profile
Full Name: Daniel Ray Owefin Amokachi
Date Of Birth: 30 December 1972 (Age 49)
Place Of Birth: Kaduna, Nigeria
Height: 1.80 M (5 Ft 11 In)
Position: Forward
Senior Career
1989–1990: Ranchers Bees
1990–1994: Club Brugge – 81 app (35 goals)
1994–1996: Everton – 43 (10 goals)
1996–1999: Beşiktaş – 77 (19 goals)
2002: Colorado Rapids
2005: Nasarawa United                
National Team Career
1990–1999: Nigeria – 44 (13 goals)
Teams Coached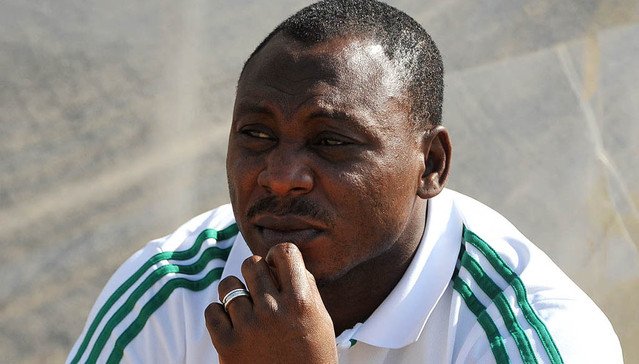 2006: Nasarawa United
2007: Nigeria (Assistant Coach)
2008: Enyimba
2008–2014: Super Eagles of Nigeria (Assistant Coach)
2014–2015: Super Eagles of Nigeria (Interim)
2015: Ifeanyi Ubah
2016–2017: JS Hercules
Daniel Amokachi Biography
He was born and bred in Kaduna, a North-Western state of Nigeria where he had his basic school education.  As a teenager, Daniel Amokachi joined the youth team of Ranchers Bees to hone his football skills.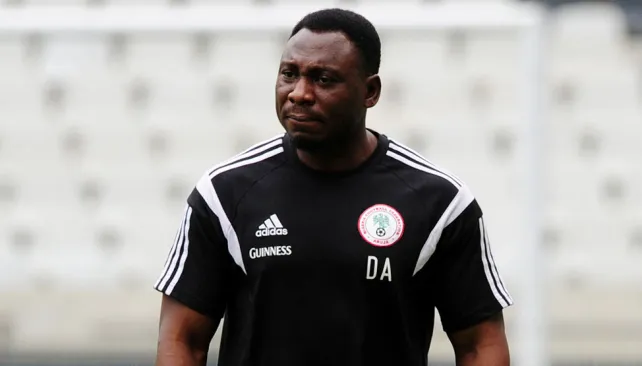 It was from Ranchers Bees he was discovered by Clemens Westerhof who at that time, was in charge of Nigeria's national team. He then invited Amokachi for the 1990 nations cup assignment in Algeria.
Amokachi didn't have much playing time during the AFCON but helped Nigeria to a runner-up finish against Algeria who emerged champions.
Soon enough, "The bull" moved to Belgian side, Club Brugge to continue his club football where he played in the adjusted format of the UEFA Champions League and emerged as the first African and first player to score in the competition after his goal secured a 1–0 win in the opening match in the group stage against CSKA Moscow.
A great outing in Belgium and the FIFA World Cup in the USA in 1994 attracted interest from Everton for Amokachi who was eventually signed for £3 million ($4.7 million).
After his first year with the Toffees, Amokachi won the 1995 edition of the FA Cup, scoring two goals in the semi-finals against Tottenham Hotspurs.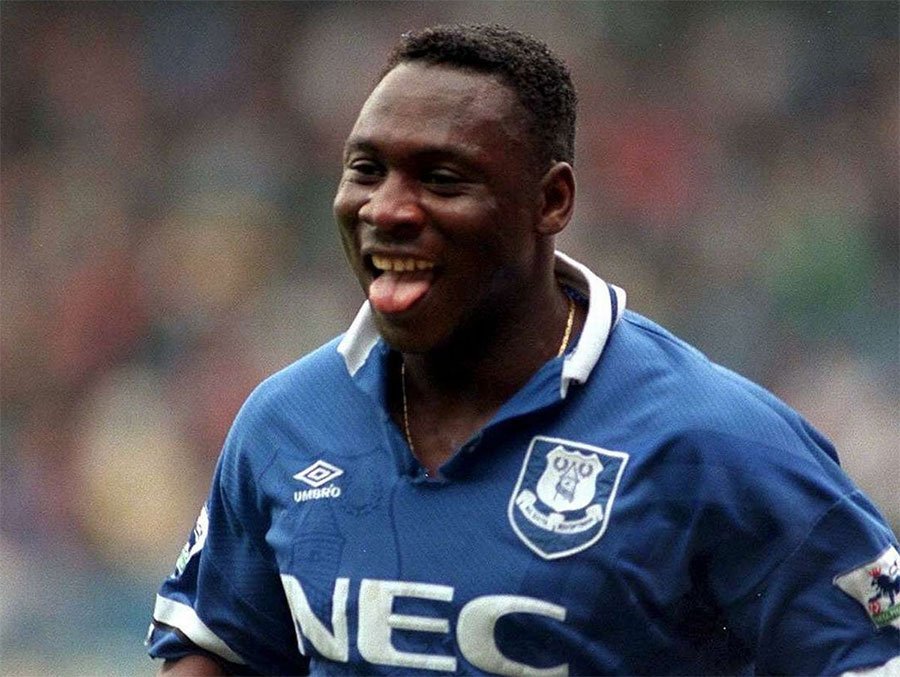 He left Everton for Besiktas in 1996 following a 2-year-spell at Goodison Park for a fee of £1.75 million.
His 3-year stay in Turkey would come to an end in 1999 and his career more or less ended due to a constant injury crisis which saw him fail medical tests on two successive occasions at different club sides, 1860 Munich and Tranmere Rovers, thus seeing his contracts with the two clubs getting terminated.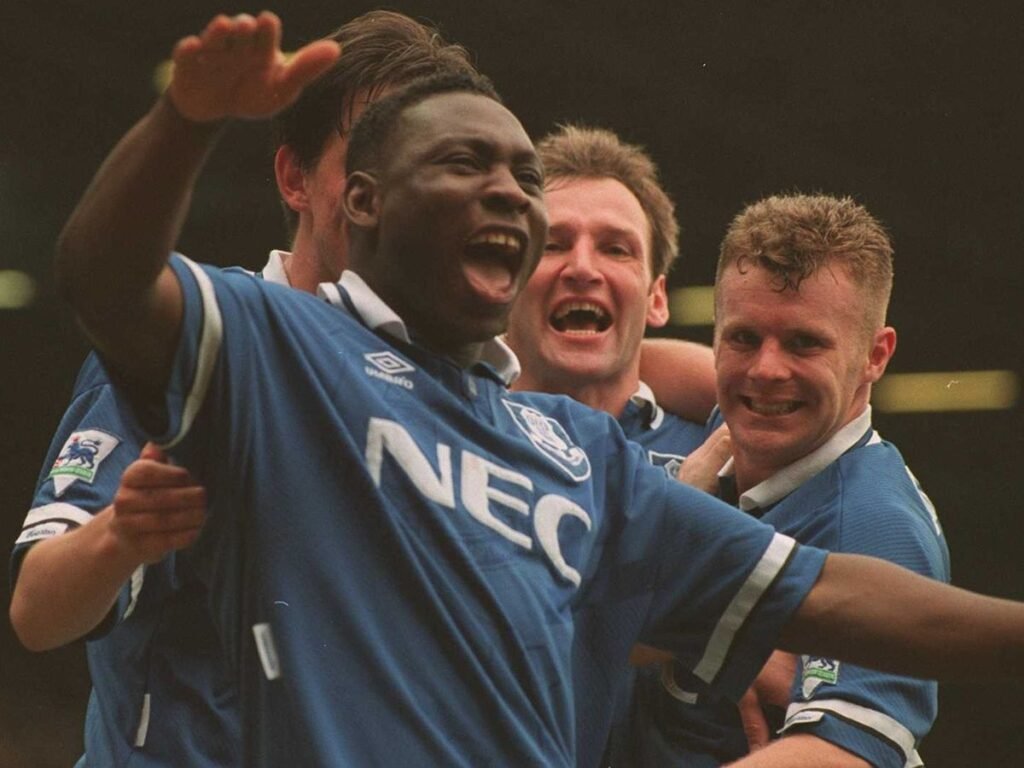 American MLS team Colorado Rapids signed him in 2002 but seeing he was not fit enough they released him before a single match was played.
From there, he went to play in the United Arab Emirates but was denied again due to his medical condition.
How did he fare for the Super Eagles?
Amokachi's career in the national team spanned nine years (1990 – 1999), representing the three-time African champions forty-four times and netting thirteen goals.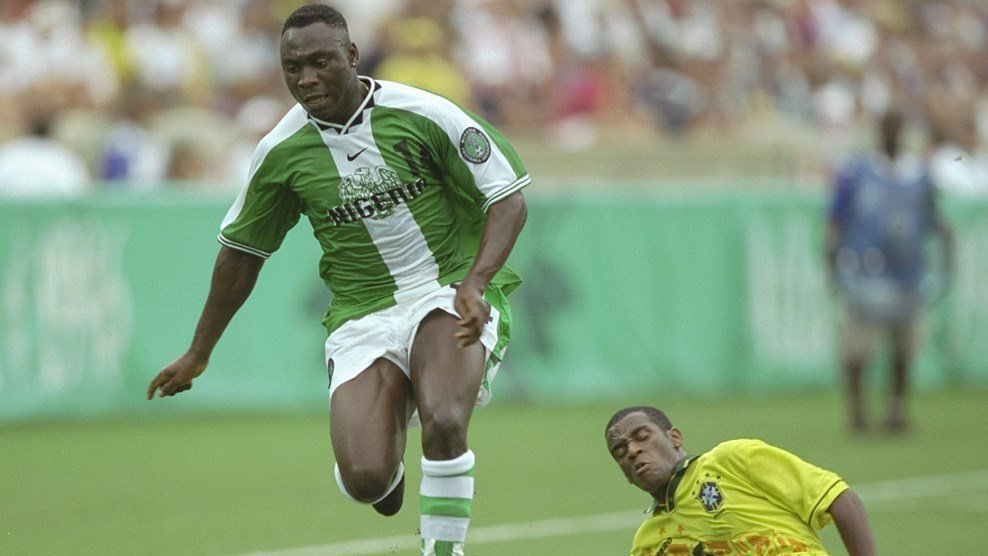 He won the silver medal at the 1990 AFCON in Algeria and missed out on the trip to Côte d'Ivoire in 1992 for the AFCON tourney where Nigeria emerged as the third-best placed team.
In 1994, "The Bull" helped Nigeria to the AFCON victory and was also a part of the team that participated in the FIFA World Cup in 1994 and 1998. He also helped the Dream Team to the Olympic gold glory in 1996, scoring in the gold medal game itself against Argentina.
Ahead of the 1998 FIFA World Cup, Amokachi sustained an injury which only allowed him to play one match at the tournament, but struggled with knee problems thereafter – an early retirement.
Upon his retirement, Amokachi was appointed as the manager of a Nigerian club side, Nasarawa United and later Enyimba FC.
In April 2007, he quit his role as assistant coach of the Nigeria national team, but he was re-appointed in 2008 as an assistant to Coach Shuaibu Amodu, and then as assistant to Stephen Keshi.
Amokachi returned to club football management in 2015 with Ifeanyi Ubah football club, but his reign lasted only five weeks after he resigned from his post. His last managerial job was at a Finnish club side, JS Hercules before he bagged an appointment from the Nigerian President as the country's football ambassador in 2022.
Wife and Children
Who is Daniel Amokachi's wife? Owefin Amokachi is happily married to Nadia Amokachi, a Tunisian woman whom he met in Tunisia where Nigeria won her second AFCON title.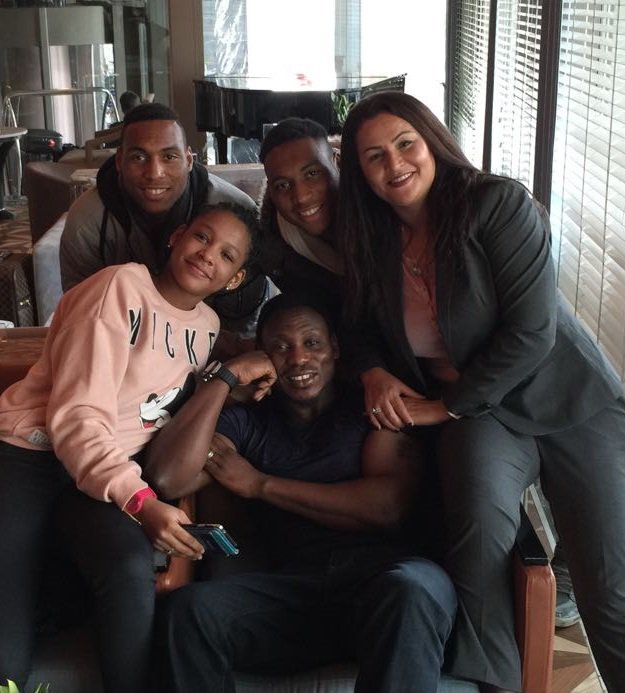 Amokachi revealed they've been together since 1995 (27 years). And the couple has three children together, twin sons christened Kalim and Nazim Amokachi as well as a daughter named Raya Amokachi.
The twins have taken after their father's profession. They are future professional footballers having ended their contracts with the Besiktas youth academy in Turkey.
Cars and House
Daniel Amokachi has concealed his properties and as such, much isn't known about his houses and cars, but it's been confirmed that he lives in Nigeria.
During the 2019 re-election campaign for President Buhari, Amokachi, being a staunch supporter of Buhari before emerging as Nigeria's president, dedicated his house at Rana Road Kaduna for campaigning purposes.
He didn't stop with just his house, he also converted his G wagon into a presidential campaign vehicle for the President, which the ruling party APC shared on their official Twitter handle.
Following the Election displayed by Amokachi, what is known is that the former Super Eagles player has at least two houses (in Kaduna and Finland) and at least a car to his name.
Private Jet
In the 1990s, Amokachi became the first Nigerian footballer to acquire a private jet. During his days at Besiktas, he needed to be in Nigeria to visit his sick mother, and his club had a crucial match in Istanbul, Turkey.
Daniel did come to Nigeria, but his club's President was attempting to send Daniel to Istanbul by whatever means possible for him to take part in the crucial match, so private jets were dispatched to Kaduna to pick him up. He was ultimately allowed to participate in the match, which his team won.
After the game, Daniel's friend, the club's President, asked if he would want to possess a private jet. When he answered yes, the President called the airline owners in America and told Daniel to call them whenever he was ready.
He eventually purchased the private aircraft, but after his playing days, which resulted in a dip in his income, the upkeep, maintenance, parking and clearance of the aircraft became strenuous for Daniel, and he concluded to sell it in 2000/01 after he had retired from playing football.
Daniel Amokachi Net Worth
Amokachi's net worth is put around $1 million as a result of his achievements in football, coaching, appointments and short-term contracts he enjoys. All these put him in a strong financial situation.
This article was updated 2 months ago