One of the factors that decide which cable tv to go for in Nigeria is how much it costs to buy, install and manage. This is why in this write-up, I won't just be discussing the DStv decoder price in Nigeria but also its packages.
Dstv Nigeria is a product of South Africa-based multichoice Africa limited which itself is a subsidiary of Nasper.
Digital Satellite Tv (DSTV) was launched as far back as 1995 and currently offers satellite base cable tv to over 50 million African countries.
To get started with using DStv in Nigeria, you need a decoder and a subscription package or bouquet.
They currently have HD and Explora decoders with options for different accessories.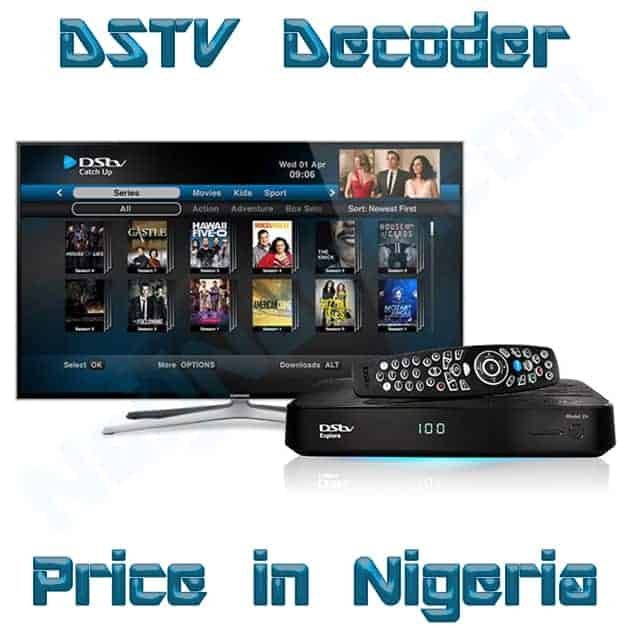 Also, DStv has 6 subscription packages for Nigerians right now with a premium plan as the most expensive at 18,400 Naira monthly and Padi as the cheapest at 1,850 Naira per month.
They might not have many offices of their own across the country, but they have authorized dealers who can set up their services for you at home or office.
DStv is a leading cable TV service provider in Nigeria. Ever since this media company was introduced to the Nigerian market in 1995, it has reached a lot of milestones in the industry and has garnered millions of subscribers nationwide.
Part of the reasons why DSTv is loved by many includes its huge channel list, flexible subscription rates, mixed indigenous and international channels, entertaining programs, unique features and controls, mouthwatering promos and bonanzas, to mention but a few.
That aside, DSTv also covers a wide number of niches, including entertainment, music, information, movies, series, news, children, educational shows, geography, etc.
Dstv Decoder Types And Prices In Nigeria
The price of a DStv HD decoder with a full installation kit and 1-month Confam package is 9,900 Naira while the Explora decoder cost 66,750 Naira in Nigeria. The installation fee is 5000 Naira for the HD and 10,000 Naira for Explora.
You can do the installation yourself but I will really recommend you get the expert you bought the decoder from to do the installation for you.
The Zapper HD Decoder
This is the most affordable decoder from dstv and it is the most widely used in typical Nigerian homes. It sports brilliant pictures and superb sound quality.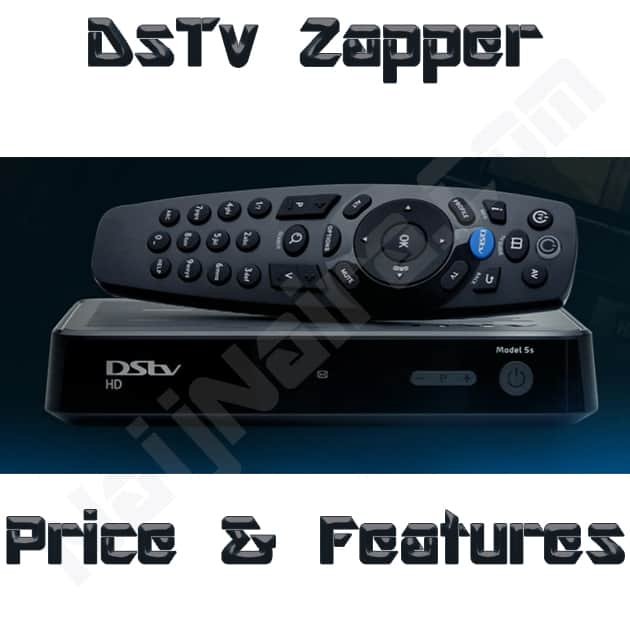 Due to its cheaper price, this decoder does not have some of the sophisticated features that come with the other decoder.
Which has the ability to Pause / Play / Rewind programs, Program Recording and DSTv catch up for downloading sports highlights, movies, kids' shows and events via the internet.
The Explora
DStv Explora is the most expensive decoder and of course, it delivers better value for money due to its myriad of unique features.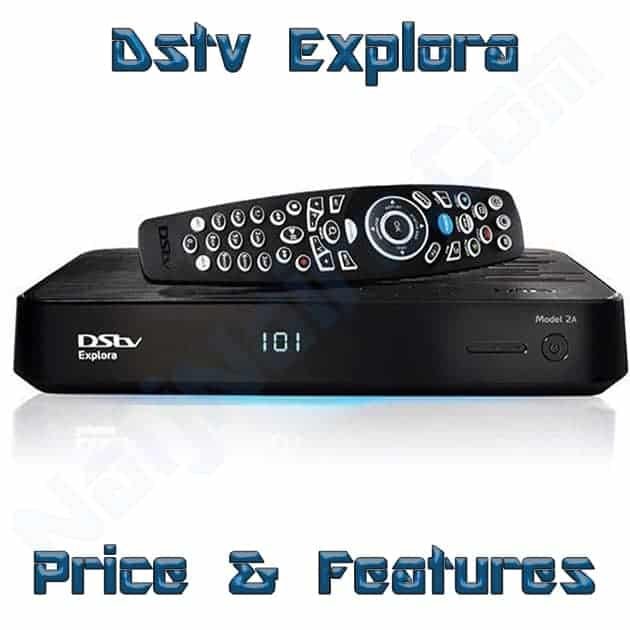 Part of the features that distinguish this decoder from the DStv HD Decoder includes:
Pause/Resume/Rewind that allows you to pause, resume and rewind live station
Program Recording that lets you record your favorite TV shows and programs for about 220 hours
Box-Office that that gives you access to blockbuster movies for 48 solid hours.
That's not all; it might please you to know that this decoder is compatible with the internet, meaning that you can easily download any latest sports highlights, movies, kids' shows and events from the web and watch them at any time on any device.
The decoder also supports an organized playlist and offers crystal clear picture quality.
Packages Available on DStv Decoders
The package that comes with the HD decoder is compact while the Explora decoder comes with a premium bouquet.
But after a month, you will have to renew, upgrade or downgrade your package to the one that best suits you and you have 6 options to choose from.
i.) Premium Plan: This is their most expensive plan at 18,400 Naira. Its price was increased more than 2 times in 2020 alone.
It comes with over 210 stations out of which 52 are audio. If you are a sports lover and want access to different sports across the world, then this is the package you want to be on.
You will have access to all supersport channels meaning you can watch many sports competitions live anytime you need to.
Apart from sports, it also comes with all M-Net channels which will give you access to international or foreign action movies.
Talking of movies, you also get to enjoy all Africa Magic stations which bring you the best of African movies and series.
Other than the above, you also get to enjoy Comedy Central, and music stations such as Trace Naija, MTV Base and Sound City. Documentary and religious channels are not left out.
The summary is that you will be getting the best of multichoice by subscribing to the premium bouquet.
ii.) Compact Plus: It costs 12,400 Naira per month and comes with over 200 stations.
Personally, I prefer the compact plus to the premium package. Why? Because it only has 10 stations less than the premium which I don't often watch anyways and it's 6000 Naira cheaper than the premium.
It is also the package most football viewing centers in Nigeria subscribe to as it comes with all the channels needed to watch any football matches on the surface of the earth from the English Premier League to La Liga, Serie A, Bundesliga, UCL and Europa.
I called it the football package and I am sure you can guess why.
iii.) Compact: It costs 7,900 Naira per month and it is packed with over 180 channels which include sports channels.
However, unlike compact plus, you won't be able to watch all football matches, especially the Uefa Champions League star matches.
But you will still be able to view stations that show the English Premier League, La Liga, Serie A and Bundesliga matches.
iv.) Confam Plan: Its price is 4615 Naira per month and comes with over 120 channels that you can choose from.
This is one of the new packages that was launched in December of 2019 and later replaced the family package.
This is the bouquet that most middle-class families in Nigeria subscribe to. It doesn't have all the great channels but the ones you have access to are enough to keep you entertained and up to date about happenings around the world.
v.) Yanga: It cost 2565 Naira every 30 days and gives you access to over 100 stations to choose from and enjoy.
vi.) Padi Package: It costs 1850 Naira per month and allows you access to over 55 channels.
It is their cheapest package and was also launched in December of 2019 to replace the then Access package.
If you want to know more about the individual packages, you should check my write-up on each of them. I was comprehensive on all you need to know about each of them.
How to Renew Your Decoder Package
Quickteller.com/dstv
Select your preferred package
Enter your smart card details
Input your Naira debit card details
Enter the OTP sent by your bank to complete the transaction.
Make sure your decoder is On before making payment to make sure your view will be restored very fast.
For those that for one reason or the other have a problem receiving OTP, you can also make use of your bank's mobile app. Just go to bills payment.
Where to Buy DStv Decoders in Nigeria
DStv offices near you
DSTv website
DSTv Dealers. You can locate them via the company's website
Online Shopping Sites e.g. Konga.com and Jumia.com
Want to purchase any of the aforementioned DSTV decoders? You can get it from any of the above places.
Final Thought
The amount you are going to be paying for a decoder depends on if you are going for the zapper (HD) or Explora decoder. The Explora is more expensive but also comes with more great features.
You can get the zapper for 23,600 Naira as a complete package and 55,000 Naira for the Explora.
The price of the DStv decoder has increased a lot in the past 12 months in Nigeria.
At the beginning of 2020, it was selling for 9,900 and with installation, you will be paying 15,000 Naira.
But now, just the HD decoder and its accessories are currently selling for almost 19,000 Naira and with the installation fee, you will be spending almost 24,000 Naira.
This is becoming more and more expensive for an average Nigerian to afford. Apart from that, the prices of the packages have increased and the quality has dropped a little bit.
I was concerned about this when Confam, Yanga and Padi were introduced in late 2019 with little to no edge over the then Family and Access packages.
Immediately they scrapped the family and access packages it became clear they just stylishly increased the price because the Confam now has the family channels but become more expensive.
What do you think of the DStv decoder price in Nigeria? Do you think the packages should be cheaper and have more interesting stations on them? See DSTV packages in Ghana and their prices too.
Let's have that discussion in the comment. Make sure to share this write-up if you find it informative.
This article was most recently revised and updated on June 16, 2022