As a subscriber, GOtv Max is the most expensive package you can subscribe to and in this write-up, I will break down everything you need to know about the package from GOtv Max Channels List 2022 to price in Nigeria and how it compares to the plan directly under it.
It might be the most expensive subscription on GOtv but when compared with most of the packages from DStv, it is by no means near.
However, even though it cost less than N4,000, it still has more quality channels to offer than DStv packages around the same price.
GOtv was created for low-income households, so it's understandable it is not a fair comparison with DStv.
GOtv Max package gives you access to 76 channels that cut across different categories which ranges from Novellas, to sport, music, religion, News and Commerce and movies.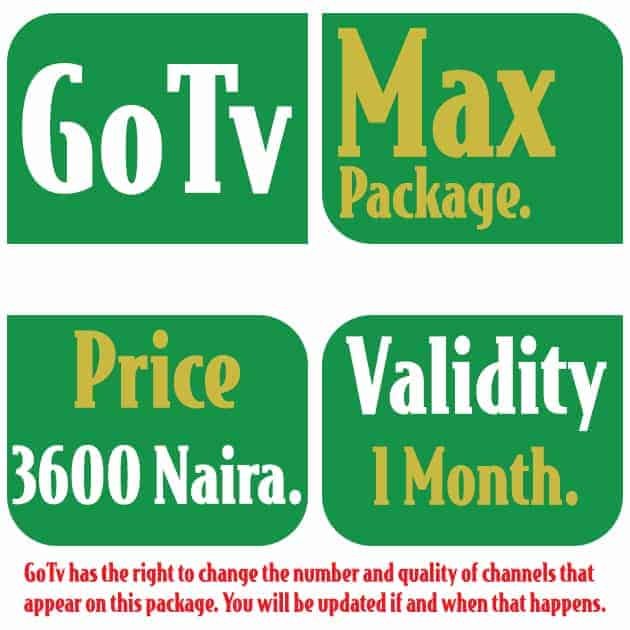 Under the sports category, you will be able to view ESPN, Super Sport (Blitz, football, Variety 3 and variety 4). If you need more football or sports channels, upgrade to the GoTv Supa package.
News and Commerce category gives you access to to the likes of CNN International, BBC World News and Al Jazeera which will keep you updated about the happening in the world.
The music category is also loaded with great stations such as MTV Base, Hip Tv, Afro Music English, sound city and urban tv.
If you are coming from DStv, you might miss Trace Naija but these are dope music stations too.
GoTv Max Channels List 2022
Below are the list of channels on GOtv Max:
Big Brother Naija (Channel 29)
Spice Tv
Discovery ID
E! Entertainment Television
FOX
FOX Life
BET
CBS Reality
Telemundo
Eva+
Zee World
Star Life
Discovery Family
Real Time NatGeo Wild
AfricaMagic Family
AfricaMagic Hausa
AfricaMagic Yoruba
AfricaMagic Igbo
ROK 3
ROK 2
SS Variety 3
SS Variety 5
Naija FM
Wazobia FM
Nickelodeon
TVC Entertainment
Televista
Trybe
ESPN
SS Blitz
SS Football
Disney Junior
Jim Jam
Da Vinci Kids
PBS Kids
Cartoon Network
MTV Base
Hip Tv
Afro Music English
Sound City
Urban Tv
Faith
Islam Channel
Emmanuel Tv
Dove Tv
NTA Parliament
BBC World News
CCN International
Al Jazeera
Arise News
TVC News
NTA News24
TNT Africa
AfricaMagic Epic
M-Net Movies 4
B4U Movies
ITV Benin
BISCON Tv
Liberty Tv
Tiwa n Tiwa
RAVE
R2TV
NTA2
NTA International
Silverbird
AIT
Channels
Lagos Tv
Wazobia Tv
Arewa 24
WAP TV
EBS TV
RSTV
OGtv
BCOS
ONMAX
GALAXY Tv
You can as well see all the GOtv Jolli channels list as well as GOtv Jinja channels list in those posts I made.
GOtv Max Price in Nigeria
GOtv Max Subscription cost 3,600 Naira and you will be able to view 76 stations out of which 2 of them are audio.
Max Vs Jolli
There are stations such as Star Life, Discovery ID, BET, ESPN, Super Sport Variety 3, Cartoon Network, M-Net Movies 4 and RSTV that are available for max subscribers but not for Jolli users.
Jolli cost N2,460 a month while max cost N3,600. If the above stations are must-have for you and you think that they are worth N1,140, then you are better off with Max. If not, Jolli package will be honoured to have you.
Final Thought on GOtv Max Channels List 2022
As you can see, for 3,600 Naira you can easily have access to almost 80 channels on GOtv Max Plan which gives you access to local and international content.
About 1,200 Naira is the difference between Max and the package directly under it which offers 8 channels less than Max. I have listed those channels above and you can decide which one is worth your money.
To subscribe to GOtv Max package, you can use quickteller.com/gotv to make use of your mobile bank app. Just select max as your preferred choice among the plans and enter your debit card details and decoder number to complete transaction.
The details of these plans changes from time to time and I will make sure to the best of my ability that this page is kept up to date to make sure you are not consuming an outdated information.
If you find this content useful, you should consider sharing it with your friends and family whom you think might also needs it.
This article was updated 3 months ago