Staying on top of your finances can be difficult, but it doesn't have to be! Knowing how to check First bank account balance is now easier than ever with a few simple steps and a bank code. With this guide, you'll learn how to quickly and accurately get your first bank balance with ease.
Do you wish to check your First bank account balance? Well, that's what this write up is all about. To help you discover the many ways you can do that without stress.
How To Check First Bank Account Balance
When everything has gone digital including banks, what is the need of stressing yourself and standing in queues?
There are several ways to know how much you have in your account. You will find them as you read on.
The alternatives you can choose from if you want to know your account balance include USSD code, bank statement, debit card and bank app.
Let's show you how each of them works below.
See EcoBank Ghana Sort Code & Branches Listed Fully as well as EcoBank Ghana Sort Code & Branches Listed Fully.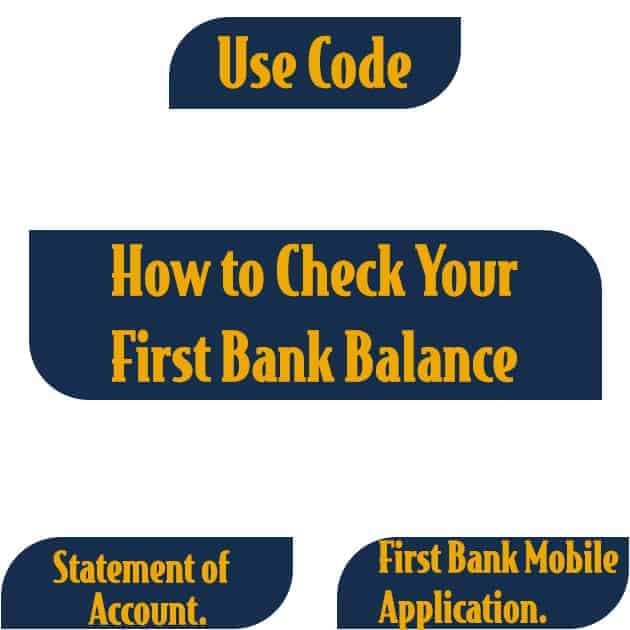 First Bank Balance Code
The code to check your bank account balance is*894*00#. Dial it and what is left in your account will be displayed on the screen.
If this is your first time of using the code, you will have to register. In registering, you will be guided with the instruction.
Be sure to provide the correct details of your account. But if you have registered before, skip the process.
The only thing required of you to use the code is the phone number you used in opening the account.
If you don't have the number anymore, you can apply for a change of number in your bank.
The good news is that you don't have to wait until you own an Android or any other type of smartphone before you perform the operation.
With any model of phone, you can easily do it. Whether it is java, Apple or Android phone.
You also don't need a data subscription for it. The code is readily available for you anytime, any day. Even on holidays.
Interestingly, it works with all Nigerian telecommunication networks, GLO, AIRTEL, 9MOBILE and MTN.
There is never a limitation to the number of times you can access the code, you are free to dial the code as many times as you wish.
Check Your Statement of Account
If the previous option isn't what you want, try this one out.
It requires you to go to the bank. When you get to the banking hall, walk straight to the customer care reps and request your account statement.
You will be asked certain questions regarding your account. Ensure you provide the correct details. It is proof that you own the account.
The customer service representative will give you your account statement which contains everything about your account including your account balance.
Another sure way to know your account balance is the monthly SMS sent by the bank to their customers. This particular option costs nothing. But the question is, can you wait?
Check Balance Using First Bank Mobile App
If you own a smartphone, this option is definitely the one you are looking for.
With your Android or Apple phone, you can check your account balance anytime, anywhere.
To do this, simply go to the Play store and download the First bank mobile app.
After that, register with the correct details of your account and login immediately.
Your balance will show immediately. But if it doesn't, you will see a list of options, navigate to the Check Balance option. Your account balance will appear on the screen.
Remember you can only register for this with the phone number that is linked to the account.
You also need a working network or data connection for the operation to be successful. And you can only do this with a Smartphone.
Check Account Balance With Your Debit Card
Your first bank debit card can be used for numerous purposes. It can be used to pay bills, make withdrawals and also check account balances.
When you get to the gallery, insert your debit card, you will be asked to put in your 4-digit security pin.
After that, a list of options will display immediately, choose "Inquiry". If the bank network is stable, within a few seconds your account balance will display.
Though, this is mostly used by those with a Java phone or people that cannot operate an Android phone, be careful whenever you want to put in your secret pin. Do not share it with anyone.
In Conclusion
We have in this article discussed how to check First bank account balance using different alternatives.
Have you been searching online for ways to know how much you have left in your account? Hope this write up was helpful.
Another great alternative to the ones above is by calling first bank call center on these toll-free numbers; 1800 180 2223 and 0120-2303090. Your account balance will be sent to you via SMS.
This article was updated 4 months ago