If you don't have much to spend on a pay tv subscription yet want to be able to watch some interesting content, then gotv jolli is what you might be looking for. In this write up i will list its channels, compare it with the packages close to it and its price in Nigeria.
To watch big brother naija 2021 on your gotv, tune in to channel 29. This channel can only be access by subscribers on Max and Jolli packages. Check my write up about it to learn more.
Obviously you won't be getting access to some first class stations but considering how much you are paying and the quality of stations you can't get from its alternative, i say it is a good package.
It has all the channels on Max plan except for 9 which are Super Sport Variety 3, Star Life, Discovery ID, RSTV, BET, ESPN, Cartoon Network and M-Net Movies 4 and it is 1,140 Naira cheaper than Max.
Those are really great channels and it is a shame that you won't have access to them on Jolli but let's stand on the bright side here.
For less than 2,500 Naira, you get to watch Al Jazeera, CNN International, BBC World News, Africa Magic Epic, Family, Yoruba, Igbo and Hausa and over 21 local stations.
That's not all, there is also Telemundo and Zee world and i know a lot of people that can't go a day without these stations.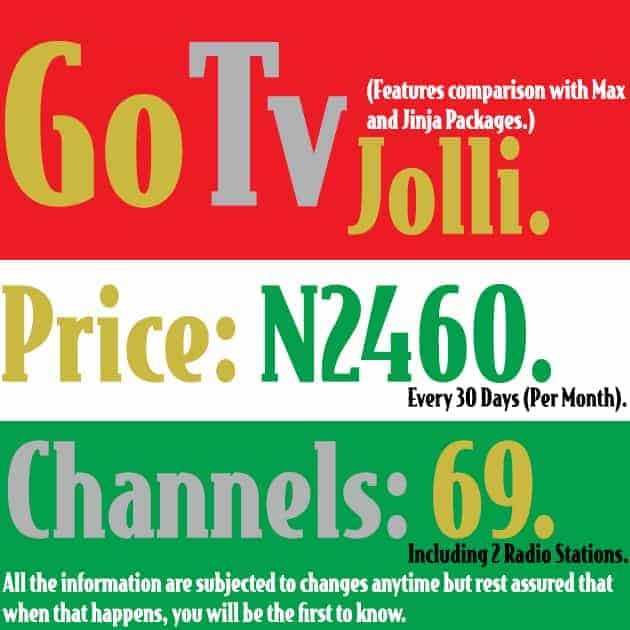 Talking of movies and entertainment stations, you also have the likes of E! Entertainment, Fox, Fox Life, CBS Reality, ROK 3 and 2.
I don't think you can ever get bored on this plan and depending on who you are and what your preferences are, might not even miss much if you are coming on Max.
Oh! You enjoy listening to music? The likes of MTV Base, Sound city and 3 other channels have got you covered.
Why don't you just check all the stations yourself and see if you like what this package have to offer.
List of GoTv Jolli Channels 2021
BBNaija (Channel 29)
Telemundo
Eva+
Zee World
Discovery Family
Real Time
NatGeo Wild
Spice Tv
E! Entertainment Tv
FOX
FOX Life
CBS Reality
AfricaMagic Family
AfricaMagic Yoruba
AfricaMagic Hausa
AfricaMagic Igbo
ROK 3
ROK 2
TVC International
Televista
Trybe Tv
SS Blitz
SS Football
SS Variety 4
Naija FM
Wazobia FM
Nickelodeon
Disney Junior
Jim Jam
PBS Kids
Da Vinci Kids
MTV Base
Hip Tv
AFRO Music Family
Sound City
Urban Tv
Faith
Islam Channel
Emmanuel Tv
Dove Tv
NTA Parliament
BBC World News
CNN International
Al Jazeera
Arise Network
TVC News
NTA News24
AfricaMagic Epic
TNT Africa
B4U Movies
ITV Benin
BISCON Tv
Liberty Tv
Tiwa n Tiwa
R2TV
RAVE
NTA2
NTA International
Silverbird
AIT
Channels
Lagos Tv
Wazobia Tv
Arewa 24
WAP Tv
EBS Tv
OGtv
BCOS
ONMAX
Galaxy Tv
GoTv Jolli Price in Nigeria
Jolli subscription cost 2460 Naira per month and you get access to 69 channels which include 2 audio stations.
Jolli Vs Jinja
There are channels on Jolli such as TNT Africa, B4U Movies, Discovery Family, NatGeo Wild, FOX, CBS Reality, Africa Magic Family, Televista, ROK 3, ROK 2, Super Sport Football, Da Vinci Kids, Telemundo, Eva+, Zee World, Disney Junior, MTV Base, Hip Tv, CNN and BBC News.
Considering the fact that Jinja is just 820 Naira cheaper than Jolli and won't have access to all the above stations. I think the best decision here is to go for Jolli over Jinja. It is not even close for that price difference.
Final Thought
Even though Jolli plan is 1140 Naira cheaper than Max and just 820 Naira more expensive than Jinja, it is much more easier to choose between Jolli and Jinja than to choose between Jolli and gotv Max.
I mean it has 17 channels more than jinja while Max has just 9 stations more than it. And not just that, those 17 stations are great ones that you do not want to miss because of 820 Naira.
But the decision is still yours to make. You obviously knows what's best for you. Just take the data and number above into consideration while making your decision.
To subscribe, go to quickteller.com/gotv and enter your details and complete the transaction using OTP sent to the number registered to your bank account.
If you find this article useful, there is a possibility that you know who also currently needs it. So, why not share it with them.
Jolli Vs Max Vs Plus
Plus has now been deprecated while Jolli and Max has been revamped. So this part of the write up is just to show you what the previous settings were.
Between Gotv max and Plus packages is the Jolli subscription.
So it makes sense that people wants to know whether to upgrade from plus to Jolli or downgrade from Max to Jolli.
You will still be making that decision yourself but i will give you all the facts you need.
If you are presently on Max, there are 4 channels (Super Sport Select 4 and 5, RSTV and Wasafi Tv) you are currently enjoying that Jolli subscribers doesn't.
And there is one station (Wazobia Tv) Jolli subscribers is enjoying that you aren't.
So you can decide if it's worth downgrading for or not. Remember that Max is 800 Naira more expensive than Jolli.
For those presently on Plus and doesn't know if upgrading to Jolli is worth it. This is for you.
Plus package is currently N1900, meaning it is 500 Naira cheaper than Jolli.
There are 2 stations (CNN International and Wazobia Tv) that you will start enjoying immediately you upgrade to Jolli but you will have to sacrifice one station (RSTV) if you are leaving Plus.
So you have all the details needed and you should be able to decide for yourself which package is good for you and whether to downgrade or upgrade from Max or Plus respectively to Jolli.
I have previously published a post that explains how to go from one gotv package to another. Try to check it out if you intend to move to Jolli.
This article was most recently revised and updated on July 27, 2021