Keystone bank transfer code has made fund transfer easier and secure without leaving the comfort of your home. The mobile banking code is highly secure and easy.
Importance of this unique code cannot be overemphasized due to the challenges which customers encounter on a daily basis in order to execute fund transfer.
The USSD mobile banking code is the fastest and easiest means of sending money from Keystone bank to another Keystone bank account (Interbank) and from Keystone bank to other commercial bank accounts (Intra-bank) with the use of mobile phone device.
Amazing aspect of the tool is, it is not internet dependent. It works seamlessly in both internet enabled phone device and none internet enabled mobile phone device.
However, you don't have to waste your energy and time on a very long queue inside the banking hall to execute fund transfer. Also, you don't need to stand on the sun, waiting for your turn to carryout fund transfer in ATM stand.
This powerful tool has made it possible to send money at your convenient time without stress. Therefore, the introduction of the mobile banking code has increased customer friendliness with Keystone.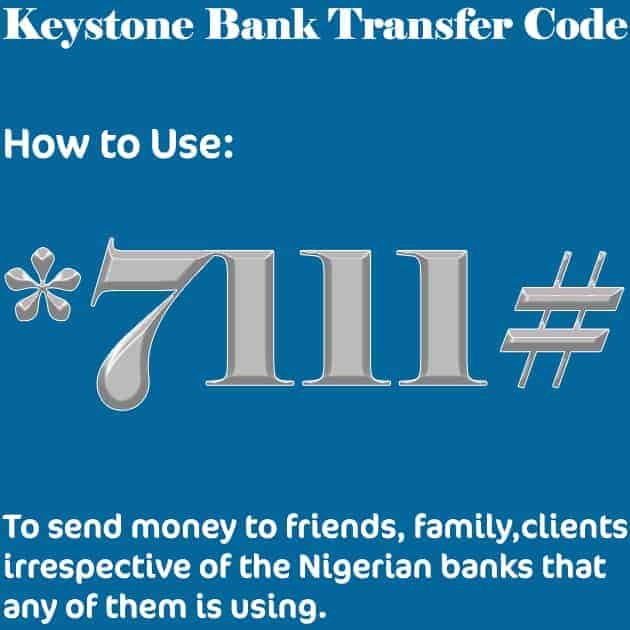 As you continue reading, we are pleased to guide you step by step to learn and start making use of the code effectively without delay. There are a lot benefits associated with the use of the mobile banking code, we will try to show them to you.
How to Register Keystone Bank Transfer Code
Unlock your mobile phone device, dial *7111*0#
Carefully follow the instructions on the screen and input your account number
Choose a unique 4 digit PIN which will enable you to authorize transactions with the code
You are now set for the USSD mobile banking opportunity
Having activated your mobile phone device and generated your PIN, you are one step closer to learn the procedures needed to perform the transaction swiftly. So, continue reading.
Keystone to Other Banks Transfer Code
To execute funds transfer, dial *7111*AMOUNT*ACCOUNT NUBAN#
Example, dial *7111*60000*2054376502# to send #60,000 to a beneficiary account which is 2054376502. Note, NUBAN stands for the account number of the beneficiary
Select the bank name of the beneficiary from the options on the screen
Enter your 4 digit PIN and authorize the transfer
Once you get debit alert notification, it's an indication that your transaction is successful
Keystone to Keystone Bank Transfer Code
Dial *7111*AMOUNT*ACCOUNT NUMBER#
Choose your beneficiary bank name
Crosscheck the full name of the beneficiary to ensure it corresponds with the one you have in mind
Example, dial *7111*5000*5150668609# to transfer #5,000 to the given account number
Input your 4 digit PIN to initiate the transfer
Your transaction is successful, once you are debited
Benefits Of Using Keystone Mobile USSD Platform
The mobile banking services is not restricted to smart phones. It is functional in all kinds of mobile phone device. All you need to do is to make sure that you have strong signal from the network providers of the sim card you are making use in your area. For example, it works in Java, iOS phones, Android, etc.
The mobile banking service is available 24 hours of the day
Available for all keystone account holders
It can be used to make bill payments like DSTV, GOTV, STARTIME, etc. so, if you have been stressing yourself every time to subscribe your cables, the unique mobile banking code will give you the enablement to carryout bill payments at the comfort of your house
Functional with all the network providers like MTN, GLO, 9Mobile and Airtel
It is secure, seamless and easy
The transaction does not last more than a minute.
Limitations of the Code
The mobile banking code cannot work on a phone number that is not linked to your account. You must make use of the phone number you used when opening the account as we stated earlier.
You are limited to make maximum transfer of #100,000 per day. But if you want the limit to be increased, you can visit any Keystone branch nearest to you. It will be upgraded.
Interbank transfers attracts charges within the range of 10-50 naira. Therefore, if you are making intra-bank transfer, you will not be charged any money.
The USSD mobile banking code works for current and savings account holders. It does not work for domiciliary and corporate account holders.
Wrapping Up
If you don't have an account with the bank yet, it is pertinent you do so. You cannot get access to use make of the mobile banking code if you don't have account with it. So, kindly create an account with the bank and enjoy the benefits in full.
We have taken you by hand and shown you the guidelines and the necessary steps needed to carryout fund transfer fast and easy. You can now enjoy the benefits your bank has provided for you to the fullest.
We hope this concise report is helpful. Kindly leave your comment in the comment box.
This article was most recently revised and updated on May 7, 2021