Would you like to know GoTv decoder price in Nigeria today in 2023? I mean how much it currently cost?
How about the available subscription plans and their prices?
If your answer to both questions above is Yes, then you need to continue reading.
GoTV operates under the umbrella of Multichoice, the owner of DSTV, the cable TV with the highest number of subscribers in Nigeria and Africa.
The media company was launched in a bid to make direct broadcast satellite and cable TV services accessible to low-income earners.
That being said…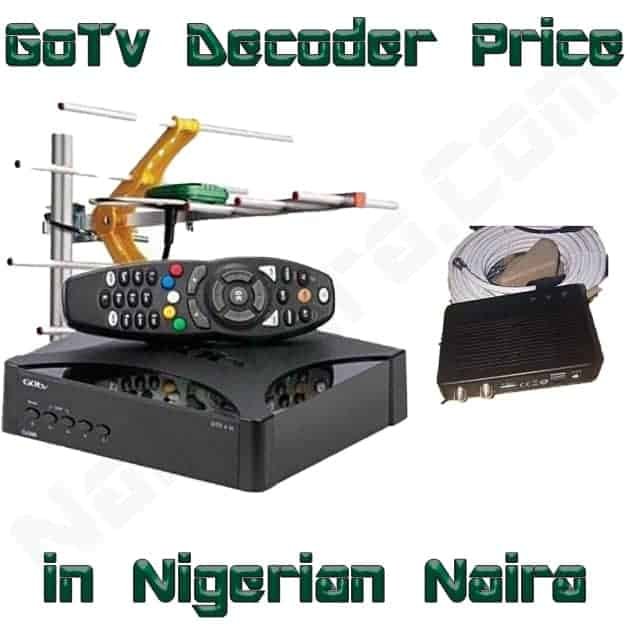 Don't worry; these and more are what you are about to discover right now in this write-up, but first, see the list of channels on Gotv Jolli.
Without further hesitation, here's the answer to your questions…
How Much Does a GOTV Decoder Cost in Nigeria in 2023?
If you are considering purchasing a GOTV decoder in Nigeria, you may be wondering how much it will cost you. The price of a GOTV decoder can vary depending on where and when you purchase it. On average, in 2023, the price range for a GOTV decoder in Nigeria is between ₦10,000 and ₦15,000.
The GOTV package includes not only the decoder itself but also a Gotenna antenna and a free one-month subscription. This makes it a great deal for anyone looking to enjoy a wide range of television channels without breaking the bank.
When it comes to purchasing a GOTV decoder, there are a few factors that can influence the price. One of the main factors is the location where you buy the decoder. Prices may vary slightly between different cities or regions in Nigeria. It's always a good idea to compare prices from different retailers to ensure you are getting the best deal.
Another factor to consider is the time of purchase. Prices may fluctuate throughout the year, with potential discounts or promotions during special events or holidays. It's worth keeping an eye out for these opportunities to save some money.
It's also important to note that the price range mentioned above is an average. You may find some retailers selling the decoder for slightly lower or higher prices. It's always a good idea to do some research and compare prices before making a purchase to ensure you are getting the best possible deal.
Overall, a GOTV decoder in Nigeria can cost between ₦10,000 and ₦15,000 on average in 2023. With the inclusion of a free one-month subscription and the Gotenna antenna, it's a great value for anyone looking to enjoy a wide range of television channels. Take your time to compare prices and consider the location and timing of your purchase to get the best deal.
How to Activate GoTv Decoder the First Time
Once you have purchased and installed your decoder the next thing is to activate it.
The normal procedure is that it should be activated where you buy it but there are situations where the buyer may not want to install or activate it yet.
You should know you can do the installation and activation yourself anytime you are ready by following the steps below.
Visit gotv Nigeria activation page; http://eazy.gotvafrica.com/en/ng/activations
Select the Nigerian city you reside in
Input your surname
Enter your decoder IUC number. It is located on the red sticker under your decoder
Input your mobile phone number
Hit the ACTIVATE button.
Other than activation, you need your IUC number for renewing your subscription, eazy self-service and when you contact customer care.
GoTv Decoder Packages
There are 4 bouquets for Gotv subscribers to choose from. They are:
GoTv Max
GoTv Jolli
GoTv Smallie
I have written extensively on each of these packages from how much they cost to the list of stations under them.
Max is their most expensive package with a monthly renewal fee of 3600 Naira. It comes with over 76 stations which include News, Sports, Music etc.
Their cheapest bouquet is Smallie which comes with 36 stations and costs 800 Naira monthly, 2100 Naira quarterly and 6,200 Naira annually.
The most expensive and cheapest plans are Jinja and Jolli packages that both cost 1640 Naira monthly with 49 channels and 2460 Naira monthly with 69 stations respectively.
What is GoTv?
GoTv is a product of Multichoice Nigeria, a subsidiary of Multichoice Africa headquartered in South Africa.
Multichoice Africa has wide range of products in many African countries apart from gotv. DSTV is one of those other products.
Unlike DSTV which is satellite-based, GoTv is a pay tv that deploys its service with DVB-T2, the latest digital terrestrial broadcast technology.
Apart from Nigeria, GoTv is also available in Zambia, Uganda, Rwanda, Namibia, Mozambique, Malawi, Kenya, Ghana etc.
Brief History of GoTv in Nigeria
As I said earlier, GoTv is a digital Pay Tv service that is not satellite base i.e does not require installation of dish.
It uses broadcast method that is similar to what the likes of NTA and AIT use but with better video and audio quality.
It was launched into the Nigerian market in 2012. GoTv was first launched in OYO state capital (Ibadan) as GoTv Nigeria and it was offering 20 channels then.
GoTv coverage has gradually extended to all Nigerian cities and towns in the past 8 years and still making their services better.
Though there have been complaints from subscribers on their website and social media pages about their poor service in some locations.
I have experienced great GoTv quality in locations like Port-Harcourt, Lagos, Oyo and Osun state. So it will be wrong to say their service is perfect but it will be even more wrong to say it is very bad.
GoTv Nigeria does a very great job at providing great video and audio quality on all their packages/bouquets when their network is stable.
How To Renew your GoTv
GoTv offers myriads of payment platforms that you can pay your subscription fee through and this includes the following:
Any Multichoice Africa branch near you
Quickteller
GlobalPAY
PayU
Stanbic Mobile Wallet
Zenith Mobile Wallet
PAGA mobile
KongaPay
Baxi Box
Eazy Money
eTranzact
Where To Buy GoTv Decoders In Nigeria
You can get a new decoder via any of the following:
Accredited GOtv Dealers; you can find the nearest one to you via
Online Shopping Sites e.g. Jumia and Konga
Final Thought
GoTv is one of the best Pay Tv out there and since there is not much competition, it is going to remain that way for a very long time.
Its selling point includes affordability of both decoder and packages, easy installation and service isn't affected by the weather.
At the moment, gotv decoder price in Nigeria has been slashed from over 8000 Naira to 6.5K Naira. Now might be the best time to get yourself one of those.
This article was updated 4 weeks ago