SunTrust is a commercial bank operating in Nigeria with a legal license by the Central Bank of Nigeria (CBN). The bank is privately held but is still the bank of choice for so many Nigerians; it was founded in 2016 which is a major reason why it is not yet very popular in the country. In this article, suntrust bank swift code will be discussed as customers of the bank search for this everyday. Let's start with a brief introduction of what a SWIFT code is.
Brief Information about SWIFT code
SWIFT codes are standard bank identifier codes and you can as well call them that (Bank Identifier Codes – BIC). They are used to carry out money transfers from one bank to another. SWIFT codes are required mainly when an international wire transfer is to be carried out which involves transferring money between banks in different countries. Their function is to make sure that the money transferred gets to the right bank and the right bank account.
One other thing SWIFT codes are used for is to send messages from a bank to another. The codes are arranged by the Society for Worldwide Interbank Financial Telecommunication (SWIFT) which is where the "SWIFT" word comes from. They can either be 8 or 11 digits and this is how they are formatted;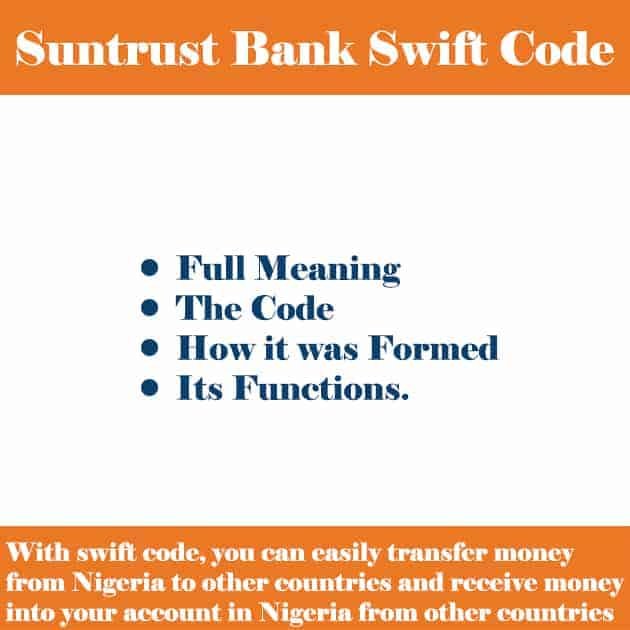 Bank code: First 4 characters
Country code: Next 2 characters
Location code: Next 2 characters
Bank branch code: Last 3 characters (optional).
SunTrust Bank SWIFT Code
The SWIFT code of SunTrust Bank Nigeria Limited is SUTGNGLA.
If you count, you would discover that the code consists of 8 characters and these characters are from different individual codes.
Let's look at how it formed.
SUTG – These are the first 4 characters of the bank SWIFT code and they are the bank code.
NG – These are the next two characters that come after the bank code. The characters (NG) make up the country code of Nigeria; the country is Nigeria because we are looking at SunTrust bank in Nigeria.
LA – These are the last characters of the Sun Trust SWIFT code. It is the city code of Lagos, Nigeria. Lagos is used because it is the location of SunTrust bank head office; the head office is located at Oladele Olashore Street, 1, off Sanusi Fafunwa, Lagos.
As a SunTrust bank customer, you can send this code to anyone requesting for your bank SWIFT code even if your bank branch is not in Lagos state.
This is because the head office covers every other SunTrust bank branch in Nigeria. However, you may need to add your bank branch code in some cases; this is usually a 3-character code and it makes the code 11 digit in total.
You can get your bank branch code by requesting for it from your bank branch.
Final Note
The SunTrust bank SWIFT code has been provided above for customers of the bank who are in need of it. It is not so difficult to recall and you also learnt how it is formed so you can be able to remember it easily.
This article was updated 4 months ago