Searching for Providus bank swift code? This article will provide it for you and you also get to learn other important information.
See Gtbank Online Banking: How to register, login, app, code, portal as well as How To Get 5 Digit Pin For First Bank Transfer in Quick Time
Providus Bank Swift Code
The code you are searching for is UMPLNGLA.
It is an 8-character SWIFT code for Providus Bank Plc, Lagos, Nigeria.
As a customer of the bank, you can easily memorize this code as it is a simple one but, I would be easy to memorize if you understand how it was formed.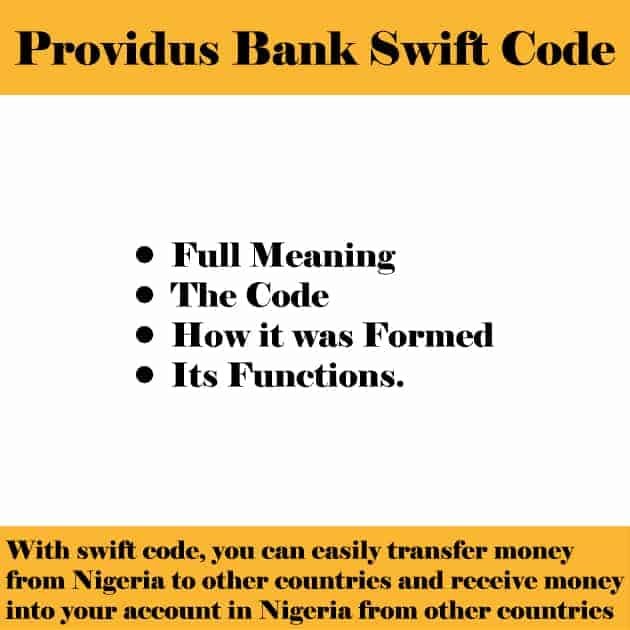 The 8 characters of the code were not picked randomly; each has a significance as they are characters of other code which when combined, forms the SWIFT code.
You can separate them in this format UMPL-NG-LA; let's consider them individually.
UMPL: These characters represent Providus Bank Plc, and it is the bank we are talking about. UMPL is the bank code of Providus bank and it always comes first.
NG: As a Nigerian, you should be familiar with the NG characters; these characters represent Nigeria and they make up the country code. The country codes comes immediately after the bank code in a sort code.
LA: These characters are the last of the SWIFT code and they represent the location code of Lagos. The location code of Lagos is used because the head office of Providus Bank can be found at Adetokunbo Ademola Street, Plot 54, Lagos.
Optionally, the code of the bank branch can be added after the location code. I say optionally because the head office of Providus bank supersedes all other branches in the country. If you are required to add your branch code, request for it from your branch; it is a 3 character code.
At this point, I believe you can be able to decipher the SWIFT code of Providus bank on your own. It would make it easy for you to recall the code when you are asked for it.
You've found out what the Providus bank SWIFT code which is the main reason why you visited this page. If you are interested in knowing the meaning of a SWIFT code and why you were asked to provide it, you should read on.
What SWIFT Code Means
SWIFT codes are unique codes that works as a bank's identity; it can also be called be called a Bank Identifier Code (BIC). They can be 8 or 11 characters long and they are formed by combining different individual codes.
An 8 character SWIFT code is formed by combining the bank code, country code and location code of a bank
11 character SWIFT code is formed by combining the bank code, country code, location code and branch code of a bank
These codes are managed by the Society for Worldwide Inter-bank Financial Telecommunications (SWIFT) and they are used to route international wire transfers. Every commercial bank in Nigeria has a SWIFT code and they are arranged like this;
First 4 characters – The bank code
Next 2 characters – The country code (usually NG – Nigeria)
Last 2 characters – The location code
Optional last 3 characters – The bank branch code
Final Note
Those looking for the SWIFT code of Providus bank can make use of the code provided in this article. Other information contained will also be of help as it helps you understand the concept behind the use of SWIFT codes.
This article was updated 4 months ago