You are on this page because you searched for the Union bank SWIFT code. Be rest assured that you would find that information here and more. First of all, let's talk a bit about what it means.
Every day, Nigerians are asked to provide SWIFT code of their banks if they are to receive a payment from outside the country, Why? What is a SWIFT code and what are it's used? Read on to find out.
What is a Swift Code?
Also called BIC (Bank Identifier Code), SWIFT code is a code that represents or identifies a particular bank in a particular country.
To get a SWIFT code, you need to combine 3 (in some cases 4) individual codes. What are these codes?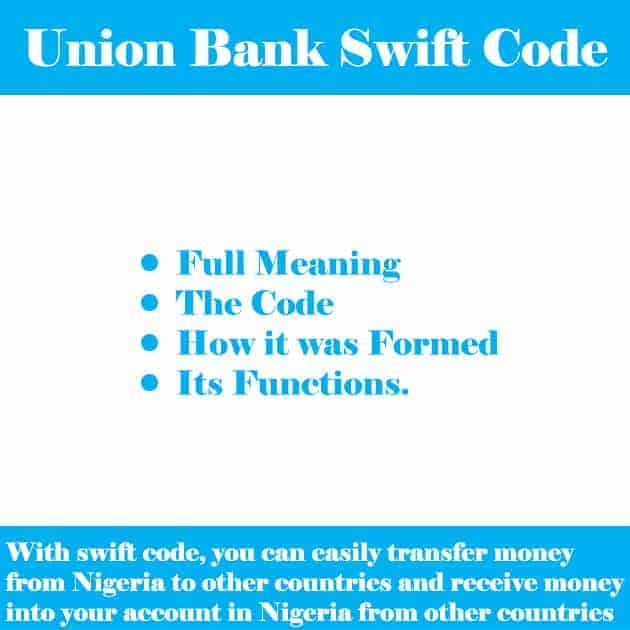 Bank code: Every commercial bank in Nigeria has a code; it is usually 4 characters and it comes first in a SWIFT code.
Country code: Here we are talking about Nigeria therefore, the code is always NG; 2 characters only and it comes immediately after the bank code.
Location code: This comes after the country code and it is 2 characters as well
Bank branch code (optional): this comes last and it consists of 3 characters. It is not very necessary and you can add it optionally.
What is Swift Code Used for?
SWIFT code that used for transferring money (international wire transfer to be precise); that is its primary use. This is the reason why you are asked to provide your SWIFT code when ever you want to receive money from outside the country.
It is important for you to provide your SWIFT code because it will make sure that the money gets to the correct bank account. One other use of SWIFT codes is for communication, banks use it to send messages between one another.
Union Bank Swift Code
The swift code of Union bank is UBNINGLA.
Union Bank is very popular in Nigeria with a large number of customers. You are sure to find at least one of the bank branch in each of the 36 states and in the FCT as well.
How the Swift Code of UBN was Formed
As you can see, the code above – UBNINGLA – is 8 characters long which means it was formed by combining the bank code, country code and location code of Union Bank, Nigeria.
UBNI – these are the first 4 characters you see and they simply mean Union Bank Nigeria; this is the bank code.
NG – these are the next 2 characters you see and as earlier stated, it is the country code of Nigeria.
LA – these are the last 2 characters you see and they make the location code of Lagos. Union Bank head office is located in Lagos which is why Lagos is used.
Remember that you can add the branch code of your bank branch if you want (or if it is demanded). This code can be gotten from your bank, simply visit your branch and request for it.
Final Note
I am sure you did not just get the union bank swift code in this write up but also how it was formed and what its functions were. If you have any question, you can let me know using the comment box.
This article was most recently revised and updated on May 7, 2021