You might want to check out gotv jinja if you have no much time to spent in front of tv or have little amount budgeted for paytv subscription.So, how about we talk about its list of channels and price in Nigeria.
It is the second cheapest plan on Gotv you can subscribe to right now.
Since most of Nigeria's population is in the lower middle class, it make sense why GoTv is the most used satellite Tv in the country.
I mean majority of Nigerians can't seems to afford dstv subscriptions and startimes doesn't seems to be gaining much traction these days.
So when the company comes up with packages like Jinja that people can get for small amount of money. They rushed it.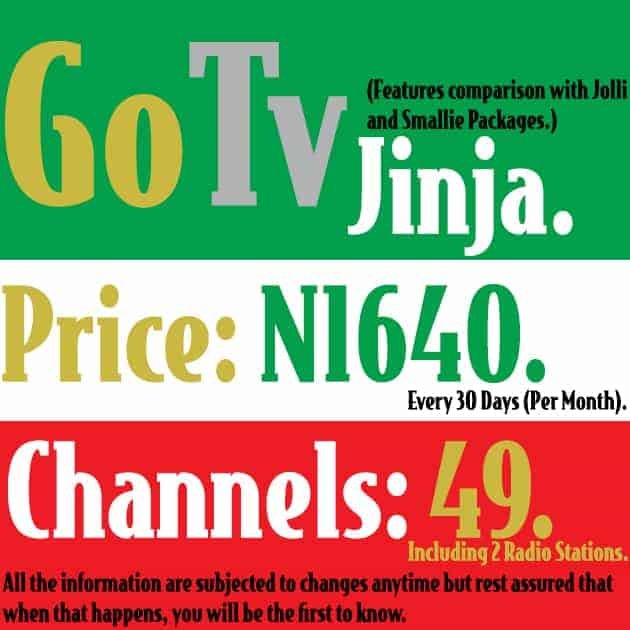 List of GoTv Jinja Channels 2021
Al Jazeera
Arise News
TVC News
NTA News24
ITV Benin
BISCON Tv
Liberty Tv
TVC Entertainment
Trybe
SS Blitz
SS Variety 4
Naija FM
Wazobia FM
Nickelodeon
Jim Jam
PBS Kids
AfricaMagic Epic
Real Time
Spice Tv
E! Entertainment Tv
FOX Life
AfricaMagic Hausa
AfricaMagic Yoruba
AfricaMagic Igbo
AFRO Music English
Sound City
Urban Tv
Faith
Islam Channel
Emmanuel Tv
Dove Tv
NTA Parliament
Tiwa n Tiwa
RAVE
R2TV
NTA2
NTA International
Silverbird
AIT
Channels
Lagos Tv
Wazobia Tv
Arewa 24
WAP TV
EBS TV
OGtv
BCOS
ONMAX
Galaxy Tv
Is Channel 29 on Jinja Bouquet?
Sorry, you can't watch BBNaija season 6 on this package, upgrade to Jolli or Max so you can be able to access channel 29 which is airing the reality Tv.
GoTv Jinja Price in Nigeria
Jinja subscription cost 1,640 Naira per month and it gives you access to 49 channels which include 2 audio stations.
Jinja Vs Smallie
There are some channels on Jinja such as FOX Life, Africa Magic Epic, Hausa, Yoruba, Igbo, Trybe, E! Entertainment, Super Sport Variety 4, Jim Jam, Nickelodeon, Sound City, Arise News, Real Time, Spice Tv and Tiwa n Tiwa that smallie subscribers won't have access to.
But remember that smallie is 840 Naira cheaper than Jinja. So the question is, can you let go of the above channels because of that amount.
If you are trying to decide between Jolli and Jinja, then you should check my write up about Jolli plan. I already compare them in it.
The Launch of Jinja Package
It was on December, 10th 2019, Multichoice Africa announced that they will be adding 2 new plans to their gotv packages one of which is Jinja increasing the total number of available bouquets to 6.
It wasn't that long, the decision immediately led to confusion among their customers because the new bouquets overlaps both in how much they cost and the quality of channels available on them with some of the old packages.
It became so hard for people to select which one to subscribe to between them without comparing all the channels available and then looking at the price and it was so frustrating for most people.
They later decided to alleviate the remove both plus and value package in the middle of 2020 around June.
Final Thought
So, what do you think of the Jinja package? Do you think, that it is a much better gotv package than smallie?
Well, you have all the facts and figures and data and details. The decision is yours now.
Let me know what that is in the comment box.
You can subscribe to this package using quickteller.com/gotv then enter your details to complete the transactions.
Finally, if you find this write up helpful, kindly share with your friends and family and relatives across all social media platforms.
Plus Vs Jinja Vs Value
Plus and Value plans have now been deprecated. I left this part because we might need to point to it later.
Numerous subscribers are confused right now with the introduction of Jinja which is placed in between the existing Plus and Value bouquets.
They don't know if it's worth it downgrading from Plus to Jinja or Upgrading from Value to Jinja.
Here is the deal.
I will give you all the fact and you will make the decision yourself. Deal? Great.
Let's start with the fact that Plus package cost 1900 Naira per month which means it is just N300 more expensive than Jinja.
But is it worth it? Let's find that out together.
There are 6 channels Plus subscribers are enjoying that Jinja subscribers aren't right now and they are Super Sport Select 2 and 3, BBC World News, Hip Tv, MTV Base and RSTV.
And there is just 1 station that Jinja subscribers can watch that Plus doesn't have access to and it is Wazobia Tv.
If you ask me, i think i will stick to Plus if it were me. The 300 Naira is more than the channels i will be missing if i decided to go for Jinja.
But that's just me, you will have to decide for yourself.
Again, let's start with the pricing facts. Jinja costs 1600 Naira per month while Value costs 1250 Naira per month meaning Jinja is 350 Naira costly than Value.
Now you are asking yourself if it is worth it upgrading to Jinja from Value package.
Well, my own answer is No but you have to decide it is for you.
Why? Because let's face it, Value has 1 channel that Jinja doesn't have which is RSTV and Jinja has 1 radio station that Value doesn't have which is Naija FM.
Meaning i will be paying 350 Naira more just to listen to Naija Fm? I don't think so.
If you still want to move from upper or lower bouquet to Jinja i had previously publish a post that explain how to upgrade and downgrade from one gotv package to another. So be sure to check it out.
This article was most recently revised and updated on July 27, 2021