Why is my GOtv not showing after subscription? Instead of learning how to reset GOtv upon renewal of your subscription, why don't you just take measures to prevent it in the first place?
Most of the time, the only reason you will have to reset your decoder after payment is if you allow the previous one to expire before paying.
Because once it expires, your decoder automatically gets disconnected and you have to reset or activate it.
In case you want to know all the GOtv Jinja Channels List, they are all in that post.
Why is my GOtv not showing after subscription?
In most cases, the reason for missing or reduction in channels is due to disconnection upon expiry and re-activation or resetting.
There is this GoTv decoder that I still enjoy all the channels as I did when I first bought it because I never allow the subscription to expire before renewing it.
However, if your subscription has already expired and you have paid but your view hasn't been restored, kindly follow the procedure below.
But wait, do you know the Jolli bouquet channels? Find them all in that article.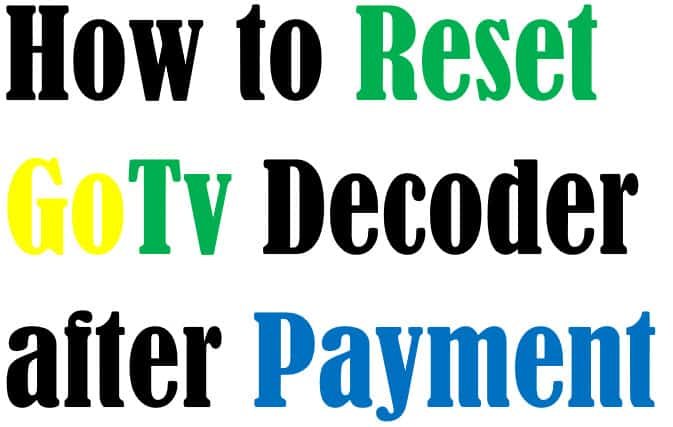 How to Reset GOtv via SMS
Why is my Gotv not showing after the subscription? To reset your Gotv decoder with SMS, text "RESET IUC Number" to 4688. Let's assume your IUC number is 0123456789, send "RESET 0123456789" to 4688.
The IUC number is different for each decoder. It represents individual decoders in the company's system database, and its full meaning is Identification User Code. It is printed on the red sticker under your decoder.
Reset Your GOtv Decoder Using USSD Code
Dial *288*1# or *423#. This will get you through to one of their customer care agents who will help you with the reset or activation.
GOtv Activation Online
Navigate to the GOtv webpage ).
Click on Eazy Self-Service.
Look for fixed errors.
Enter your IUC number and select the type of error displaying on your TV screen (meaning your decoder has to be On for this).
Click on the Fix Error tab.
How Do I Check My GOtv Activation Status
Wondering if your GoTV is activated? Checking your activation status is easy. Just log in with your last name and IUC number, go to the Activation Status tab, enter your IUC number, and click the "Check Activation Status" button. If you did everything correctly, the result page will display "Enabled," so you know it's all set up and ready to go.
Meaning Of IUC Number
What is an IUC number? It's a unique 10-digit identifier assigned to your GOtv account and decoder.
Just like no two individuals can use the same phone number or bank account on a given network, no two GOtv decoders have the same IUC number.
The IUC number, also known as the customer number or serial number, identifies your GOtv decoder.
If you are asked for your GOtv serial number, this is the same thing as your IUC number.
How To Find Missing Channels On GOtv
If you're trying to find missing channels on your GOtv, all you have to do is rescan. To start the rescan, press the "help" button on your remote and navigate to "Advanced Options." Choose 'Installation' and then 'Automatic Scan'.
Wait for the scanning process to finish, and you will soon see all of your missing channels returned. Once the process is done, simply press the exit button to remove it from your screen. You can now enjoy all of your recovered GOtv channels again.
Final Note
If none of the above fixes the issue, then you have to contact GOtv customer care via either a phone call or social media.
In one of my previous articles, I shared a fix for the missing GOtv channels issue. Don't hesitate to check it out.
That's all there is to it when it comes to how to reset GOTV after payment. Kindly share this article using the social sharing buttons below.
This article was updated 4 weeks ago