Do you have an idea of the total Liverpool Trophy list and how many they are?
This article shows Liverpool champions league trophies and honours, premier league titles, Steven Gerrard trophies, Jurgen Klopp trophies, the Reds' major trophies from the last 10 years, European trophies and many more.
Let me not waste your time and go straight to show you the Liverpool trophies list.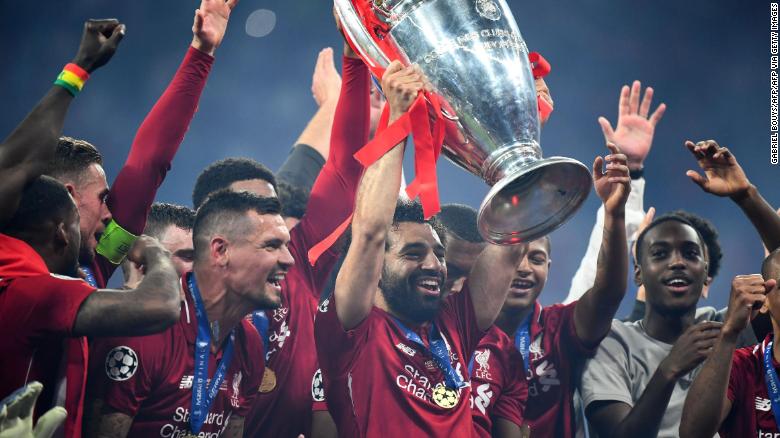 Liverpool Trophy List
| | | |
| --- | --- | --- |
| Honour | Position | Year |
| European Cup | Winner | 1976-77 |
| European Cup | Winner | 1977-78 |
| European Cup | Winner | 1980-81 |
| European Cup | Winner | 1983-84 |
| European Cup | Runner-up | 1984-85 |
| FA Charity Shield | Winner | 1964 |
| FA Charity Shield | Winner | 1965 |
| FA Charity Shield | Winner | 1966 |
| FA Charity Shield | Winner | 1974 |
| FA Charity Shield | Winner | 1976 |
| FA Charity Shield | Winner | 1977 |
| FA Charity Shield | Winner | 1979 |
| FA Charity Shield | Winner | 1980 |
| FA Charity Shield | Winner | 1982 |
| FA Charity Shield | Winner | 1986 |
| FA Charity Shield | Winner | 1988 |
| FA Charity Shield | Winner | 1989 |
| FA Charity Shield | Winner | 1990 |
| FA Charity Shield | Winner | 2001 |
| FA Community Shield | Winner | 2006 |
| FA Community Shield | Winner | 2022 |
| FA Cup | Runner-up | 1913-14 |
| FA Cup | Runner-up | 1949-50 |
| FA Cup | Winner | 1964-65 |
| FA Cup | Runner-up | 1970-71 |
| FA Cup | Winner | 1973-74 |
| FA Cup | Runner-up | 1976-77 |
| FA Cup | Winner | 1985-86 |
| FA Cup | Runner-up | 1987-88 |
| FA Cup | Winner | 1988-89 |
| FA Cup | Winner | 1991-92 |
| FA Cup | Runner-up | 1995-96 |
| FA Cup | Winner | 2000-01 |
| FA Cup | Winner | 2005-06 |
| FA Cup | Runner-up | 2011-12 |
| FA Cup | Winner | 2021-22 |
| FIFA Club World Cup | Runner-up | 2005 |
| FIFA Club World Cup | Winner | 2019 |
| Football League Cup | Runner-up | 1977-78 |
| Football League Cup | Winner | 1980-81 |
| Football League Cup | Winner | 1981-82 |
| Football League Cup | Winner | 1982-83 |
| Football League Cup | Winner | 1983-84 |
| Football League Cup | Runner-up | 1986-87 |
| Football League Cup | Winner | 1994-95 |
| Football League Cup | Winner | 2000-01 |
| Football League Cup | Winner | 2002-03 |
| Football League Cup | Runner-up | 2004-05 |
| Football League Cup | Winner | 2011-12 |
| Football League Cup | Winner | 2021-22 |
| Intercontinental Cup | Runner-up | 1980-81 |
| Intercontinental Cup | Runner-up | 1984 |
| League Division One | Runner-up | 1898-99 |
| League Division One | Champion | 1900-01 |
| League Division One | Champion | 1905-06 |
| League Division One | Runner-up | 1909-10 |
| League Division One | Champion | 1921-22 |
| League Division One | Champion | 1922-23 |
| League Division One | Champion | 1946-47 |
| League Division One | Champion | 1963-64 |
| League Division One | Champion | 1965-66 |
| League Division One | Runner-up | 1968-69 |
| League Division One | Champion | 1972-73 |
| League Division One | Runner-up | 1973-74 |
| League Division One | Runner-up | 1974-75 |
| League Division One | Champion | 1975-76 |
| League Division One | Champion | 1976-77 |
| League Division One | Runner-up | 1977-78 |
| League Division One | Champion | 1978-79 |
| League Division One | Champion | 1979-80 |
| League Division One | Champion | 1981-82 |
| League Division One | Champion | 1982-83 |
| League Division One | Champion | 1983-84 |
| League Division One | Runner-up | 1984-85 |
| League Division One | Champion | 1985-86 |
| League Division One | Runner-up | 1986-87 |
| League Division One | Champion | 1987-88 |
| League Division One | Runner-up | 1988-89 |
| League Division One | Champion | 1989-90 |
| League Division One | Runner-up | 1990-91 |
| League Division Two | Champion | 1893-94 |
| League Division Two | Champion | 1895-96 |
| League Division Two | Champion | 1904-05 |
| League Division Two | Champion | 1961-62 |
| Premier League | Runner-up | 2001-02 |
| Premier League | Runner-up | 2008-09 |
| Premier League | Runner-up | 2013-14 |
| Premier League | Runner-up | 2018-19 |
| Premier League | Champion | 2019-20 |
| Premier League | Runner-up | 2021-22 |
| UEFA Champions League | Winner | 2004-05 |
| UEFA Champions League | Runner-up | 2006-07 |
| UEFA Champions League | Runner-up | 2006-07 |
| UEFA Champions League | Winner | 2018-19 |
| UEFA Champions League | Runner-up | 2021-22 |
| UEFA Cup | Winner | 1972-73 |
| UEFA Cup | Winner | 1975-76 |
| UEFA Cup | Winner | 2000-01 |
| UEFA Europa League | Runner-up | 2015-16 |
| UEFA Super Cup | Winner | 1976-77 |
| UEFA Super Cup | Winner | 2000-01 |
| UEFA Super Cup | Winner | 2005 |
| UEFA Super Cup | Winner | 2019 |
| World Soccer Team of the Year | Winner | 2001 |
This article was updated 3 months ago