This write up is about the simplest ways you can check your polaris bank account balance without stepping into the banking hall will be very useful to most customers.
For one reason or another, you may need to know how much you have left in your account, once in a while.
Not only will that help you avoid some unnecessary embarrassments when making purchases with your debit card, it will also help you curtail the rate at which you spend money.
Below, you will find fastest and simplest ways of knowing your account balance without walking directly into the bank.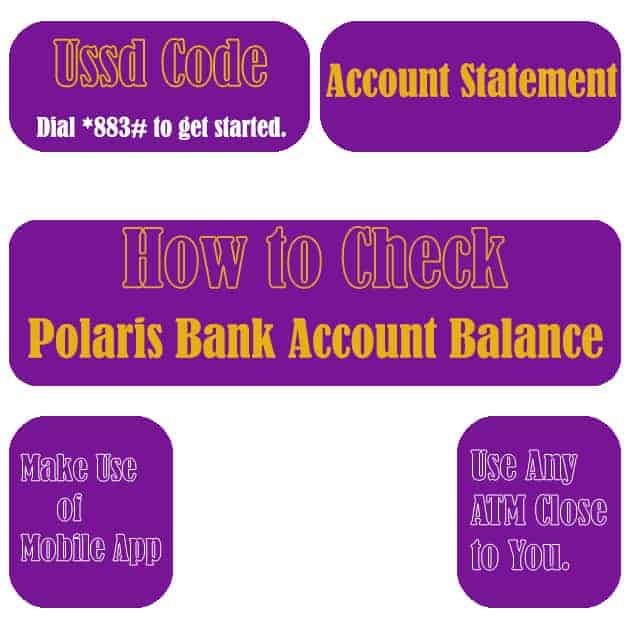 Code to Check Polaris Bank Account Balance
The polaris bank's code for checking your balance is *883*6#. Just dial it and you will receive a text message that contain how much is left in your bank account.
Another version of this same code can be used for some other kind of mobile banking services.
For example, it can function as the transfer code for polaris bank customers to send money from their account to that of another Nigerian.
It can be used for cashless withdraw, purchase of airtime, buy data and many other things.
But the service we are interested in right now is on how you can use it to check your account balance. So we will just stick to it.
The good news is, you can make use of the code with any type of phone, whether Java, Android or Apple phone. It is not restricted to any phone.
The code works perfectly with all Nigerian networks. Especially the 4 major ones: GLO, AIRTEL, 9MOBILE, MTN.
However, the mobile phone number you will use must be linked to the account.
You do not need to have browsing data on your line before you can use the code. Though you definitely need to have some airtime on it before dialing it.
That is because every time you dial the code, you will notice that small amounts of airtime will be deducted from your line.
Normally, mobile banking service attracts a fee of N1 per 20 seconds but for this particular transaction, Polaris bank will also debit N10 from your account.
If you are using this ussd code for the first time, you will be required to register for the mobile banking service using your account and your card details. Ensure you have these things ready with you before dialing the code.
Check Polaris Balance from Account Statement
If you have lost the mobile phone line that is linked to your account which means it will be very difficult to use the above method, this may be a good option for you.
You can walk to the banking hall and demand for your account statement.
It doesn't cost anything in terms of money but you will be asked certain questions like your account number, full name, when you open your account etc just to be sure you own the account.
You can also request for your account statement online using your mobile banking app or from your internet banking dashboard.
With it, you won't just know your current account balance but how much money have entered and left your account within the period of the statement you requested for.
Use Polaris Mobile App to Check Balance
This method is best for smartphone users. Whether you are using an android phone or an iPhone.
If you don't have the mobile app yet, download and install it from google play store
After successful installation on your phone, you will be required to register it with your account details.
Have your ATM card and account number handy. You will be asked to enter it. Once the registration is successful, login and you will find your account balance displayed on the app.
Check Account Balance with Polaris Debit Card
If you are yet to own a smartphone or not with yours at the moment, one of the best option for you may be to check your account balance using your debit card on any ATM around you.
Of course this may require you standing on a very long queue at the bank, but it's definitely worth it.
Once you get to the bank, insert your card and enter your PIN. You will see an option that says "Inquiry", select it and wait for couple of seconds.
In less than 5 seconds, you will have your account balance displayed before you. From there, you can go on to make other transactions you wish to.
In Summary
In this article, we have been able to highlight the various ways you can use to know your Polaris bank account balance as a customer of the bank.
Yours is to choose any of the options you feel is best for you and go on to see how it works.
However, i will say using ussd code is the fastest, easiest and safest method to check your balance(s). You can then try other methods if it isn't available.
This article was most recently revised and updated on May 7, 2021