Startimes is one of the most used digital Pay Tv in Nigeria, it has four different cheap and affordable bouquet or subscriptions you can choose from. As an electronic/computer device, it is understandable it might misbehave sometimes and you might need customer care support when it does. This article will provide you with startimes customer care details which include their phone numbers, contact office address, website and their facebook & twitter social media accounts.
Startimes Customer Care Contacts
For immediate enquiry, assistance and service support, you can use any of these medium to reach startimes Nigeria customer care agents across the 36 states of the federation.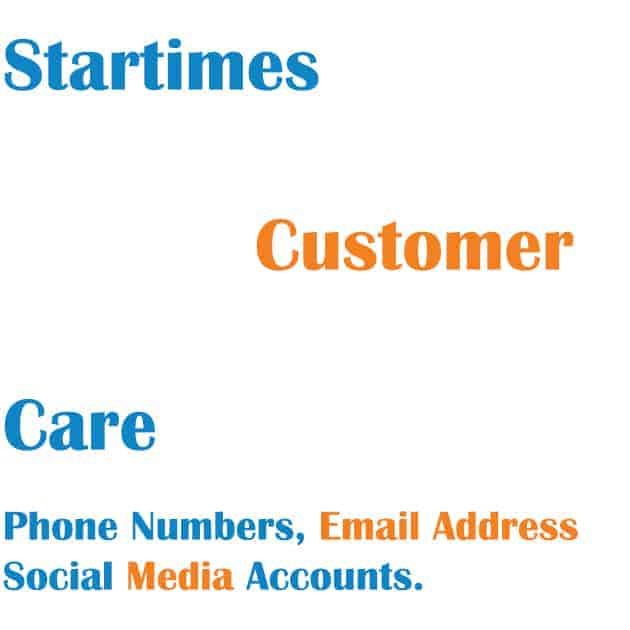 1.) Startimes Contact Phone Number: (094618888, 014618888). Feel free to reach startimes assistance agents via any of the above numbers, you will be charge at your network's normal tariff call rate.
2.) Startimes Official Email Address: (dm@startimes.com.ng). This might not be the best way to contact Startimes in Nigeria, because it takes them hours if not days to reply you. But if you are short on airtime for all the enquiries, complaint or requests you want to make, you can then use this medium.
3.) Startimes Social Accounts: It is the fastest way to contact Startimes Nigeria. They will reply you in minutes and you can ask anything about their products and services.
Twitter Customer care: (https://twitter.com/startimes_ng).
Facebook Customer Contact: ( https://www.facebook.com/StarTimesNG).
4.) Startimes Nigeria Website: (http://www.startimestv.com/).
5.) Startimes Contact Address: You can also visit their head office in Nigeria at AFRIBANK House, Fatai Atere Way, Oshodi, Lagos, Nigeria. Visit their website for list of all their offices in Nigeria.
You can contact startimes Nigeria customer care with any of the above contact medium in Nigeria. Also check our previous article on GoTv customer care contact details. There is love in sharing, kindly make use of the social buttons below.
This article was most recently revised and updated on May 7, 2021