This is for everyone, either you are a GoTv user (old or new) or not. You will be able to get through to them with any of the GoTv customer care contacts i will drop in this article.
There are number of reasons you might want to contact GoTv Nigeria or any other branch, it can be to make enquiry on how much is gotv decoder in Nigeria, how to subscribe for gotv in Nigeria, gotv bouquet Nigeria, gotv stations, gotv packages, gotv channels, gotv Nigeria online payment etc.
Which ever reasons it is, you can easily contact GoTv self care via their official phone number, social media account, email address or live chat on their website.
Most new customers often enlist for immediate assistance of GoTv customer service agent on installation and subscription payment, while old users need it for discrepancies in services or other products.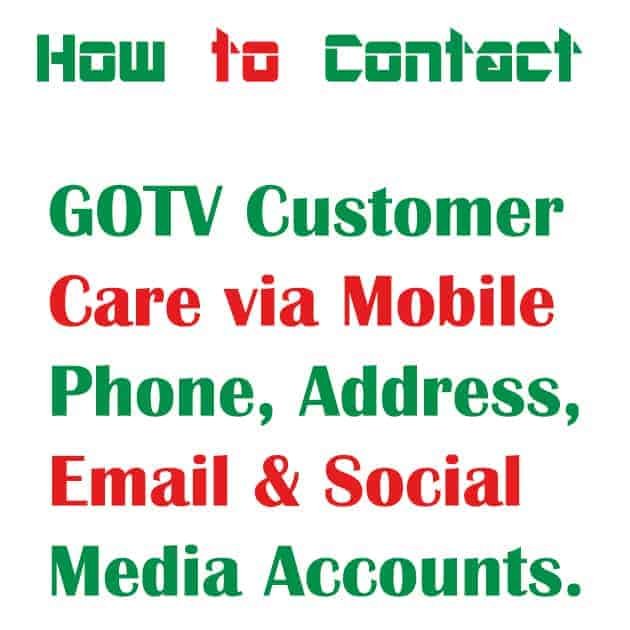 GoTv Customer Care: Phone Number, Email & Social Accounts
1.) GOTv Contact Centre Phone Number: (08039044688). It is worth pointing out that you will be charge at the normal call rate depending on your mobile network and tariff plan you are using on it. It is faster to get through to GoTv Nigeria customer care via this phone number.
2.) Email Address: ([email protected]). This might not be the best way to contact GoTv here in Nigeria, because it takes them hours to reply you. But if you are short on airtime for all the enquiries, complaint or requests you want to make, you can then use this channel.
3.) GoTv Care Social Accounts: It is the fastest and most convenient way to contact GoTv Nigeria. They will answer you in minutes and you can ask anything about their products and services.
GoTv Twitter Customer care: (http://twitter.com/gotvng).
GoTv Facebook Customer Contact.
4.) GoTv Nigeria Website: (nigeria.gotvafrica.com). You can first make personal enquiry on their website before you contact them. You can also use the live chat channel on their website for more information about them. For those in Kenya, Zambia, Uganda, Malawi etc click/tap on the drop down menu at the top right corner of the website and select your country.
5.) GoTv Customer Service Contact Address: You can also visit their physical address in Nigeria at Plot 1381 Tiamiyu Savage Street Victoria Island Lagos State.
Conclusion
Contact GoTv directly for immediate assistance, make enquiry and service support. That's all on how to contact GoTv in Nigeria. Do let us know if you have a problem with any of the above gotv contact details above.
In the meantime, see all the Gotv Jolli channels and Gotv Jinja channels in those posts.
This article was updated 3 months ago