Who are the top 10 Best Strikers In The World in 2021? The importance of strikers in a football team cannot be overemphasized; they are the engine room when it comes to the setting up of a football team.
Just as the popular saying goes that the best form of defence is attack, it literally means that to have a safe defence, a defence that will not be troubled ravaged by attacks, a massive attack is needed.
The job description of strikers is very simple, which is to score goals and shoulder the offensive responsibilities of the team.
This is why the transfers of strikers in any team are more valued and celebrated than the players playing in other departments in the team.
Because the world gives room for competition and comparison, let's see who are the current best strikers in the world.
Top 10 Best Strikers In The World 2021
NOTE: this list consists of the players who play as a central striker, rather than wide forwards.
10. Diogo Jota – Liverpool F.C.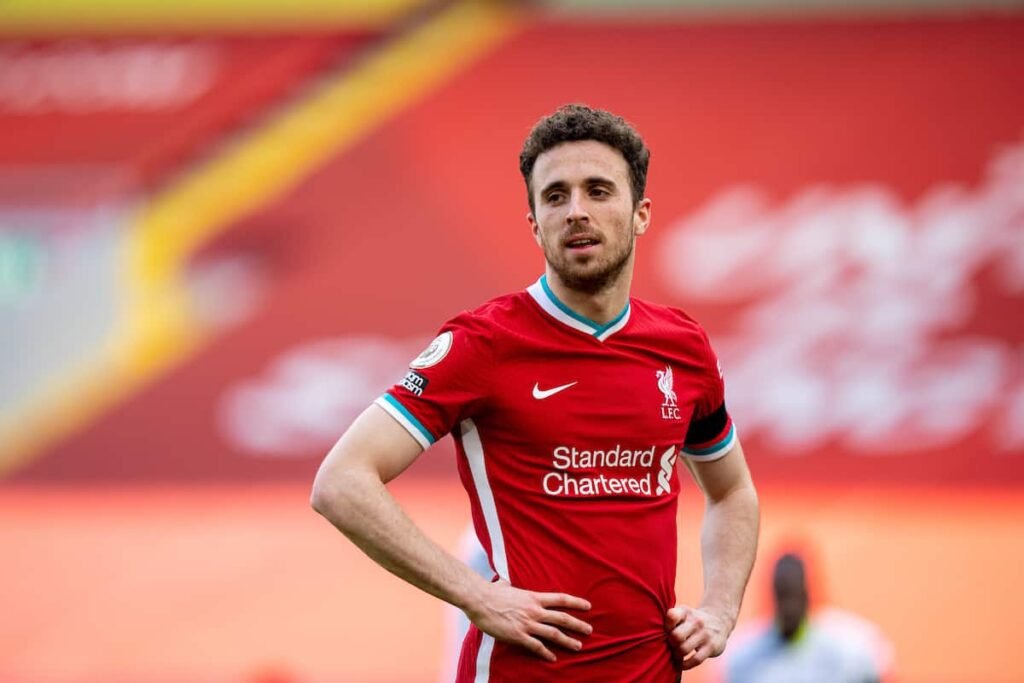 Jota's astonishing form has made it possible for him to displace Roberto Firmino in Liverpool's starting eleven since he switched to the Merseyside from Wolves in the 2020 summer.
The Portuguese, who used to be a hard-pressing winger, has graduated to a deadly finisher as a centre-forward in Jurgen Klopp's team.
Although he hasn't started the season with the Reds due to his injury, his work rate, and tenacity to run through channels sets him apart and his reliability cannot be questioned when he returns to action, hence the number ten spot he's occupying on our list.
9. Pierre-Emerick Aubameyang – Chelsea F.C.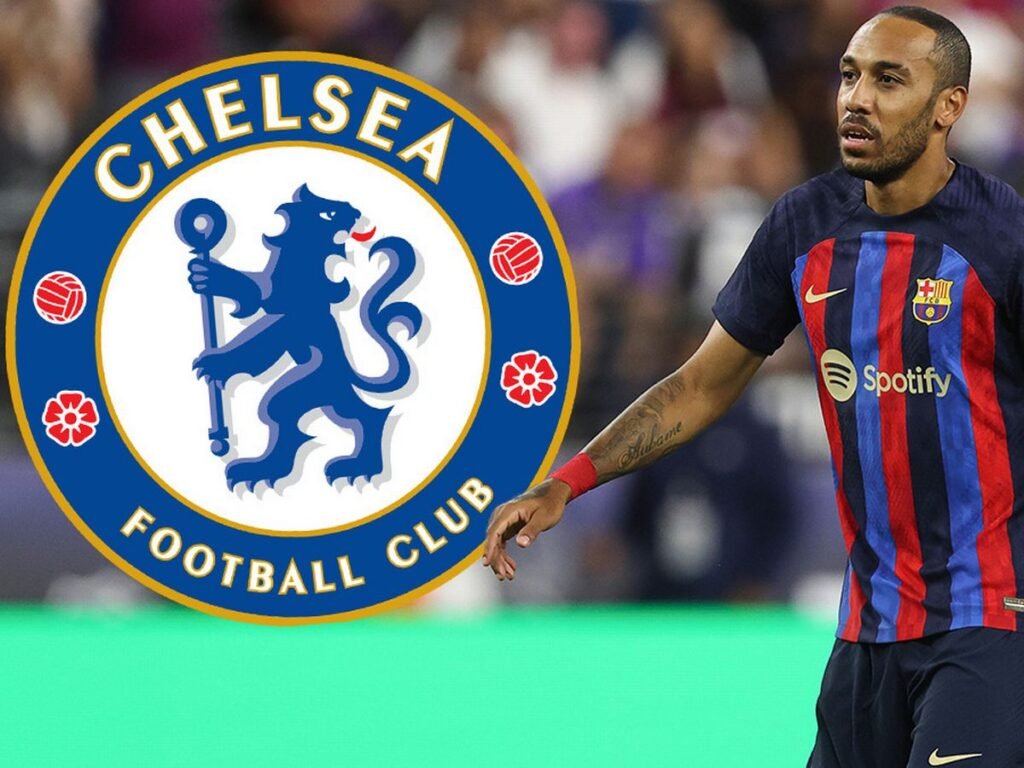 Chelsea's new signing from Barcelona Pierre-Emerick Aubameyang is well-known for his pace, finishing, and off-ball movement.
Aubameyang is the only Gabonese player to have played at the highest level of European club football having featured in UEFA club competitions for Borussia Dortmund, Arsenal and Barcelona.
His £56 million (€60 million)move from Borussia Dortmund to North London in 2018 made him the club's record signing and the most valuable Gabonese player of all time.
The 33-year-old won the FA Cup with The Gunners and ended as the league's joint-top goalscorer in the 2018–19 season. In 2022,
Aubameyang was hooked to Barcelona after his Arsenal contract was cancelled by mutual consent.
At Barca, Aubameyang notched eleven goals in eighteen league appearances and became surplus to requirement following the arrival of Robert Lewandowski at the club in the 2022 summer. He's a striker to watch out for in Chelsea.
8. Romelu Lukaku – Inter Milan F.C. (on loan from Chelsea F.C.)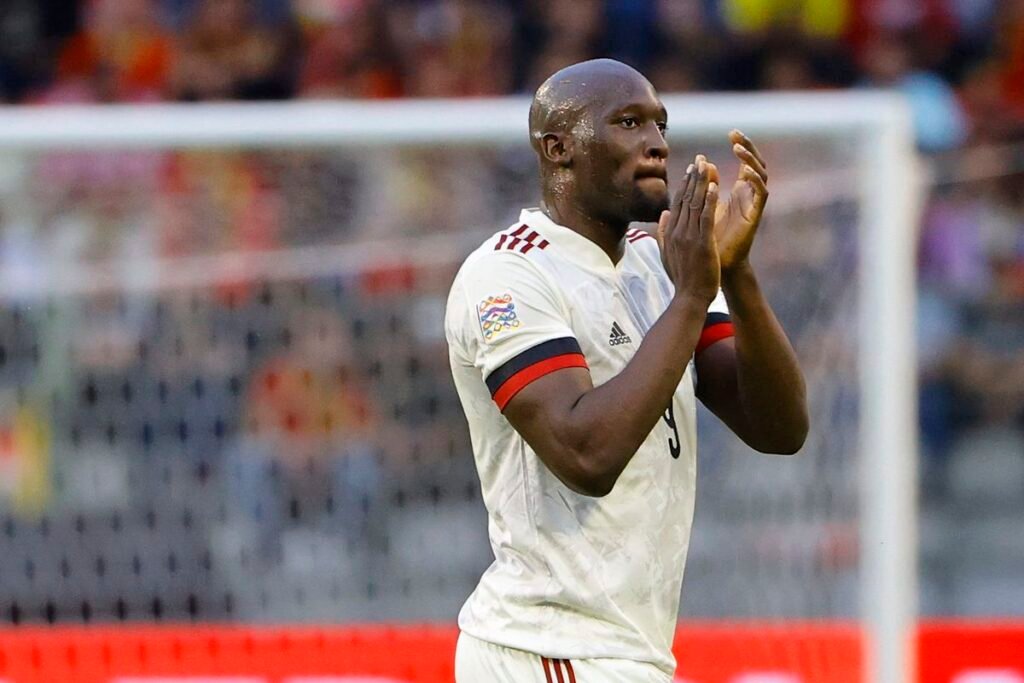 Belgium national team's all-time scorer is one of the strikers who is largely underrated, yet has proven that a striker does not have to play in the Premier League before they can be recognized in the world as a great striker.
The former Manchester United and Chelsea forward has often been criticized for his first touch but ironically, his goalscoring record can be matched by few players in the whole of Europe and the World.
Managers who have made judicious use of the 29-year-old would testify that the importance of Lukaku in their team has been more of an advantage than a disadvantage.
After his first spell at Stamford Bridge in 2011, Lukaku returned to Chelsea in 2021 and his return was characterized by a loss of form for the Blues – albeit it could be argued that it wasn't really a loss of form but Tuchel's inability to build his team around the striker who he splurged a staggering £97.5 million on.
Despite playing for limited times under Tuchel, Lukaku still managed to finish as Chelsea's top scorer in all competitions ahead of Kai Havertz who always got the nod in Tuchel's starting eleven.
He eventually returned to Inter on loan, the club where he bagged the Italian Serie A title in the 2020-2021 season.
7. Ciro Immobile – Lazio F.C.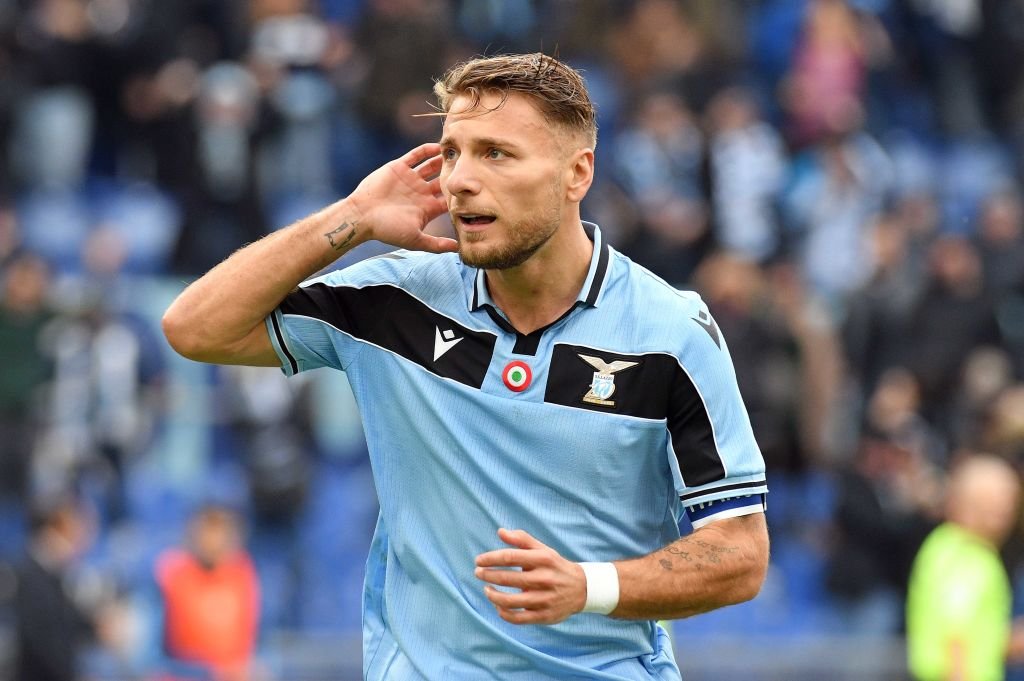 The Lazio man is surely the finest finisher in the Italian topflight league having passed the 20-league goal mark for a third straight season and early enough.
Spells at Juventus and Borussia Dortmund earlier in his career never worked out, but the Euro 2020 winner seems to be contented with his place in the world. At Lazio, he's achieved god-like status.
He is the captain and showstopper for Lazio and one of the most consistent performers for the team.
No one can deny his goal-scoring prowess and calmness in front of goal as he has netted a total of 152 league goals in 212 appearances for Lazio since his arrival at the club in 2016.
His goal-scoring ratio is impeccable, and his positioning and skills to manoeuvre defenders with ease definitely make him one of the top strikers in the game.
6. Cristiano Ronaldo – Manchester United F.C.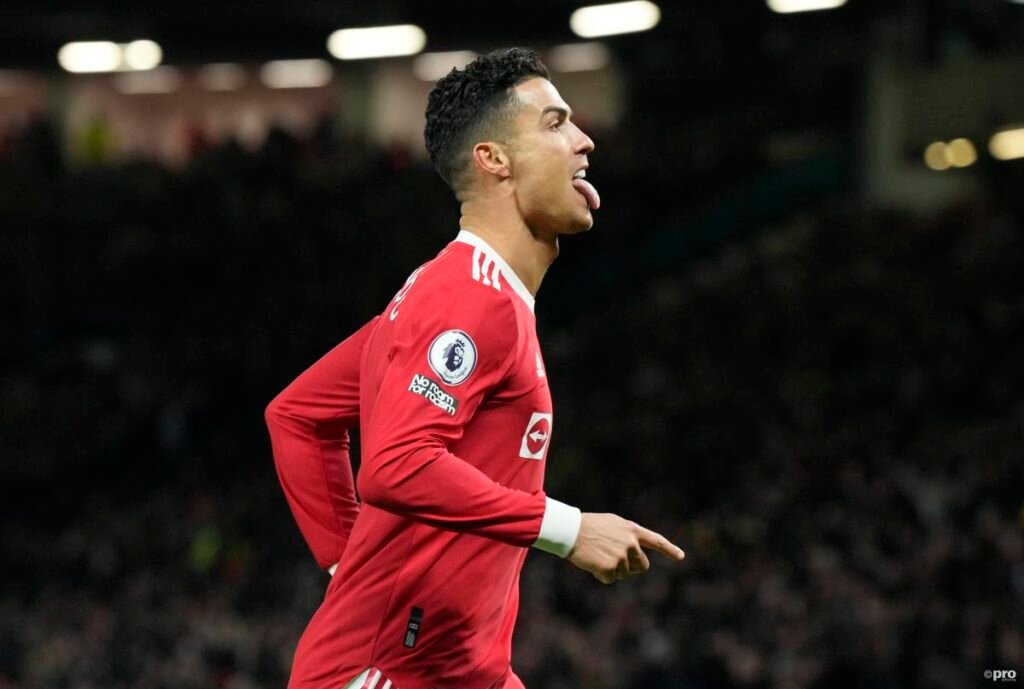 There's hardly a player at 37 who would finish as the third top scorer in a league that is competitive as the Premier League.
At 37, Cristiano Ronaldo isn't slowing down at all. Despite playing in a poor United side, the Portuguese star was the only shining light of all the players at Manchester United last term.
One of the factors which remained constant throughout his career is his goal-scoring ability.
The former Juventus and Real Madrid star might not press very much, but when it comes to having a player to dispatch a one-on-one chance, there's nobody on Earth to look out for than Ronaldo.
5. Erling Haaland – Manchester City F.C.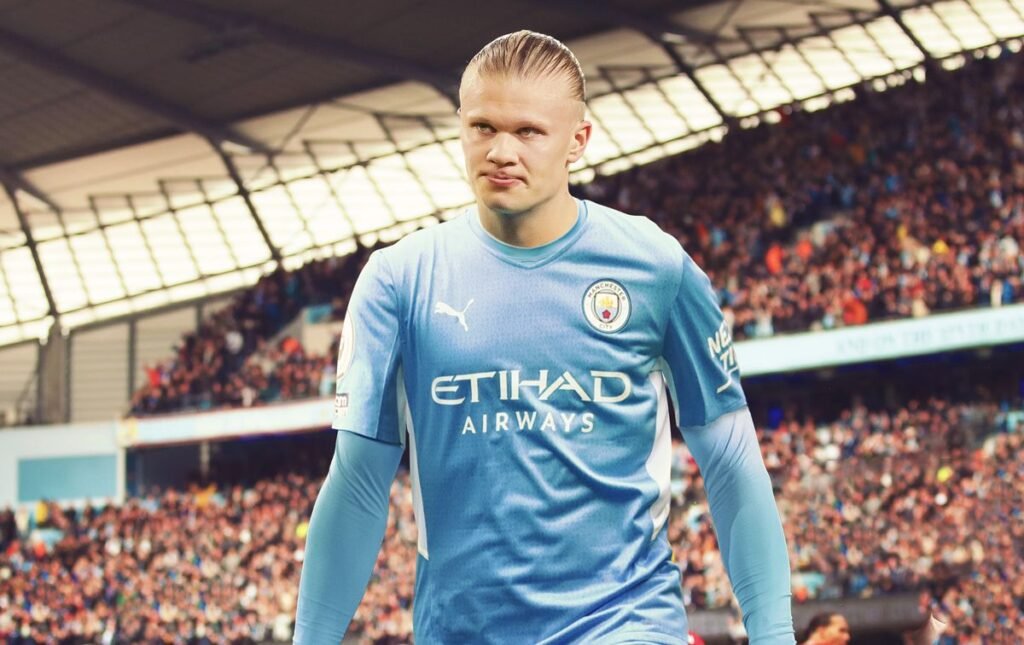 As expected, Erling Haaland has announced his arrival into the Premier League in style, scoring nine goals in five league outings with two hat-tricks for the Cityzens already.
That's a total match by no other player since the ever-popular competition was rebranded in 1992.
It doesn't matter in what league or what country the Norwegian striker plays, he just scores goals for fun because he possesses a supernatural ability to be in the right place at exactly the right time.
He now has as many Premier League goals as Ballon d'Or-winning Chelsea glamour signing Andriy Shevchenko – a record he set in 43 matches and 2156 minutes fewer – insane start to life in Manchester.
4. Kylian Mbappe – Paris Saint Germain F.C.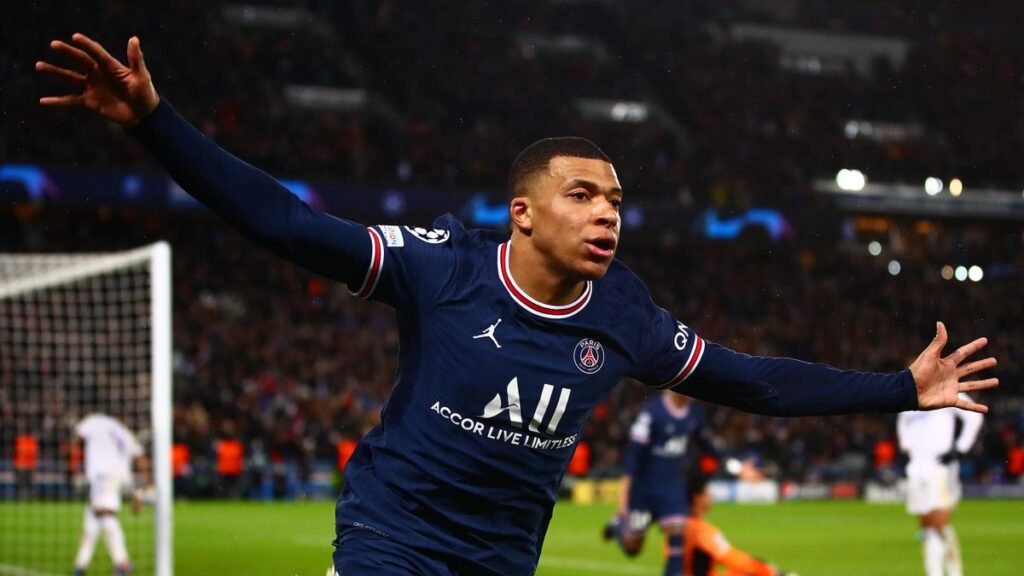 Mbappé became the hottest property in world football following his agreement to stay with Paris Saint Germain in which the French club will pay almost 450 million euros for the 23-year-old annually.
At the age of 23, the World Cup winner has already scored over 130 goals in the French top flight and would have scored more and broken bigger records by the time his contract expires in 2025.
It's clearly unbelievable the feat the young lad has achieved with his speed, finish, skills, and dribbling.
Given his quality, Mbappé will fit into any department upfront. He takes the number four place on our list.
3. Harry Kane – Tottenham F.C.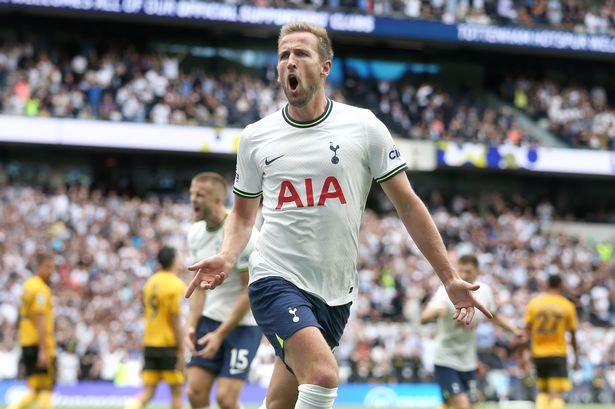 No other striker on this list can boast of goal-scoring abilities alongside creativity like the England captain, who has etched his name in the rank of prominent goalscorers in Europe.
The only blemish on Kane's brilliant goalscoring record is the apparent dearth of trophies in his career.
Bar that shameful factor of zero trophies, the 29-year-old is one of the best attackers in the game presently and could eventually have an end come to his trophy drought under the tutelage of Antonio Conte this season.
2. Robert Lewandowski – Barcelona F.C.
Barcelona recently looks resurrected thanks to the instant and rapid influence of the talismanic Polish striker, Robert Lewandowski, who is the top 10 Best Strikers In The World 2021.
The 34-year-old arrived at Camp Nou this summer after an eight-year goal-laden spell at Bayern Munich which he became an accurate and efficient finisher with his head and both feet.
As a well-rounded forward, he is said to possess almost all the necessary qualities of a traditional number nine with height, strength, balance, pace, intelligent movement and proficiency with both feet.
The aforesaid qualities of Lewandowski are the reasons he's always dreaded by opposition defenders. Also, he has undoubtedly made the Xavi Hernandez-led Barca side to be more competitive and a team to beat this season.
Lewandoski is the reason Real Madrid will have a major competitor in the La Liga title race this season.
1. Karim Benzema – Real Madrid F.C.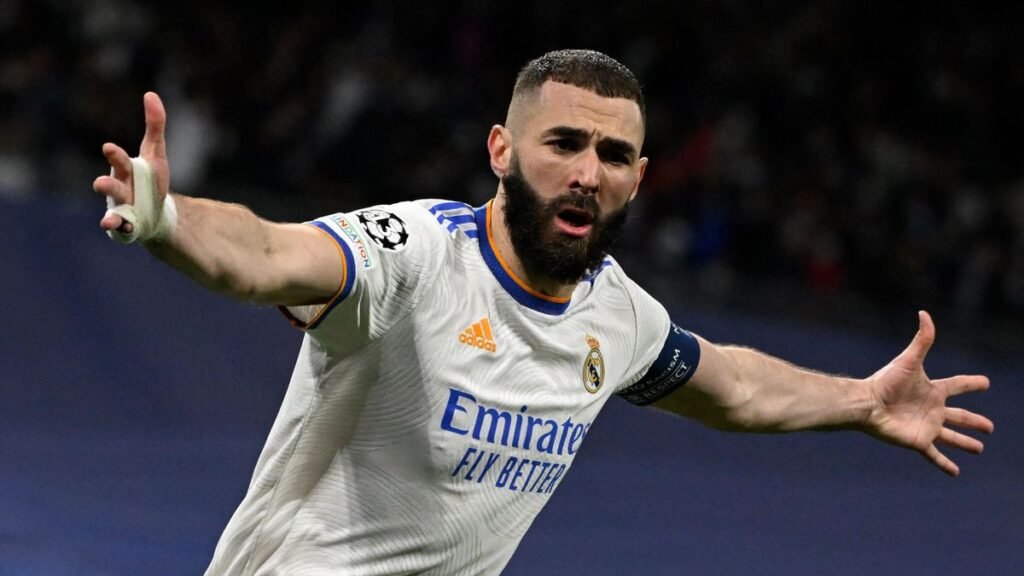 The newly crowned UEFA player of the year is our number one striker currently. Benzema is a creative, skilful, sharp, agile, and prolific forward, who is reliable aerially and capable of rubbing shoulders with any defence in the world on the ground.
His fifteen goals in the UEFA Champions League last season didn't only aide Real Madrid to fourteen Champions League glory but also fetched the French striker an individual accolade from UEFA.
On the homefront, Benzema's deadly chemistry with Brazilian forward, Vinicius Junior made the pair to be catalytic to Los Blancos' success as league winners.
The French star has been directly involved in more than 100 goals since Ronaldo's departure in 2018. Make no mistake about it, his best striker in the world tag is no fluke.
What do you think of the Top 10 Best Strikers In The World 2021?
This article was updated 3 months ago