Would you like to know how you can easily check union bank account balance? Here is a guide that perfectly explains that.
The knowledge of your balance will help you have control over your spending limit. If you are broke, you will know through your account balance.
Sometimes, it can also help you avoid some kind of embarrassment. That is one of the reasons it is good you know the various means of checking your bank account balance, without waiting for monthly account statement from your bank.
Listed in this article are the various methods you can use to figure out how much you have left in your Union bank account. Check them out below.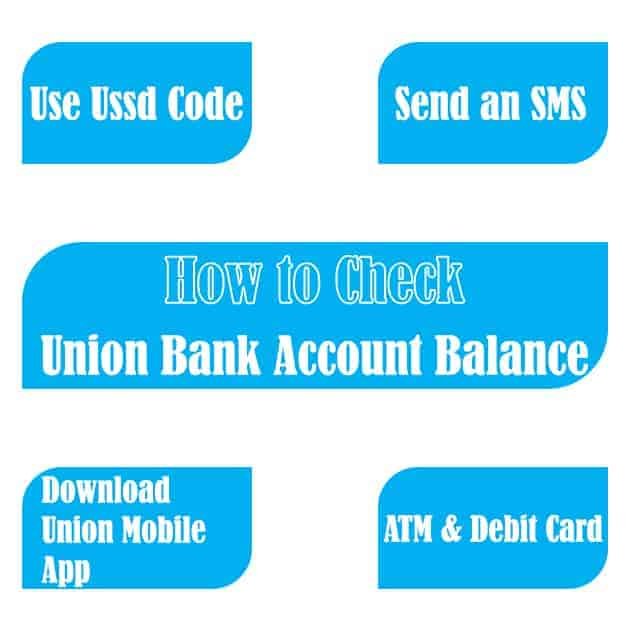 Code to Check Union Bank Account Balance
To know how much is left in your union bank account, dial *826*4# and confirm the transaction by entering the authentication PIN you created at point of registration.
This option works perfectly with all kinds of phone, whether internet enabled or not. You don't need to have an active data subscription on your phone before it will work.
The only major thing that is needed for this is the phone number you used in opening your Union bank account. Once you have the phone number, every other thing becomes easy.
If you do it as instructed above, you will receive a message containing your account balance.
The good thing is, you can request for your balance as many times as you like using the mobile banking code.
If you have not done this before, you need to first activate your union bank account for mobile ussd code platform. Be sure you are doing it with the phone number that is linked to the account.
Use Union Mobile App for Balance
If you have internet enabled mobile phone, this particular option is for you. All it requires is a working network and a data package.
You can achieve this with any of the Nigerian telecom network (e.g GLO, AIRTEL, 9MOBILE and MTN).
To do this, go to your app store to download and install the Union bank mobile application
Once installed, open it
If you try to login, you will be denied access because you have not registered. So after installing it, the next thing is to register on the app
You need to do this using your correct account details. So don't rush this stage. Just take your time and do it right.
After that, login into the app and click on your account or the option that says check account balance.
Right on the screen, the entire details will be displayed.
Check Your Statement of Account
This option is not the most convenient, but it's certainly one of the ways you can know your balance.
To do this, simply walk into any of branch banking hall and request for your account statement. Within a few minutes, it will be generated for you.
If the nature of your job does not permit you to go to the bank branch, you can wait for the monthly account statement sent to all customers from the bank. You can also request for it if you have mobile or internet banking.
At least you can know your account balance through that, right from the comfort of your home, without you requesting for it.
Make Use of ATM
This method requires you to visit the bank physically. One major challenge with that is that you may probably meet a very long queue there in the bank.
Apart from that, the location of the bank may be a little bit distant from where you are.
If you are fortunate enough not to have much people on queue by the time you get to the bank, simply insert your ATM card into the machine and enter your PIN.
On the next screen, select "Inquiry" or "Balance" whichever one is displayed.
After that, your account balance will be shown to you. You can then proceed to make any other transaction you desire on the ATM.
The good thing about this method is that it doesn't require you to have your mobile phone with you, not to talk of data subscription. Only your Union bank ATM card.
Through SMS
If you don't like the above listed alternatives, perhaps, this might be what you are waiting for.
The fact that everyone is familiar with texting makes this option worth checking out.
You can also text the bank to know how much you have in your account. This is possible through the number the Union bank created specifically for that purpose. Remember the operation comes with a little deduction in your network account.
SMS BAL to 20123 for your account balance and hold on for a few minutes.
After some time, an SMS will be sent to you from your bank. Of course, the text will contain your account balance.
In Summary
Have you been desiring to learn the simplest ways to check your Union bank account balance without visiting the bank?
This article reveals the best methods to do that. All you need is to follow the steps listed here.
In less than 1 minutes, you will know exactly how much you have left in your account.
This article was most recently revised and updated on May 7, 2021