What are the Sort Codes of Banks in Nigeria? How do I find a bank's sort code? Which banks have sort codes? What are the bank codes in Nigeria? What is the sort code for GTBank? What is the sort code for Uba? What is the Wema bank sort code? What is the sort code for Fcmb?
A sort code in Nigeria is a 9-digit number and an important factor in your bank account that identifies your bank.
The first three digits are the bank's standard code, the next tells the bank's location, and the last five digits are for the bank branch.
So basically, the sort code is used to know where the account originated and it is especially used for e-payments.
See Also: How To Receive Money From Western Union To A Bank Account
How To Find Nigerian Banks Sort Codes
Most times, your sort code can be found on bank statements and in your online banking app.
Also, every bank check leaf has it too. If you take a look at one of your check leaves, there are three sets of numbers underneath the check leaf, the first is your check number, the second is the sort code and the third is your bank account number.
See a sample of Sort Codes of Banks in Nigeria in the image below: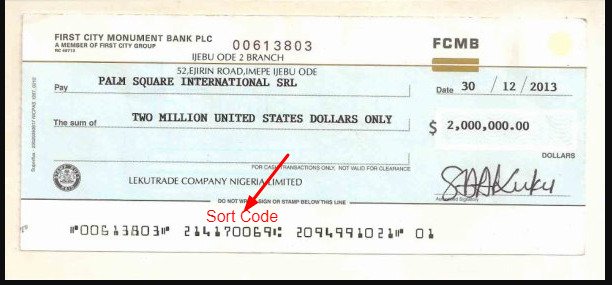 Every branch has different sort codes. While the first 3 digits are always the same, the last six digits differ with the branch of the particular bank.
Giving out your account number and sort code is something you would have to provide when you are doing inter or intra-bank bank funds transfer, especially when you want to receive payments from banks outside Nigeria.
It's generally considered safe to give out your account number and sort code, however, you need to be smart about it.
Do not share your bank details with people you don't know or expect payments from.
Also, don't ever share your PIN, card number, card expiry date and CVV number (that's the three-digit number at the back of your ATM card). Note that the CVV number is what protects you against fraud and proves to online merchants that you have the physical card with you.
List Of Nigerian Banks Sort Codes
Access Bank: 44150149
Diamond Bank Plc: 63150162
Ecobank Nigeria Plc: 50150311
Enterprise Bank: 84150015
Equitorial Trust Bank Limited: 40150101
Fidelity Bank Plc: 70150003
First Bank Of Nigeria Plc: 11152303
First City Monument Bank Plc: 214150018
FinBank Plc: 85151275
Guaranty Trust Bank Plc: 58152052
Keystone Bank: 82150017
Mainstreet Bank: 14150030
Nigeria International Bank (Citigroup): 23150005
ECOBank: 56080016
Polaris Bank Plc: 76151006
Stanbic-Ibtc Bank Plc: 221159522
Standard Chartered Bank Nigeria Ltd: 68150057
Sterling Bank Plc: 232150029
United Bank For Africa Plc: 33154282
Union Bank Of Nigeria Plc: 32156825
Unity Bank Plc: 215082334
Wema Bank Plc: 35150103
Zenith Bank Plc: 57150013
Wrap Up
Those are all the Sort Codes of Banks in Nigeria, have you seen that of your bank? If you need further information, visit any of your bank branches or call their customer care line for support.
This article was updated 3 months ago