GoTv has become a household name when it comes to Pay Tv in Nigeria. Numerous Nigerians that can't afford the exorbitant packages on DsTv, which like GoTv is also owned by MultiChoice have settled for GoTv. One question most users asked is how to upgrade to gotv max from any other package.
As you know, there are 4 bouquets available for users of GoTv with Max as the highest and of course also the most expensive.
It contains series of entertainment, news, music and couple of sports channels at a way cheaper price when compared to DsTv.
It makes sense why most people who have tested the Lite, Value and Plus plans would love to upgrade their viewing capabilities to that of Max.
Without further ado, let's get to it. You can also see Gotv Jolli bouquet channels list in this post.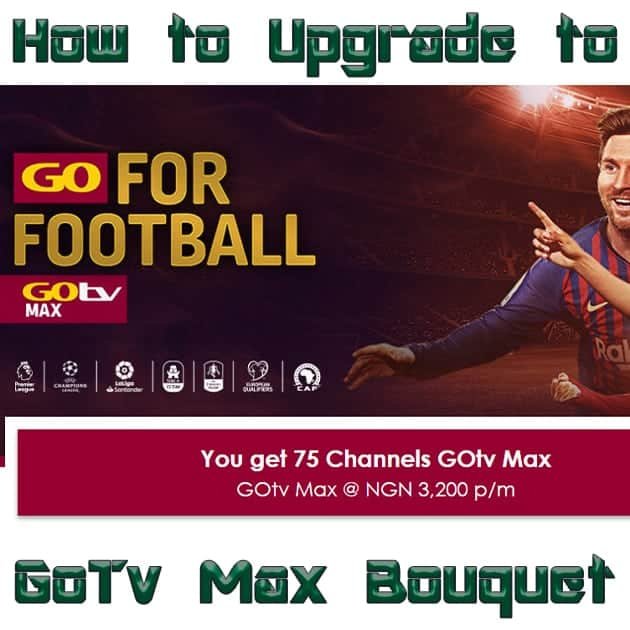 How to Upgrade to GoTv Max
Navigate to GoTv website for Nigerian users @
At the top right corner of the page, select Nigeria (Flag) and then sign in (if visiting with a big screen like tab or laptop) or click on the menu button to select country, then scroll down to sign in (for mobile users)
To sign in, you need your surname or mobile number (linked to your Gotv profile) and your decoder IUC number (you can find this at the bottom of your decoder)
You are now on your dashboard. Click or tap on Build a Package and select GoTv Max (the package you are upgrading to)
Hit the Next button and use your preferred payment method (most people prefer Quickteller, I know I do because it is easier) to complete your upgrade.
Please note that it is recommended to only do this when your current subscription has expired to make the whole process super easy.
Also, just like you are renewing your subscription, you should make sure your decoder is turned On and it is on Africa Magic (Yoruba preferably) during the upgrading process.
The steps below are the same if you are downgrading from Max to Plus or upgrading from Lite or Value to Plus.
Relax and wait for your viewing to return but now on the Max. The whole thing shouldn't take more than 15 – 20 minutes. If it takes more than that, you should contact their customer care right away.
Wrapping Up
Other than the method share above, another way you can upgrade to Gotv max or change your Gotv package is to contact customer care or visit any known agent around your vicinity to do it for you. In fact, they can help you do that even if you have an active subscription.
This article was updated 3 weeks ago