Mobile banking code is one of the most used banking system in Nigeria. You can perform virtually all financial transaction with it. With wema bank ussd code, you can transfer money, top up your airtime, check account balance and bills payment.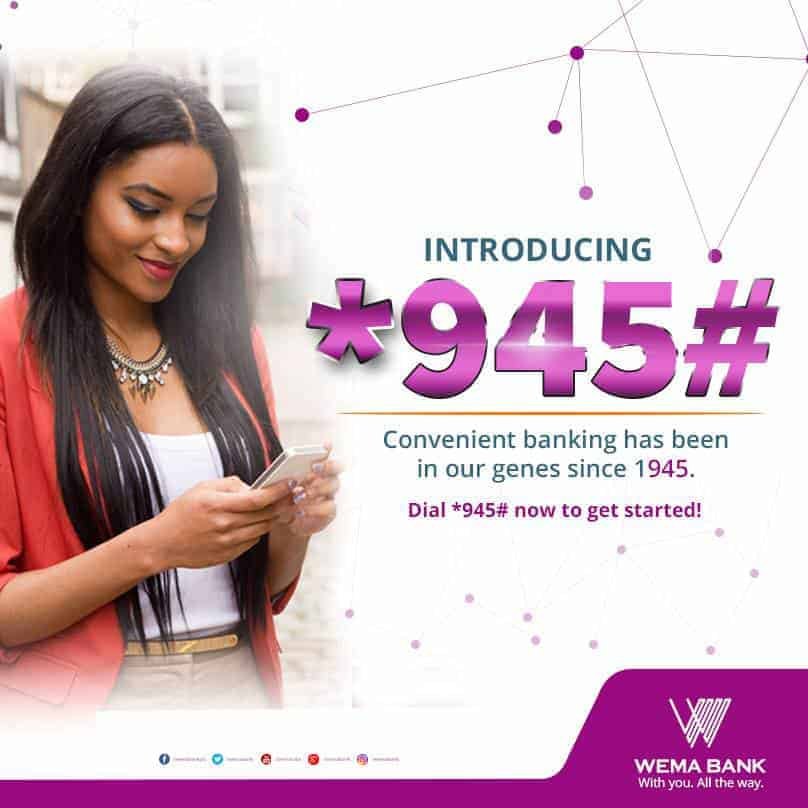 This form of banking is available for use 24 hours of every day including weekends and public holidays.
It doesn't require internet access which means you don't need a smartphone for it to work. It works on any mobile device.
Requirements
You must have met the requirements below to start using wema bank 945 mobile banking code.
Alertz Number – Number registered to or associated with your wema bank account. Meaning you must be a customer of the bank to use this code.
Mobile Phone – Any mobile device including the small Nokia torch light will do.
ATM Card or BVN – You will need the last 4 digit on your Naira card or your BVN.
Once all the above are available, the next thing you need to do is register on this platform.
How to Register Wema Bank USSD Code
Dial *945# with your alertz number.
Select 2 to check account balance.
You will be prompt to register.
Enter your account number >> create transaction PIN.
Follow the on screen guide to complete the application.
You can start using this code for funds transfer, top up airtime and check account balance.
Wema Bank Money Transfer Code
Unlike some banks, wema intra and inter bank transfer code is the same.
Dial *945*Account Number*Amount#.
Select the recipient's bank.
Confirm beneficiary's details.
Complete the transaction using your transaction PIN.
For example to send 5000 Naira to account number 1234506789, dial *945*1234506789*5000# >> choose the receiver's bank >> type your authentication PIN.
You will be notified of successful or failed transaction.
Wema Bank Airtime Recharge Code
With this code, you can buy airtime for your alertz number (self recharge) and also top up other numbers (3rd party recharge).
Self Recharge: Dial *945*Amount#.
Third (3rd) Party Recharge: *945*phone number*Amount# >> enter PIN to complete.
Wema Bank Account Balance Code
To check how much is left in your wema bank account;
There are numerous other transactions you can perform with wema mobile banking code. They include.
Open Account: *945*1#.
Account Number: *945*000#.
Cardless Withdrawal: *945*8*amount#.
You can also pay for dstv, gotv and startimes via this platform. All you have to do is dial *945# and follow the on screen guide.
There you have it on wema bank ussd code. Kindly share this article using the social sharing buttons below.