Want to know how to transfer from Wema bank to other bank? The Bank has simplified banking transactions for its customers through the use of the USSD code. By dialing the Wema bank transfer code or PIN on their mobile phones, customers of the bank can easily send money to any bank account in Nigeria 24/7.
Are you searching for how to transfer money using the Wema bank USSD code? Do you need to urgently send some amounts of money to any bank account holder in Nigeria using the Wema bank code?
Here is exactly how to use the code to transfer funds to Wema bank customers and also to customers of other Nigerian banks. Continue reading!
Following the Launch of ALAT by Wema, the bank has released its USSD code for mobile banking.
This is part of the ways the bank is seriously delivering quality banking experience to its numerous customers all over Nigeria.
See Also: Names Of Private Jet Owners In Nigeria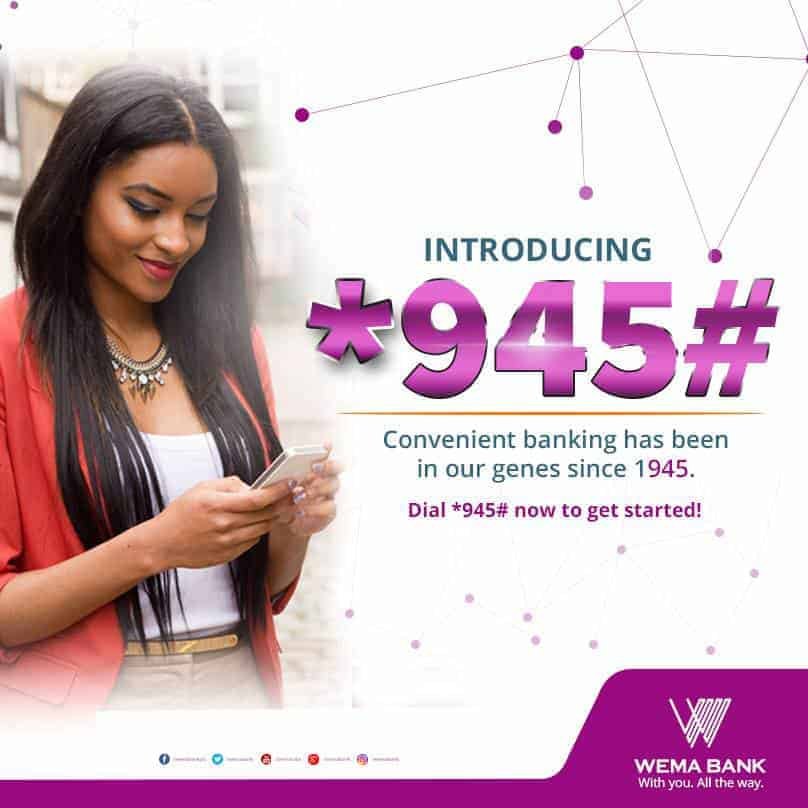 Founded in 1945, Wema is unarguably Nigeria's oldest indigenous bank. The bank has successfully established over 150 branches in the country and is among the most highly regarded banks in the country.
Through the bank's mobile banking code, you can make payments for goods and services right from the comfort of your home.
Below are some of the other benefits you can enjoy using the mobile code.
24/7 access to Wema banking services
Mobile banking without the use of the internet or airtime
A highly secured and faster means of sending money to anywhere in Nigeria
A cheaper means of carrying out banking activities and so many others.
Through the USSD code, you can minimize the time you spend standing in queues every week to send money through the ATM or right inside the bank.
How to Register transfer code for Wema bank
To get transfer Pin for Wema Bank, see it below:
Dial *945# with your alert number.
Select 2 to check account balance.
You will be prompted to register.
Enter your account number >> create transaction PIN.
Follow the on-screen guide to complete the application.
By now you should have your transfer Pin for Wema Bank.
Wema Bank to Wema Bank Transfer Code/PIN
On your phone dial *945*TheRecipientAccountNo*TheAmount# (This code must be dialled using the mobile line connected to your bank account. That is, the line where you receive transaction alerts from your bank)
For instance, dial *945*0212345678*5000# to send N5,000.
The bank will demand your Personal Identification Number which is the 4 digits(PIN) you created earlier
Confirm the recipient and continue
A new message will pop up on your mobile phone's screen confirming the status of the transfer you just made. You will also receive a text message from your bank on your line confirming this.
That is how to transfer money to Wema bank customers using a USSD code.
Wema Bank To Other Banks Transfer Code
Below is how to transfer from wema bank to other bank:
Dial the code *945*TheRecipientAcct*Amount# (Be careful with the account number so you don't end up sending the money to the wrong person)
From the list of banks that will be displayed on your screen, select the bank of the receiver and proceed
Confirm the name of the person you are sending the money to
Enter your 4-digit PIN to finalize the whole transaction you just made.
That is how to transfer funds to other Nigerian bank accounts using the Wema bank USSD code.
Frequently Asked Questions
1.) How Much Does Wema Bank Charge For Transfers?
When it comes to bank charges, Wema bank charges are a little bit fair. The bank charges N10, N20 and N50 for inter-bank transfers depending on how much you are transferring.
That may change at any time but for now, that is what they charge.
2.) Must I Have Airtime To Transfer Money?
You mustn't. However, if you have airtime before dialing the code, you may notice some little deductions from it after using the code. Though it depends on your network sometimes.
3.) Daily Transfer Limit
For now, you cannot transfer more than N100,000 in a day. If you want to transfer more than that, you either split the money and transfer them in two or three days or use other Wema Bank funds transfer options.
4.) I'm finding It Difficult To Use, What Do I Do?
First, you need to make sure that the line you intend to use for the transaction is the mobile line registered to your Wema bank account; that is, the mobile line through which you receive transaction alerts from the bank. The mobile code won't work for you if you are using a different line for it.
Secondly, you need to ensure you have created a PIN for authenticating your transactions. If you haven't dial *945*00# to do it as soon as possible.
After that, check the USSD code you are dialing to make the transfer and be sure you got it right. If after all that you still face some challenges using the code, contact the bank's customer care service as soon as you can.
You can do that by sending them a mail, calling their customer care lines or reaching out to them through the bank's official social media handles.
See Also: All Hotels in Nigeria Listed Fully
Wrapping Up
I hope you find this complete guide on how to transfer money using the Wema bank code/PIN useful. Dial the transfer code for wema bank now to make your first transaction and see how it works. I'm quite sure you are going to love it. See the USSD transfer code for all Nigerian banks.
This article was updated 4 months ago