What is the Transfer Code For Zenith Bank? On this page, we will look at the Zenith Bank USSD code for transferring money as well as how to register USSD code for Zenith Bank. Here, we will show you how to transfer funds from your account to other Zenith Bank account holders using the USSD code.
You will also see how to transfer to other banks from your Zenith bank account through the same code.
Read on and find out how to activate Zenith Bank transfer code.
Zenith bank code for transfer
When it comes to mobile money transfers using the USSD code, Jim Ovia's Zenith Bank seems to have the easiest and fastest method.
With just a single code, you can send money from your account with the bank to a fellow Zenith bank customer and also to customers of other banks. You don't need a different transfer pin for Zenith bank for that. It is one USSD code for all types of transfers.
See Also: Federal Ministries In Nigeria And Their Addresses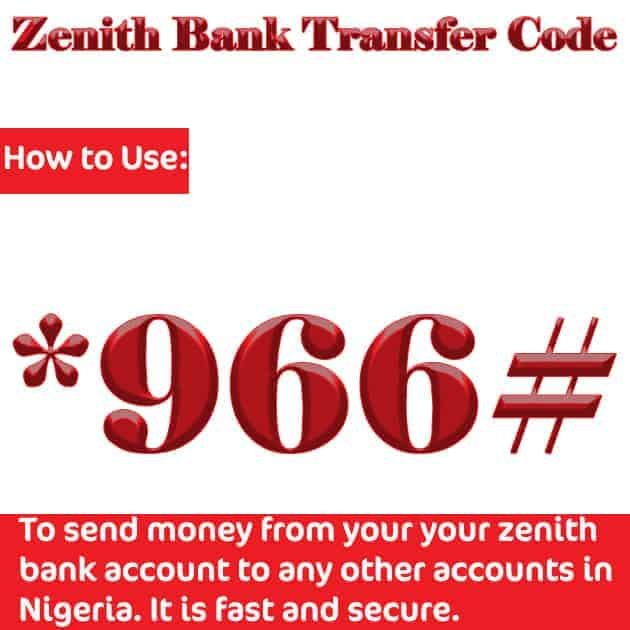 Requirements
Transfer Code For Zenith Bank: To get started with Zenith bank's USSD code, you need to first register and have a mobile banking profile with zenith bank.
To do that, you must meet the following requirements.
You must have a Naira (Savings or Current) account with zenith bank.
An alert number (number registered to your bank account).
Any mobile device (Even Nokia torch will work).
Last 4-digit of your ATM card (Master or Visa).
If you met the above requirements, you can then proceed to activation or registration.
How to Register Zenith Bank Transfer Code
Call *966*00# using your zenith bank alert number.
Enter the last 4 digit of your MasterCard or Visa card.
Confirm your account number.
You will then be required to create a 4-digit authentication PIN.
Enter your preferred 4-digit PIN again for confirmation.
Once you see a message that says "Retrieving your balance" and receive an SMS containing your account(s) balance(s), then you have successfully registered and activated your zenith mobile banking profile.
Zenith Bank to Zenith Bank Transfer Code
From the mobile line connected to your bank account (where you do receive transaction alerts from the bank), dial *966*Amount*RecipientAccount# (e.g *966*8000*2111111001#).
A list of banks will show up with Zenith Bank listed as the first.
Press 1 to select Zenith Bank and "SEND".
After that the name of the person will show up on your screen (e.g "You are about to transfer N1000 to Adazion Hajia Teniola").
Enter your 4 digit PIN to confirm the transaction.
If the transaction is successful you will receive a notification on your screen next telling you "Transaction successful. Do you wish to save the recipient account number?".
If you wish to save it so that next time you don't have to write it afresh, select 1 for "Yes" or 2 for "N0".
That is how to send money from your Zenith Bank account to another Zenith bank holder.
Zenith Bank to Other Banks Transfer Code
Dial *966*Amount*Recipient Account Number# (Notice how the code is not different from the one above. The only difference here is the amount we entered and the bank we are sending it to).
From the list of banks that will show up, select First Bank Nigeria Plc
You will be required to enter your 4 digits PIN for mobile banking to confirm the name "e.g Innocent Oluwole Adegbe" that will show up on your screen
Once you enter your PIN and press SEND, the transaction will be processed and you will receive a message on your screen next. The message will confirm to you if the transaction is successful or not
After that, you will receive two debit alerts from the bank on your phone. One will be for the money you just transferred while the second will be for the transaction charge from your bank.
That is how to transfer funds from Zenith Bank to other banks in Nigeria using the USSD code *966#. From this example, you can see that the process involved is almost the same as transferring from Zenith to Zenith.
Zenith Bank Code Daily Limit & Charges
The maximum amount you can transfer per day on this platform is N100,000 Naira.
The minimum amount you can recharge per day is 50 Naira.
Maximum airtime recharge daily is N3,000 Naira.
Transfer to zenith bank is free.
Funds transfer to other banks attracts N10 charges for less than N5000 transfer, 20 Naira for above 5000 but less than 50,000 and N50 for transfer above 50,000 Naira.
You need N2 – N5 Naira airtime (Network Charges) to use this platform. Zero airtime balance might return an error code.
Other Things you Should Know
1.) The Transfer Code For Zenith Bank allows you to carry out banking transactions from any kind of mobile phone
2.) It only works with the mobile line registered to your Zenith Bank account
3.) It works with all telecom service providers in the country (Airtel, Glo, MTN etc)
4.) Before you can fully enjoy the mobile banking experience, you need to first of all register for the service and set your PIN. The four-digit pin is a must-have for all who wish to use the service
5.) You can set up the service to work with your Zenith Bank ATM card (Mastercard, Visa or Verve) or set it to work with just your bank account details
6.) If you make a transaction and the bank debits you without the transfer being successful, within a few minutes you will have the money returned to your account, So you have absolutely nothing to worry about when making a transfer using the mobile USSD code.
7.) Zenith Bank is widely considered one of the fastest-growing banks in the banking industry in the country. With their Eazy Banking code, you can now send money instantly to whomever you want.
You don't have to worry about joining queues in banking halls and waiting for hours just to send money to someone. Regardless of the recipient bank and the time of the day, you can send money to him or her through the Zenith Bank transfer code.
All you have to do is pick up your phone and follow the instructions in this guide to do it.
See Also: List Of Nigerian Vice Presidents From 1960 Till Date
Wrapping it Up
We have in this article revealed how to send money using Transfer Code For Zenith Bank. See all other banks' USSD.
Above is the complete guide on how to go about it. I hope you find the information on Zenith bank code for transfer useful. If you do, please do not hesitate to share the post with your friends.
This article was updated 4 months ago