The 1980 African Cup of Nations was hosted by Nigeria and also won by Nigeria after beating Algeria in the final 3−0 at the Surulere National Stadium in Lagos.
Undoubtedly, the Green Eagles that won the 1980 AFCON is one of the best teams in the history of Nigerian football.
Morocco's Khaled Labied and Nigeria's Segun Odegbami were the top scorers in that competition with 3 goals each. Whereas Nigeria's captain, Christian Chukwu won the Best player award.
Nigeria topped Group A by walloping Tanzania 3-1 with goals from Muda Lawal, Ifeanyi Onyedika and 'Mathematical' Odegbami.
The Green Eagles were held to a goalless draw by Cote d'Ivoire in their second match but defeated the Pharaohs of Egypt 1-0 courtesy of a goal by defender Okey Isima.
Winger Felix Owolabi AKA 'Owoblow' scored the lone goal against Morocco in the semi-finals that secured the Green Eagles a spot in the final, which Nigeria eventually won.
It is pertinent to mention that this feat was made possible under Brazilian coach Otto Gloria who was in charge of the Green Eagles at the time.
See the breakdown of the winner and runners-up at the AFCON 1980.
CHAMPIONS:     NIGERIA
RUNNERS-UP:   ALGERIA
THIRD PLACE:   MOROCCO
FOURTH PLACE:  EGYPT
That was Nigeria's first title before the Tunisia 1994 glory and South Africa 2013 win.
Below are all the teams that took part in the 1980 AFCON between 8−22 of March.
Teams in the 1980 AFCON?
1. Algeria
2. Ivory Coast
3. Egypt
4. Ghana
5. Guinea
6. Morocco
7. Nigeria
8. Tanzania
Nigeria 1980 AFCON Results
| | |
| --- | --- |
| Match | Result |
| Nigeria vs Tanzania (Groupstage) | 3-1 win |
| Nigeria vs Ivory Coast (Groupstage) | 0-0 draw |
| Nigeria vs Egypt (Groupstage) | 1-0 win |
| Nigeria vs Morocco (Semi-final) | 1-0 win |
| Nigeria vs Algeria (Final) | 3-0 win |
Green Eagles class of 1980
Goalkeepers
| | |
| --- | --- |
| Player | Club |
| Best Ogedegbe | Shooting Stars (Nigeria) |
| Moses Effiong | Shooting Stars F.C. (Nigeria) |
| Emmanuel Okala | Enugu Rangers (Nigeria) |
Defenders
| | |
| --- | --- |
| Player | Club |
| David Adiele | Bendel Insurance (Nigeria) |
| Okey Isima | Standard of Jos (Nigeria) |
| Christian Chukwu | Enugu Rangers (Nigeria) |
| Tunde Bamidele | Taraba United (Nigeria) |
| Sylvanus Okpala | Enugu Rangers (Nigeria) |
| John Orlando | Shooting Stars F.C. (Nigeria) |
| Kadiri Ikhana | Bendel Insurance (Nigeria) |
Midfielders
| | |
| --- | --- |
| Player | Club |
| Muda Lawal | Shooting Stars (Nigeria) |
| Segun Odegbami | Shooting Stars (Nigeria) |
| Felix Owolabi | Shooting Stars (Nigeria) |
| Godwin Odiye | San Francisco Dons (United States) |
| Ifeanyi Onyedika | Enugu Rangers (Nigeria) |
| Henry Nwosu | New Nigeria Bank (Nigeria) |
Forwards
| | |
| --- | --- |
| Player | Club |
| Aloysius Atuegbu | Enugu Rangers (Nigeria) |
| Adokiye Amiesimaka | Enugu Rangers (Nigeria) |
| Martin Eyo | Julius Berger FC (Nigeria) |
| Shefiu Mohamed | Racca Rovers (Nigeria) |
| Charles Bassey | – |
| Franck Onwuachi | – |
Coach: Otto Glória
The Green Eagles (Super Eagles) that won Nigeria's first AFCON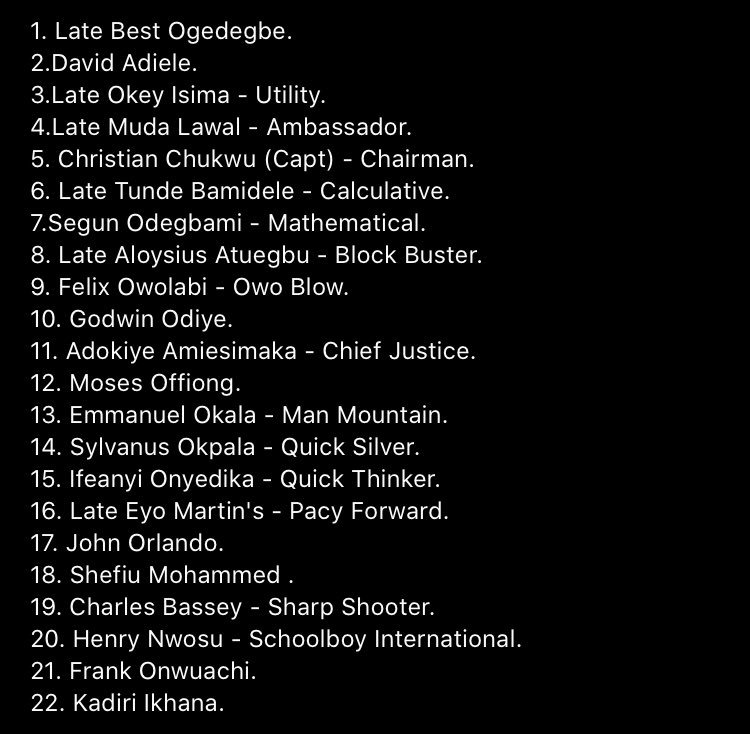 This article was updated 4 months ago