Are you interested in paying for DSstv Online and would like to know how to pay DStv subscription with Gtbank 737? Then this article is strictly for you.
There are numerous ways by which you can pay for your satellite TV or let me say renew your subscription.
In this write-up, I will be talking about how you can pay for DStv with 737 which is Gtbank mobile banking USSD code that does not require an internet connection.
So here is the deal.
You want to renew your current DStv subscription plan and you do not want to use Quick Teller which I think is the fastest, easiest and most efficient.
Well, there are numerous other options and one of them is using a mobile code like 737 for Gtbank.
Also, another effective means of using your bank is via Internet banking or mobile banking apps.
How To Pay Dstv Subscription With Gtbank 737
In this write-up, I will explain how you can do it, I mean paying for Dstv online, using both the code and the internet / mobile banking app.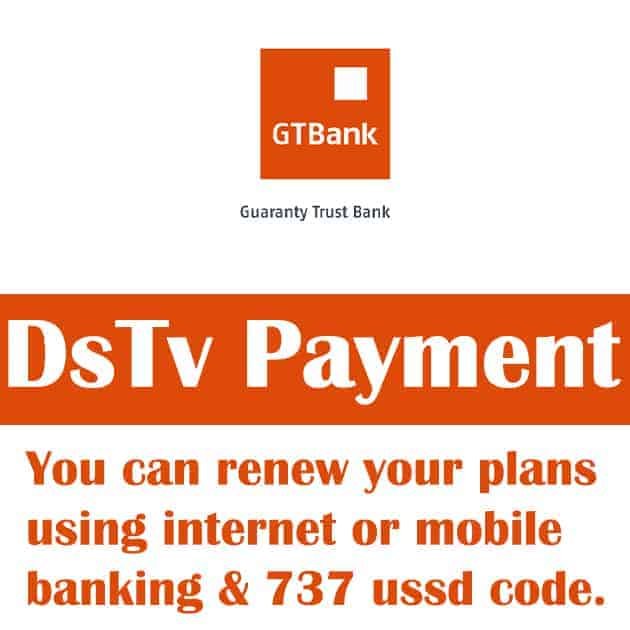 Before you use any of these methods, make sure your decoder is On and switch to channel 157 (African Magic Yoruba).
Paying for Dstv online with 737
Dial *737*dstv_smart_card_number# and follow the on-screen guide.
So let's say your smart card number is 0123456789, all you have to do is dial *737*0123456789# and from the page that comes up, follow the instructions given to you.
Some of these instructions will include choosing which package you want to pay for and entering your authentication PIN.
This instruction changes from time to time and that is why I did not put any specific one above.
Another method is the use of an Internet banking platform or a mobile banking app as explained below. Unlike the one above, they require internet access and a smartphone or a PC.
Paying for Dstv online
Visit gtbank.com
Click on Internet banking and log in with the details provided to you at the point of registration
On the left sidebar, click on Cable TV
Then click on select for DStv/GoTv
Click on the "Make New Payment " tab
Enter your smartcard number and choose the package you want to pay for
You will then be redirected to the payment page
Confirm your transaction by entering the answer to your security question and your hardware token-generated character.
Your viewing should be renewed in less than 15 minutes. if it doesn't text "RA Smart_card_number" to 30333.
The step/process is almost the same if you are using a mobile banking app as explained below. Meanwhile, here is how to register for GTB online banking.
Renew DStv with GTB Mobile App
Login to GTWorld
Tap on Payment
Then, tap on Cable TV
Select the account you want the payment to be debited from (if you have more than one account with them)
Under Category, select DStv/GoTv and tap on Continue
Enter your smartcard number, select the package you want and submit
Confirm the transaction with your PIN / Token
Your viewing should be restored in 10 minutes to 15 minutes.
Wrapping Up How To Pay Dstv Subscription With Gtbank 737
Now that you know how to pay DStv subscription with Gtbank 737, you need to renew your DStv subscription once a month or every 30 days to be precise. You will need a payment platform or gateway to do that and one such way is the Gtbank mobile banking app, internet banking platform and USSD code.
This article has helped to simplify how you can easily make DStv payments using Gtbank 737 and other platforms the bank has made available.
This means that there is also a good alternative to making DStv payments using the Quickteller platform in Nigeria today.
So if you enjoyed this article, don't hesitate to look up the Complete GOtv Jinja Channels List with the Subscription Price that I made.
This article was updated 3 months ago