Searching for your Wema Bank account number? There are several ways you can use to check or retrieve it. Here are the top 7 methods you can use including USSD code.
Code to Check Wema Bank Account Number
To check your account number, dial *945*000# with the phone number linked to your Wema bank profile and enter your 4-digit authentication PIN.
Retrieve Your Account Number from Bank Documents
Bank account numbers are usually printed on certain bank documents. Documents such as bank tellers, bank statements and cheques do contain the bank account number of a person.
See Also: Zenith bank save4me: interest rate, requirements, withdrawal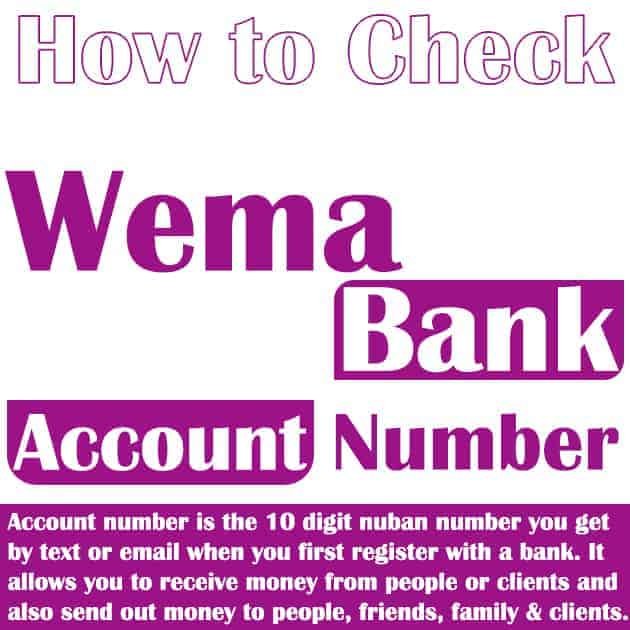 If you have any of these documents from Wema bank, simply pick one and check for your bank account number.
If you have a chequebook, the second series of numbers you see at the bottom of a cheque slip is your bank account number.
Account numbers are printed on bank tellers along with the transaction amount and date.
For bank statement, you will find the account number in the top corner along with the account name.
Aside from these documents, you can check any other document you received from Wema bank for your bank account number.
Request for Your Account Number on Their Website
Contacting Wema bank customer care is one way to check your bank account number.
To do this, you should visit the Wema bank official website – www.wemabank.com – and click on contact us at the top corner.
You will be directed to a page that contains Wema bank customer care contacts (phone numbers and email).
Contact customer care using any of the phone numbers or email and request your bank account number.
If your message goes through, you will be asked to provide details of your bank account.
These are simple details like account name, phone number etc. They are needed to confirm that you are the account owner.
After providing these details, customer care will provide you with your bank account number.
Reach Out to Them on Social Media
Using social media, you can check and confirm what your account number is. The social media platforms you can make use of are Facebook and Twitter.
Wema Bank has an official page and handles on these platforms respectively, all you need to do is to chat them up.
Make a request for your bank account number and you will be attended to. There would be a need for you to provide details of your account.
This is to verify if you are the owner of the account. You will be asked to provide details such as the account name, phone number and address.
If you provide these details correctly as they are registered in your bank account, your phone number will be sent to you.
Wema bank Whatsapp number is 09044411010.
Retrieve Account Number on Wema Mobile App
Wema bank mobile banking involves the use of their mobile application – Wema Mobile.
This application can only be accessed by smartphone users and it is available for Android and iOS devices.
You can only use this method to check your account number if you have the application installed on your phone and you are registered.
To check your bank account number, you just need to launch the application. Tap the menu toggle bar and select Account Activity. You would find your bank account number displayed on that page.
Check Your Internet Banking Dashboard
If you make use of the Wema Bank Internet Banking platform, then you can use it to check your bank account number.
To do this, simply login to your account using your User ID and password. After you log in, click on Account Summary. You would find your account number displayed on that page.
Visit the Nearest Wema Branch
You can also simply walk into any Wema Bank branch to retrieve your bank account number. Meet the bank staff and follow their instructions.
See Also: How to Check Unity Bank Account Number
Final Note
Out of all the means by which you can retrieve your Wema bank account number, making use of the USSD code is the most reliable because it can be implemented on any kind of mobile phone.
However, if you are fortunate enough to be using a smartphone and have browsing data on it, you can always open up your mobile app to check your balance. At this point, this seems like the fastest, most convenient and cheapest method.
How do you retrieve your account number anytime you forget it? Let me know in the comment. If you find this article useful, do not hesitate to share it.
This article was most recently revised and updated on June 18, 2022