Do you know how to renew Gotv payment with Quickteller in Nigeria? One of the easiest ways to pay for your Gotv subscription packages is to use Quickteller. And in the write-up, I will tell you everything you need to know.
Quickteller is an online platform that you can make use of when you wish to pay bills, purchase airtime, or send and receive money conveniently in the comfort of your home.
All transactions are done via the web (www.quickteller.com) or the Quickteller application. Inside this write-up is how you can renew Gotv with this method of payment.
You should note that any payment done via the Quickteller platform can not be reversed except if it is a case of fraud which is proven through some processes and over time.
As it is today, Quickteller has become one of the most used mediums many people use to make payments online.
You can use the platform to pay for different types of subscriptions plan, buy data or airtime, make donations and even make state government payments.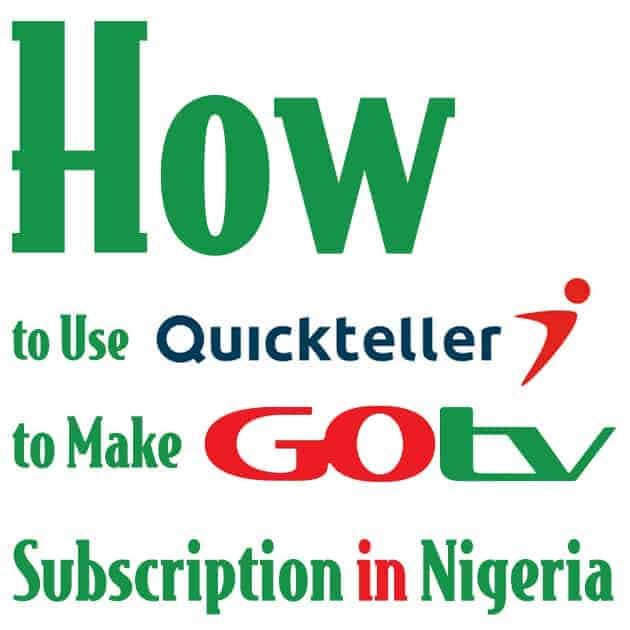 It is important you know that you are responsible for the security of any transactions done on the Quickteller platform using your smartphone, computer or any other device.
Your bank card details and passwords are solely your responsibility to protect.
This means that you should always keep your passwords safe so that they can not be used by another person to perform transactions without your consent.
However, in case you notice any unauthorized access to your Quickteller account or if your device is stolen, you can lodge a complaint by creating a support ticket so that the unauthorized person can not make use of your account to make any transaction.
In case any withdrawal is done on your account without your consent, it will be treated as a fraud case once proven.
How to Renew Gotv Payment With Quickteller
Before I show you how to renew, do you know the channels on Gotv Jolli? Find out in that breathtaking article.
Open the Quickteller website page for Gotv (www.quickteller.com/gotv) on your mobile phone or computer. You can also make use of the app
You will be directed to a page where you will need to put in your phone number or email, GoTV IUC number and the GoTV package you want to pay for.
Once these details are accurately filled, you can then click on 'Continue'
Next, you will be directed to a secure billing page where you will need to fill in your ATM card details.
You will need to select the type of ATM card you have (Mastercard, Visa or Verve).
After that carefully fill in the accurate information required.
Once that is one, you can cross-check what you have filled just to be sure. Then you click on the Pay button.
An OTP will be sent to the phone number linked to your bank account. This will be what will authorize the transaction. Once you get the OTP, input it in the space provided for it and click on Submit.
You just need to wait for a confirmation message and you are done.
Requirements
You may want to make use of the Quickteller platform to pay bills using the Quickteller platform since it is a very easy and convenient way to pay your bills even without leaving your house.
In this case, we will be showing you how you can make use of the Quickteller platform to subscribe to any of the GoTV packages of your choice.
Below are some of the required details needed to make payments via Quickteller.
1.) Purchase ID
Your purchase ID, in this case, is your GoTV IUC number.
You can get your GoTV IUC number when you turn your GoTV decoder upside down or by pressing 'information' on your TV screen.
The IUC number is your unique ID which will allow the system to know that the payment is coming from you.
Ensure that you put in the correct IUC number so that you don't end up paying another man's bills.
2.) Email
Your email address is required when you want to make GoTV subscription payment.
The essence of the email address is to give you more information about your payment and also to alert you once there is a need to.
You get an alert upon successful completion of your payment or sometimes when there is an issue with the payment
It is important that you fill in a correct and active email address so that you can be contacted easily once there is a need for that.
3.) Phone Number
The phone number also serves almost the same purpose as the email address.
You could also get a message when your payment is complete and you also need your phone number to be available to receive some important OTPs at the point of making payment.
4.) GoTV Subscription Package
There is a drop-down where you see the different GoTV subscriptions. You choose the appropriate one you want to pay for.
5.) ATM Card
Your Bank ATM card is what you will need to make your payment. There are different ATM cards you can use on the platform.
The three most popular ones are the Mastercard, Visa Card, and Verve Card.
You must ensure that your ATM card is activated for the online transaction before you can be able to use it.
On the ATM card, there are important details you must not miss because, without them, you can not be able to move to the next stage. They are:
The 16 digits in the front of your ATM card
You will also fill in the expiring date of your ATM card
The Cvv2 number. This is a 3 digit number you see on the back of your ATM card. It is usually printed on a silver panel.
Your card pin. This is also important so that Quickteller can have access to your account in other to complete the transaction.
OTP. The OTP stands for 'One Time Password'. this is a one-time code that is generated by your bank and sent to the phone number linked to your account. It is just like a safe token which you must input in the space provided for it before the transaction is completed.
6.) Convenience Fee
It is also important you know that Quickteller charges a fixed amount of N100 for every transaction carried out on the platform.
So it means that when you are paying for GoTv Max that cost 3600, you will have to 3700 Naira.
Wrapping Up
That's all there is to know on how to renew Gotv Payment with Quickteller. The Use of Quickteller has made the payment of GoTv easy as you may not need to leave your home in order to enjoy any of the packages of your choice.
It is also the fastest means of making payment, especially when you are still watching a favourite show and your subscription just got expired.
Although they charge a convenience fee of 100, it is actually fair considering the fact that you will not need to stress yourself looking for a vendor to help you out with the subscription process.
Before you go, see a list of channels on Gotv Jinja.
This article was updated 3 months ago